Class B Boys Lax Notebook
We are part of The Trust Project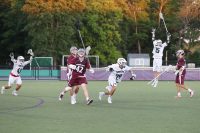 A pair of grueling one-goal regional victories and the unplanned, off-field issues that plagued Yorktown High last week may have finally caught up with the state-ranked (No.2) Huskers in last Saturday's 9-3 beatdown by Section 5 champion Victor in the finals of the NYSPHSAA Class B tournament at St. John Fisher College in Pittsford, NY.
The ad hoc resistance by Yorktown administrators last week to nip the off-field matters in the bud may not have had much to do with the thrashing at the hands of state-ranked (No.4) Victor, but it certainly didn't help that the Huskers were groundlessly in the news for things other than lacrosse.
The matter, which drew a hit piece in the Journal News last Wednesday, was quickly quelled when Yorktown and Somers administrators deemed an anonymous email – which alleged unscrupulous locker room activity during an unintended meeting on May 25 between the Huskers and the Somers girls' lacrosse team – proved to be unfounded. Still, it was out there and it was a distraction that never should have been, according to first-year Husker Head Coach Sean Carney.
"It was frustrating," Carney admitted after the Victor loss. "A lot went down the day before with the media and the day of the Garden City game, so we tried to keep the kids focused, which was hard. I was worried it could take away our momentum, but I'm so proud that the boys stayed true to who they are and went out against Garden City and played great. We knew what really had happened and we used it as a life lesson for the boys: Rushing to judgement is never good. We work to teach our boys the right things. They work hard in the community and in the classroom. We have so many stellar students on the team who carry themselves the right way. Being positive role models and selfless people is one of those pillars we preach all the time in our huddle. Our boys never cease to amaze me how they take to that.
"Victor was impressive," Husker Coach Sean Carney said of the three-time defending champions (Class A 2016, Class B 2015). "They were big, strong, athletic kids. They went on a seven-goal run that we couldn't stop."
Yorktown took a 1-0 lead when senior All-American Kyle Casey (2G, 1A) juked his man and found All-Section junior A Jameson Embury at 8:11 of the first, but the lead was short-lived when Victor scored the next two at 5:40 and again at 5:00 of the first. The lead swelled to 3-1 when the Blue Devils struck again at 2:09 and it stayed that way until the end of the first.
The Huskers coughed the ball up (17 turnovers) over and over and failed to find a rhythm on offense, keeping its vaunted defense on its heels under a scorching sun and giving the Blue Devils opportunity after opportunity, which they cashed in on again at 8:24 of the second for a 4-1 lead coming from four different scorers.
Alex Mabbet's second goal midway through the second gave the Blue Devils a 5-1 lead, and the hits just kept coming when Victor scored it seventh unanswered goal and ballooned the lead to 7-1 with a minute before the half.
"We turned the ball over way too many times today," Carney said. "We played very hard but we didn't bring our A-game. That's on me. We need to be able to play our best when it matters most. The kids fought hard all game. We only allowed two goals in the second half. We just couldn't finish or put together our transition game. We had too many drops and tight passes. When we could put it together –their goalie had some fantastic saves. Another day maybe another result. Our team has been playing some fantastic lacrosse. Their D was long and they played good sound D. It just wasn't our day. It's very sad to see this talented crop of seniors go. Some have been to three NYS title games in their career with a state title as freshmen. That is flat-out impressive. They should be so proud of upholding that Yorktown tradition."
As the second half began, the Huskers' efforts to regroup were jump-started by a Justin Comerford goal at 5:42 of the third, cutting the Yorktown deficit to five, at 7-2. With an extra-man opportunity and a chance to further trim the deficit, the Huskers turned the ball over again. Resilient as always, the Huskers answered the bell again when All-Section junior M Hunter Embury made it a four-goal game with 1:45 left in the third.
The game's next goal would be pivotal as the Huskers could ill-afford to lose the shift in momentum, which is exactly what happened when Connor Keenan beat Husker G Louis Ragusa with 4.4 seconds left in the third for an 8-3 lead.
The wind came rushing out of Yorktown's sails, the fat lady started tuning up and the drive for Yorktown's eighth NYS title was effectively all but over.
"It's definitely tough getting this far and not finishing but we will never forget this group," Makar said. "This senior group really should be praised for the way they led all season. I can't put into words how much it hurts right now and much it's going to hurt for the next few days. The deciding factor was possession; they controlled the ball for a lot of the game and controlled the pace constantly. They had studs across the board too, making it hard to defend."
Against top-ranked Garden City (16-4), senior M Don Cioffi returned from a stint on the DL with a bang, lifting Yorktown to a 5-4 win in double overtime in state semis last Wednesday at SUNY Albany. Husker teammate Hunter Embury found a darting Cioffi and the Huskers were in business, returning to the state finals for the third time in four years while evening their playoff record with Garden City at 5-5.
The Yorktown defense, spearheaded by G Louis Ragusa (7 saves) and All-Americans Brett Makar and Jose Boyer, was stout when it needed to be. With Yorktown's power game stuck in low gear, it was a lesser-known trio who found the back of the net, including Justin Comerford, Anthony Altimari and Steven Veteri each scored once.
There is no need for outsiders or media-types to hold the Huskers accountable for failing to meet their ultimate goal of winning its eighth NYS title; because they will do that themselves and the vast majority will be out on that wall adjacent to Charlie Murphy Field on any given day this summer. Because next year starts now at Yorktown.