We are part of The Trust Project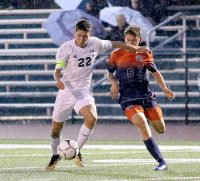 Yorktown, Somers Sew Up League Titles Impressively
Both Class AA YORKTOWN and SOMERS snared their respective league titles last week, further fueling the fervent post-season belief within each camp.
Yorktown did so in impressive fashion, taking a pair of one-goal wins from Ossining, 3-2, and Horace Greeley, 1-0, winning the League I-D title outright, and avoiding a three-way tie with Port Chester and Greeley within an underrated league.
Against Ossining, Pride sniper Mateo Marra spotted Ossining a 2-1 lead with 24 minutes remaining, but Yorktown's aggressive push from that point forward led to a pair of penalty kicks, which Anket Patel converted for the lead in the 57th and 62nd minutes of the game. Yorktown G Maurico Arango, among the best in the state, then knocked Ossining's last-ditch attempt over the crossbar with a nifty save.
Against Greeley, Coach Ed Polchinki's Huskers had the better of the run, but the two split the season series and shared the league flag with a 6-2 mark. Husker forward Jorge Torres-Solari was the only player to tickle twine in a game that was played in a driving rain at times (see photos for proof).
Simply put, Yorktown really stepped up and appears to be peaking at the right time.
"It was certainly a huge week for us," Husker Assistant Coach Justin Huff said. "We were able to beat Greeley, who always gives us tons of trouble, and to go into Ossining and take care of business, battling back from being down a goal in the second half, was huge. More importantly, we had those two wins after a tough loss at Portchester where the field and weather was atrocious."
Chemistry has been strong all season within this senior-laden club and a pronounced sense of leadership has provided direction.
"We've been fighting all year, only losing three games by a combined three goals," Huff said. "The thing I'm most proud about with this team is the lack of egos. In years past, we were fortunate enough to have some insane talent, including several All-State players but guys were depending on them to win games. This year we are so much more of a balanced team. We don't have one superstar, but are full of very solid players. We have had seven different players score game winning goals for us."
The defense has been stingy all season, too, pitching seven shutouts thus far.
"That's due in large part to senior captain Mauricio Arango," Huff said "Rocky Bujaj and Sergio Spiniello have been anchors in the back all year, and they're only juniors. We've also gotten big minutes from junior Paul Duffy who has partnered with Rocky."
If the Huskers can more disciplined in set pieces, the skies the limit this post season. Set pieces have been an issue in losses to Port Chester, Greeley and Somers.
"All three games we lost were on mental lapses during set pieces," Huff said. "I firmly believe that if this team stays disciplined and focused we have what it takes to win the section. We are looking forward to finding out who our opponent will be in the first round."
Trailing 1-0 at to visiting BREWSTER, SOMERS went off in the second half behind the concerted efforts of Jon Riina (2G, 1A), Lucas Fecci (1G, 2A), Jake Faigle (1G) and Nolan Fierro (1A).
"I'm so proud of my boys tonight," Somers boss Brian Lanzetta said of the reigning NYS Class B champs. "The second half adjustments and their work ethic was insane!"
Somers also defeated John Jay, 2-0, with Fecci scoring twice for the Tuskers. Alex Maher and Faigle each set up a goal.
"The league title is an unbelievable feeling," Riina said of the Tuskers' first league title since 2000. "It's definitely a great accomplishment for the team heading into sectionals. We're just hoping we get hot at the right time and use this as momentum for the rest of the season."
PITCH NOTES: Outbrackets in Class A start Thursday, and, ridiculously, 25 teams have already qualified. Peekskill has an outside chance to get in and make 26 teams, meaning the No.7 seed through No.26 will play outbrackets…
ROAD to LAKELAND (home of Section 1 finals) — October 18 Seeding meetings, playoff brackets released; October 19 Outbracket games, 3 p.m.; October 20 First round at higher seed, 3 p.m.; October 23 Quarters at higher seed, 3 p.m.; October 25 Semis at higher seed, 3 p.m.; October 28 Finals at Lakeland High School, TBA
NWE/Putnam Boys' Pitch Poll
No.1 Somers – Tuskers (12-2) have weight of the world on their shoulders as defending NYS Class A champs, and if the defense holds up this lethal offense is going to wreak havoc in the sectional tournament as a likely three-seed, but undefeated No.2 Byram Hills and likely top seed Tappan Zee are very tough potential semifinal and final foes.
No.2 Yorktown – Huskers (11-3-1) figured out Greeley and they look like an outfit that can challenge for the Class AA sectional crown with this legit combination of size, speed and netminding. Could get the two-seed with a win over Scarsdale Monday, which will be important in terms of getting on the opposite No.1 Arlington on the AA bracket. Something tells me Yorktown would love another crack at the Admirals after losing the 2015 Class AA title on their turf, the year after losing the Class A title game to Byram Hills.
No.3 Lakeland – Hornets (8-5-1) were well rested for Monday's showdown with Mahopac and are holding out hope for a 1st round home game in the playoffs where they are praying for a home game as a 7-8-type seed.
No.4 Brewster – Bears (10-5) gave Somers fits twice this season and that, alone, makes the Bears, a possible 10-seed, a very tough first-round out for someone like Nyack, Riverside or even Lakeland.
No.5A Mahopac – Indians (6-7-1) lost two tough games last week and will gear up for Class AA playoffs with a tough road test at Lakeland Monday. Will be on the road for playoffs as potential No.13 seed, but the schedule they face should have them battle-tested and ready.
No.5B Ossining – Pride (6-8) have to get better against set pieces late in games; all losses have come against such situations. This team will be a tough playoff draw in the 12-seed range for some unsuspecting foe.