Class AA Carmel Stuns Arlington, 3-Peats as Section 1 Champs
News Based on facts, either observed and verified directly by the reporter, or reported and verified from knowledgeable sources.
We are part of The Trust Project
Class A Somers, Class D Haldane Advance to NYSPHSAA Quarterfinals; P'Ville, Westlake Bounced
By Ray Gallagher, Examiner Sports Editor @Directrays
FREEDOM PLAINS – Hats off to host Arlington High for being a predictably solid party-thrower for the five Section 1 championships Friday and Saturday when kings were crowned and three of the five remaining Examiner-area teams – Class AA Carmel, Class A Somers and Class D Haldane – advanced to the NYSPHSAA quarterfinals, with four of the five classifications to be contested at Mahopac's posh new spread this coming weekend.
CLASS AA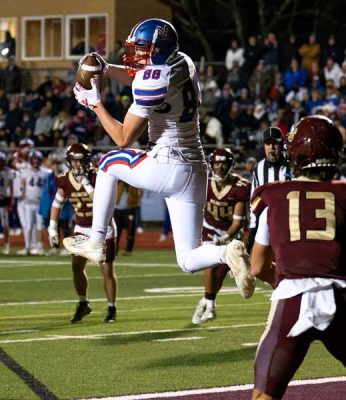 Sometimes, it takes more than ordinary hutzpah. Sometimes, it takes a giant set to go the distance, and state-ranked (No.16) CARMEL Coach Tom Donahoe, in his first year as legendary Coach Todd Cayea's replacement, showed some serious stones on the game's initial drive, en route to a stunning 49-34 victory over state-ranked (No.8) host Arlington Saturday night.
Now three-time reigning Section 1 champion Carmel struck first and often, faking a punt on its own 46, sending unheralded Nolan Faudar on an eye-popping, tone-setting 54-yard touchdown jaunt along the Ram sideline for a 7-0 lead with 9:13 left in the first.
"We're leaving nothing in the holster, boys, let's come out shooting," Carmel Assistant Coach Jim Donahoe screamed to his sideline seconds after the special team chicanery.
With shots fired, and Arlington ducking, the Rams began an assault eight weeks in the making. It was Arlington who decapitated the Rams back in Week 2 by an ugly 55-18 count for Carmel's lone loss this season, and that humbling score was plastered on every urinal in the Carmel locker room.
Arlington answered when supremely talented senior QB Mike Rescigno fired a 44-yard dime to Lucas Mackin, which led to a Rescigno 1-yard plunge for a game-tying score with 6:17 left in the first. The fireworks were just getting started on an explosive half.
Carmel QB Christian Nunez, who stayed as poised and steady as possible this season, answered with a nine-yard TD pass to Ted Galbraith for a 14-7 with just eight minutes gone by in the first.
Punches were exchanged yet again when the 6'2", 205-pound Rescigno stiff-armed a Ram defender, bought enough time in a moving pocket and fired a TD strike to Luke Lavello from 20 yards out with 1:47 left in the first.
With the initial punches exchanged and the first quarter about to dim down, Carmel junior RB Tristan Werlau electrified the visiting crowd by taking the ensuing kickoff 76 yards to the Arlington four-yard line. Before catching his breath, Weralu, who has been "CASH" all season, darted to paydirt on the very next play for a 21-14 lead with 1:27 left in what sideling media members were pondering as the most incredulous first quarter in Section 1 championship history.
Arlington was staggered and forced to punt on its ensuing series, and Werlau, the game's obvious MVP, went 71 yards for a touchdown and a 28-14 lead with 11:29 left before the half. The gloves were off with Carmel having outgained Arlington 243-29 on the ground, leading to a Jared Navidad field goal to end the half at 31-14 in Carmel's favor. Navidad hit a pair of field goals from 26 and 28 yards and went 5 for 5 on PATS.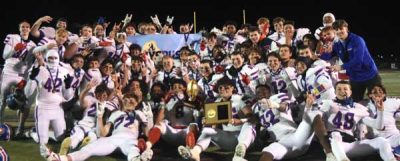 And just when you thought Werlau couldn't possibly do any more, the shifty one made yet another house call when he took the second half's opening kickoff 81 yards for 39-14 lead with 11:45 left in the third after a successful 2-point conversion. Werlau finished 165 yards and two touchdowns on 24 carries. Ram RB Leo Venables added 109 rushing yards on 11 totes.
"Tristan Werlau is a special player," Carmel Assistant Coach Jim Donahoe said. "He can single-handedly take over a game as witnessed. He rarely goes down on first contact and has incredible balance and vision. He's as comfortable running the power game inside as he is the perimeter game. He can hit third gear and literally run away from defenders. He's a game changer."
The rout was on when Nunez (2 TD passes) lofted an eight-yard TD pass to two-way stud WR/DB Damien Santiago for a 46-14 lead with 5:20 still to play in the third. It was imperative, at this point, that the Carmel coaching staff kept the Rams focused with much vim, vigor and swag perfusing along the sideline.
A Navidad field was the only thing between 14-straight points from Arlington when Rescigno's never-say-die attitude resulted in a pair of TD strikes, cutting the Admirals deficit to 19, at 49-28 with nearly 15 minutes remaining.
Despite the home crowd pouring out of the stands, Arlington was within miracle-striking distance with Rescigno having passed for 214 yards and three TDs.
Somehow, though, despite losing Coach Cayea to health issues in Week 2, Carmel found its way home under former longtime Mahopac Coach Tom Donahoe, plus a talented staff (Brendan Connolly, Patsy Costabile, Jim Donahoe, Jeff Hughes, Jorma Tompuri and Tom Woodburn), to three-peat as Section 1 champs against all odds and naysayers.
"It's 100% about our kids," Tom Donahoe said. "They practice hard, they compete with each other. They help each other in practice, and they could probably do this without us. The kids here are awesome. Some people think we did this without Coach Cayea, but it's actually a testament to him. What he has established here continued even though he's not on the sidelines. He's been very helpful throughout the season, and again, these kids could probably do this without us, they're that dedicated."
From Week 2, to when this team was in the proverbial crapper, to Week 10, the turnabout was forged when the Rams (9-1) stopped feeling sorry for the situation thrust upon them.
"We came together and started working as one," Rams captain Matt Risley said. "You look around this field right now and you can see there's no better bond than this team right here. It's an amazing thing, and while our relationships got better, the team got better each week. We played high-risk, high-reward football tonight. We were willing to take some risks and obviously it paid out. This is the best feeling in the world right now. It's a different group of guys so it's a different feeling every time we win. Our coaches are the absolute best, too. If anybody kept us together as one, it's those guys."
To be sure, there were stumbling points along the way, but what was established previously under Coach Cayea helped the cream rise to the top, especially on defense where Damien Santiago (2 INT, 4 tackles), Risley (5 tackles, 2 TFL), Liam Forster (4 tackles, 2 TFL) and Connor Pile (4 tackles, 1 TFL) led the way.
"This is so unreal," Carmel senior WB/DB Santiago said. "Week 2 was a tough week for us, health-wise and mentally. We had maybe a day and a half of practice to prepare for Arlington that week, and we lost our coach, so it was a tough week. Ever since then, any adversity we faced was just a roadblock we had to get past. And we did so every single time. We set the tone tonight. Our physicality, I just love the way we play football, Carmel football. It's a family. This just feels great."
Carmel will face Section 2 runner-up Shenendehowa Saturday (3 p.m.) at Mahopac High School in the opening round of the NYSPHSAA tournament.
CLASS A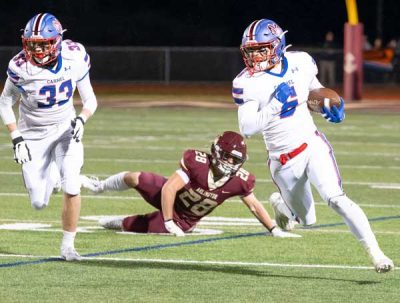 State-ranked (No.1) SOMERS has showed some special teams flaws in recent weeks, allowing three TDs on kickoffs, including back-to-back house hunts from Harrison in Friday's Section 1 Class A title tilt, placing the No.1-North-seeded Tuskers in a 14-6 first-quarter hole against the No.1-South Huskies, ranked No.13 in NYS. Luckily, reigning NYS champion Somers had the chops to respond and the defense with which to clamp Harrison when necessary, allowing Coach Anthony DeMatteo's Tuskers to rally for a 33-27 win to three-peat as section champs.
Harrison (8-3) led 21-19 at the half after Joe Crupi ran back the opening kickoff back for a touchdown. Somers (10-1) answered with a three-yard TD plunge by senior QB Mac Sullivan, who injured his non-throwing shoulder late in the game. Crupi made another house call on the ensuing kickoff. It all resulted in a halftime tongue-lashing for the ages from Coach DeMatteo, who channeled his inner Tony DeMatteo, dialing up a speech his father would be proud of.
A different Somers team emerged in the second half behind workhorse Mason Kelly. The junior RB motored into the end zone with 7:38 left in the third quarter to get the Tuskers their first lead, 26-19. After a defensive stop, Kelly made it 33-21 to begin the fourth quarter, darting to paydirt for a 37-yard touchdown. Kelly (150 yards, 4 rushing touchdowns) led a ground game that amassed 304 yards on 50 carries. Somers sophomore RB Dean Palazzolo made four grabs from Sullivan for 70 yards, but the aerial attack will need to improve moving forward as opponents look to clamp Kelly.
"Definitely some cleaning up to do, especially on the special teams side, but we will get it done," Somers senior captain Ryan Cole promised. "Our offense is starting to get in their groove. I'm really proud of our defense. Mason is doing amazing. He's going to keep getting better and better. We will continue to have great practice weeks and keep improving."
Somers will play state-ranked (No.15) Section 2 runner-up Averill Park (8-3) Friday (7 p.m.) at Mahopac High School in the quarterfinal round of the NYSPHSAA tournament.
CLASS D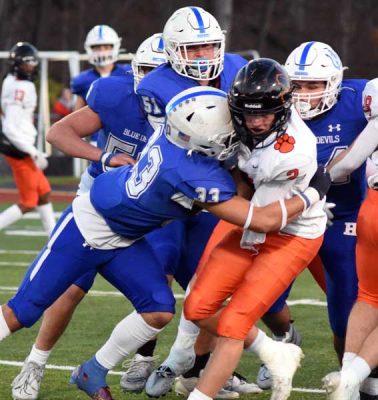 State-ranked (No.7) HALDANE won its seventh Section 1 Class D title in Friday's 27-21 back-and-forth triumph of rival Tuckahoe and the fingerprints of junior TE/DB Jake Thomas were all over it.
Operating on both sides of the ball, Thomas did it all, including 73 yards receiving. He snagged two TD passes from QB Ryan Van Tassel (11 of 17, 156 yards), including 47- and 26-yard house calls. Thomas rushed for another jet sweep score from 10 yards out and then sealed the deal with a key, fourth-quarter INT to set up RB Evan Giachinta's game-winning 35-yard TD jaunt with 3:11 remaining: Part of an amazing 23 carry, 202-yard effort from Giachinta, who  also added two sacks and was in on six tackles.
The Haldane stars came to play, according to Coach Ryan McConville.
"Absolutely, big-time players make big-time plays," the coach said. "Those guys went out with great effort and execution and made it happen."
Down 14-7 at the half and 21-14 after three, the Blue Devils (7-2) never lost faith, despite the big-play capabilities of the state-ranked Tigers (No.15), who finished at 4-4.
"We talked at halftime about what a great story it's gonna be, being down by a touchdown, if we could find a way to come back," McConville added. "We told the kids you just gotta continue to believe, ya can't give up on this moment, and ya gotta have each other's backs. That's what those guys did out there today; compete, believe in each other and go out and finish the game."
And that is what the Blue Devils did when senior DB Michael Murray ended the Tigers' final chance with an acrobatic INT, allowing Haldane to kneel it out in the waning minutes.
Brody Corless had seven tackles and five assists on defense for Haldane, which plays Section 9 champion Burke Catholic Friday (4 p.m.) at Mahopac High School in the opening round of the NYSPHSAA tournament, the Blue Devils' first representation since 2021 and third trip since 2018.
Thomas, though, was the talk of the town when folks hit Main Street in downtown Cold Spring, the banks of the Hudson River abuzz.
"Jake was outstanding," McConville said. "He was injured halfway through the first meeting with Tuckahoe and it kind of slowed down his development this season, but we always felt he was someone we could get the ball to and make big plays. He came through on both sides of the ball."
CLASS B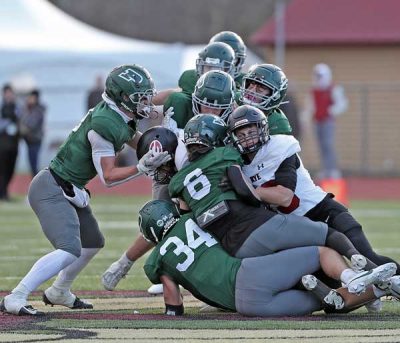 The tears, the ominous hugs and their heads cast in doom were extremely tough to bear as state-ranked (No.3) PLEASANTVILLE watched No.9 Rye end its two-year reign as Section 1 champions after a bitter 35-21 defeat Saturday afternoon. It was Rye's first sectional championship since 2019, the Garnets (9-2) doing so on the back of Chris Iuliano, a hybrid QB/FB on this day.
Pleasantville had its streak of 30 consecutive wins against Section 1 opponents snapped as its quest for a three-peat was denied as was the Panthers' bid for a third-straight NYS title appearance. The Garnets, who have been a Class A power in recent seasons, dropped down to Class B for just this season. They will play in Class A next year, but Pleasantville Coach Tony Becerra would not use the "victim of circumstances" as an excuse.
"I'm sure I'll have more meaningful words for them when we get back to town, but for now I just told them to try not to dwell on what you wanted or what you didn't get but try to think about what you have and what you've done," Becerra said. "They have each other and they've done amazing things together these last three years.
"We needed to be mistake-free today and we weren't," the coach added. "We needed to catch some breaks and we got neither."
Among the worse breaks the Panthers (9-1) got, besides falling into a 21-0 hole, was losing No.44, FB/LB Louis Sdao to a nagging ankle injury that kept him sidelined for most of the second half.
"Losing 44 on both sides of the ball really hurt us," Becerra admitted. "We needed to be on point and losing Louis really hurt."
With Sdao sidelined and the Panthers within seven points – after Erik Coleman made a diving grab at the pylon from QB Aidan Picart just before the half – Rye fired a knuckleball into the mix. Working from the Wildcat formation, Iuliano, a 6'2" 175-pound junior, had his way behind a superior offensive line, racking up 226 yards and three scores on 38 carries.
"Against a team like this, the only chance we had was to stay healthy and play perfect, neither of which happened," Becerra said.
Picart hit on 12 of a season-high 32 pass attempts for 188 yards and one touchdown while rushing for 66 yards off nine totes. Rye did a superb job of limiting his brother, Daniel Picart, the reigning NYS Class B Player of the Year, to just 24 yards and two touchdowns and 12 carries. Daniel Picart also hauled in five passes for 105 yards but his big-game explosiveness was somewhat neutralized on this day. Imagine putting up those numbers and it not being enough?
Nonetheless, the kid had the kind of career Pleasantville will likely be hard-pressed to see again. The Picart era is officially over, but not before the twins reset the Pleasantville bar for career achievement.
CLASS C
State-ranked (No.2) and top-seeded WESTLAKE never synched up on offense in what was a costly, season-ending 13-7 loss to Bronxville Saturday afternoon. Bronxville, one of Section 1's premier football programs, began the season at 1-3, but a last-second defensive stand, which featured a goal-line pick by Benji Atkeson, has the Broncos advancing to the state playoffs and the previously undefeated, reigning Section 1 champion Wildcats (8-1) going home.
Unranked Bronxville got on the board first when QB Connor Kenny spotted a wide-open sophomore TE Walker Moore for a 14-yard TD connection at 5:28 of the first for a 7-0 lead after PAT.
Westlake failed to get its defense off the field when the Wildcats allowed a key fourth-down conversion, which led to a second fourth-down situation, which the Broncos converted into six more points for a 13-0 lead with 5:21 before the half.
"We gave it the best we had but we did not have a good day on both sides of the ball, but at the end of the day we didn't play our game that's why we lost," Westlake senior RB Chris Kalle said.
Westlake QB Michael Pagan (9 of 17, 90 yards, TD) spotted WR Nick Castellano for a 16-yard score just before the half, cutting the deficit to 13-7, but the dynamic duo could not connect down the stretch, despite the Wildcats being in position – at the Bronco 12 – in the game's waning moments.
Corrections:
Sourcing & Methodology Statement:
References: