Class AA Carmel, A Somers on Fast Track to League Titles
By Ray Gallagher, Examiner Sports Editor @Directrays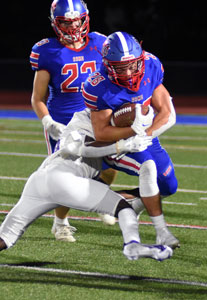 The Road to Syracuse is a long and winding highway from Route 17 to I-81 with pit stops along I-87/I-90 for the last two grid teams standing at the NYSPHSAA finals. Getting there is easier said than done, but it's fun to speculate right now in places like Class AA CARMEL, ranked No.14 in NYS, and No.13 Class A SOMERS. The undefeated Rams (5-0) and Tuskers (5-0) are not about to put the cart before the horse, but it's beginning to look like a two-horse race for each in their respective conference as the run for the roses will commence with the playoffs opening on Oct. 29. Both are a win away from locking down their league titles and securing the No.1 seed in the playoffs.
CLASS A
SOMERS is closing the gap that some in the know suggest might exist between the state-ranked (No.13) Tuskers and No.8 Rye. The Somers playbook went to the next level in Friday's 44-8 rout of visiting Our Lady of Lourdes, who had no answer for Tusker junior QB Matt Fitzsimons.
"Our coaches have really been expanding the pass game and it has been working," said Fitzsimons, who hit on 9-of-10 passes for 143 yards and fired a career-high four TD strikes, two to Trey Mancuso (75 yards, 4 catches) and one to Ravi Dass (2 catches, 27 yards) and Michael Bookall (2 grabs, 31 yards). "The staff we have is great and knows exactly how to attack our opponents. My teammates around me are playing amazing and I couldn't ask for anything more. Yet again the game plan was money."
Mancuso has been money of late, leading the Tuskers in receptions and yards.
"Matt (Fitzsimons) is ridiculously accurate," said Mancuso, who has three TD grabs in the last two games. "He throws a very "catchable" ball. We worked a lot of the summer to develop a rapport and it's paying off."
The ground game was equally effective, led by senior RB Drek Marcus, who logged 70 yards on four carries, including a three-yard scoring plow.
"On all the carries I barely got touched, so the O-line was making it easy for me," Marcus said.
Somers DL Dylan Faller was a monster on D, recording 11 tackles.
All eyes turn to the Week 6 showdown with state-ranked (No.28) John Jay CR (4-1) with the League A-North title on the line. In what should/has been a track meet in recent seasons, Somers, which has allowed just 28 points, has the upper hand on defense. Both teams are exceptionally coached, which should make for a doozy.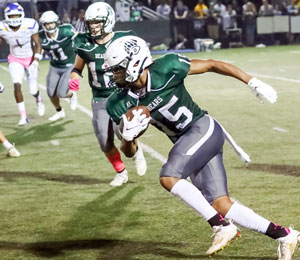 MAHOPAC saw junior RB Joey Koch blow up BREWSTER, 31-6, when he took 19 carries for 152 yards and two scores for the Indians, who needed this game badly for playoff security. Matt Mahoney added six carries for 32 yards and a score for the Indians (3-2). Mahopac QB Anthony DeMatteo connected with seven different receivers, hit on 9 of 15 for 158 yards, including a 40-yard TD strike to WR Patrick McMahon. Indians Tyler Maewsky and Max Gomes each pick off a pass on defense, Gomes doing his thing in the end zone.
The Bears (3-2) fell below the line to automatically qualify for the postseason in what could be described as a sub-par performance when it really mattered.
YORKTOWN RB Jack Carlin had 15 carries for 125 yards and Vito DeBellisadded another 12 carries for 106 yards in the Huskers' (2-3) 16-6 win over host LAKELAND Friday. RB Giacomo Miccari added 42 yards and scored the Huskers' lone TD. Yorktown K Vincente Lyon hit on 3 of 3 on field goals to ensure the win. Husker DL Vincent Cappelli (10 tackles) led a defense that limited Lakeland (1-4) QB Steven Dedvukaj to 16 of 31 passing for 125 yards, including nine strikes to WR Tyler Ronk (70 yards). Hornet RB Vin Scaglione rushed for 50 yards, including aTD. Both teams are on the outside looking in as playoffs are on the horizon. The Huskers will need to upset Mahopac and Lourdes to do so.
CLASS AA
CARMEL started its Rockland County tour with a 38-7 lambasting of host Clarkstown South Friday, the first of three tangoes with South, Suffern and North Rockland. All three are expected to get a heavy dose of senior RB Dylan Shields, who was a one-man wrecking ball, going for a career-high 143 yards and four TDs on just 16 carries to lead an rushing attack that amassed 270 yards on 38 carries.
"The O-line has done an amazing job all year winning the line of scrimmage and being physical, which has given me great room to work with," said Shields. "Our offense keeps improving every week and our defense has been dominant this year, so hopefully we can continue to get better and get to where we want to go."
Ram Nick DiLeo caught three balls for 75 yards from QB Kevin Dall (7 of 9, 156 yards), and WR Andrew Fiore returned a kickoff for a touchdown for Carmel, who will host Suffern Saturday (1:30 pm) on Homecoming Day. Injured Carmel senior RB Josh Massi is set to return in Week 7, giving the undefeated (5-0), state-ranked (No.14) Rams the finest 1-2 RB punch in Class AA for the postseason.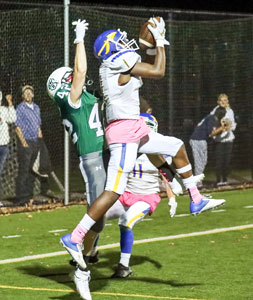 CLASS D
HALDANE QB Ryan Van Tassel continued his solid season under center when he hit on 6 of 13 for 157 yards and two touchdowns in the Blue Devils (4-1) 28-15 win over rebuilding CROTON. Blue Devils Ryan Irwin and Thomas Tucker each caught a TD pass to send the Homecoming Day crowd home happy. Irwin was unstoppable, rushing for another score and hauling in two picks on D. Jake Mason combined on 10 tackles to lead the Blue Devils, who strut into the meat of their schedule now with state-ranked Valhalla (4-1), Blind Brook (3-2) and Dobbs Ferry (5-0) on the horizon. Winning one of those three against the three Class C powers would be acceptable.