Class A Grid Notebook: Section 1 Needs a Long, Hard Look at Playoff System; Yorktown, John Jay Have Legitimate Beefs; Panas, Hen Hud Sneak In
We are part of The Trust Project
To say that Section 1 football needs some tinkering would be an understatement of epic proportion. For starters, it is the only section in NYS to start a week later than every other section, thus making the Section 1 Class A championship contenders play three playoff games in 11 days because of the late start, which is basically attributed to "our kids need longer summer vacations". The fact that we force Section 1 Class A football players to play three playoff games in 11 days is not only preposterous; it's unsafe, unhealthy and perilously close to administrative mischief. It also puts our teams at a huge competitive disadvantage for the state playoffs.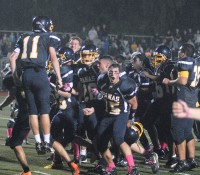 Worse than that though is the current Piner system in place, which is used to determine the rankings of the teams in each respective class. The Piner system has been known to work when used properly, with a weighted scheme that includes strength of schedule. When used improperly, like it is by Section 1 administrators, it can be a catastrophic failure; just ask Class A teams John Jay CR (5-2) and Yorktown (5-2), and Mahopac (4-3) in Class AA.
In Class A alone, there are several teams that are worthy of being among the eight playoff-eligible teams – most notably John Jay CR and Yorktown – and several teams that had exceptional seasons, BUT, don't quite belong in the playoffs ahead of the Indians and Huskers.
Look at John Jay (5-2 overall, 4-2 in league) first: its two losses were to undefeated, state-ranked (No.2) Harrison (by a point) and state-ranked (No.18) Sleepy Hollow (5-1 in league), which are a combined 13-1 overall. Yorktown's two losses were to defending Class A champion Poughkeepsie (6-1) and state-ranked (No.14) Somers (7-0), also a combined 13-1. When the top teams are playing against one another, someone has to lose, right? Therein lies the need for strength of schedule to be factored in to the rankings.
Contrarily, teams ranked at the bottom half of the division – like Hen Hud (5-2, 5-1) and Panas (5-2, 5-1) – can have one league loss, not beat anybody of real significance and still make the playoffs. Panas and Hen Hud's league foes were a combined 13-23. We're not taking anything away from the Sailors and Panthers, the No.3 and 4 seeds in League A-I, but we don't see that QUALITY win that makes them playoff worthy over a Yorktown or John Jay, who let's face it, played a much tougher schedule and are clearly among the top eight teams in Class A, probably top six.
Neither Panas nor Hen Hud beat a team ranked higher than eighth (both beat Lakeland) in their league, and neither fared particularly well against playoff-eligible teams. Panas was crushed by non-league No.2B Somers, 41-14, while Hen Hud fared similarly against No.2A Sleepy Hollow, losing 38-3. Panas also lost to sixth-ranked league foe Tappan Zee, who John Jay destroyed, 37-6. Saunders, the No.3 seed from League A-II, has four wins against teams that went 1-5 or worse, including Gorton, Lincoln, Peekskill and Yonkers, but the Blue Devils are in and John Jay is out. That's a joke, right?
"Section 1 doesn't care for football the way they care for basketball and so many other sports that have legitimate playoff tournaments," John Jay assistant Coach Joe Mammoser said. "It's absurd. So many teams are getting (cheated) by the system in place."
Look, take nothing away from Hen Hud and Panas; each has had terrific seasons, but John Jay and Yorktown have a legitimate beef with the system in place. There has to be some criteria built into the playoff system that requires a team to either: A. Post a quality win over a playoff-bound opponent; B. You can't lose to a bottom-ranked team (No.5 or lower) and still make the playoffs; C. Every team has to schedule at least two pre-season top-ranked (No.4 or better) league foes to be eligible; D. All games should count in the standings.
Or better yet: Abandon the Piner System and use the Freeman Rankings, which emphasizes strength of schedule and opponent's strength of schedule. Had they done so, tt would have panned out as follows in Section 1: League A-1 — No.1 Harrison, No.2 Sleepy, No.3 JJCR, No.4 Rye; League A-2 – No.1 Somers, No.2 Poughkeepsie, No.3 Brewster, No.4 Yorktown. Class AA would look like No.1 New Ro, No.2 North Rockland, No.3 John Jay EF and No.4 Mahopac, which are the four best teams in class.
Again, this isn't meant to slight any of the teams in the playoffs. It's meant to point out the inequities against the teams that deserve a crack at the title but are playing meaningless crossovers in Week 8 because Section 1 has its head in its crease when it comes to football.
Putnam/NWE Class A Week 7 Grid Poll
No.1 SOMERS – State-ranked (No.14) No.2B Somers (7-0) will host No.3A Hen Hud and likely prove our point about teams that truly belong in the playoffs with a sound beating of the Sailors this Thursday (6:00 p.m.), what will be the 300th win of Coach Tony DeMatteo's celebrated career. We like Somers by as many as three scores to move on. Coach D got No. 299 in a 34-21 win over Eastchester where RB Stefano Bicknese rushed for two more touchdowns, giving him 15 on the season. He'll be unstoppable in Round 1, which should set up a semifinal game against Harrison, which everyone was kind of hoping to see at Mahopac in the finals, but we can't even get that right.
No.2 BREWSTER – The No.1B Bears (7-0) remain one of three Class A unbeaten (state-ranked No.2 Harrison, Somers) and will host No.4A Walter Panas this Thursday (6:30 p.m.) in a playoff game nobody saw coming. Winner gets the Sleepy-Saunders winner in the semis. If Brewster looks past Panas, which it has no business doing, its playoff run will be cut short. This is anything but a "gimme" for the Bears, but I think they have a couple more athletes than the Panthers do, which will enable them to sweat out a late win. The seeds broke out nicely for Brewster, who has to go through Panas and potentially Sleepy Hollow to reach the finals after QB Brian McNeil fired a career-best five TDs in a 39-22 rout of Gorton. Joe Serrecchia started things with a kickoff return for a touchdown and the offense fired on all cylinders.
"The the offense just clicked play after play," said McNeil, who threw for 219 yards in the win. "Our line blocked great, giving Fernando Solis running room and giving me the time I need to throw. Fernando also had some key blitz pick-up blocks to give me extra time." With protection, McNeill hit on touchdown passes to Matt Gargano, Joe Serrecchia, Donald Sakowicz and Eddie Schoenig twice. RB Fernando Solis rushed 21 times for 91 yards, but the Bears can't get any recognition; most 7-0 teams would be ranked in the state polls.
No.3 YORKTOWN – Ranked No.6 in League A-2, the Huskers (5-2) are easily the third or fourth best team from their league and without question belong in the playoffs after a 35-7 win over Pelham. Brian Prestreau returned the opening kick to paydirt. RB Eric Meyerles ran for a touchdown and recorded a pick-6. RBs Nicky Bonitatibus and Connor Vercruysse each scored touchdowns. You boys were shafted, sorry to say.
No.4 PANAS – The Panthers (5-2) will give Brewster one heck of a tough out in the opening round of the playoffs. Yes, we said playoffs! Panas is in for the first time since 2004 after defeating Lakeland, 23-22, for the first time since 2001 in the "Game of the Year". Junior RB John Brophy trolled for 204 yards on 31 totes, two of which found paydirt. Kid was impressive and so were the Panthers in a must-win moment.
No.4 HEN HUD – Sailors (5-2) are playoff bound for the first time since 2005 when the Killer B's — Bosco and Bernard — were juniors, and eighth-seeded Sailors nearly upset top-seeded Greeley in a 10-7 loss. A heavenly season will like return to earth this Thursday at Somers, but all we ask is that you give us 48 minutes of fury against the Tuskers after manning up with a 27-17 win over host Pearl River. RB Carson Cole scooted for 80 yards and a touchdown while Justin Fisher ran for another 51 and a score. QBs Eddie Tandy (to Kyle Kristiansen) and Joe Fraietta (to Josh Kraft) each fired a TD pass. A win over Somers would be the upset of the decade #takeurbestshot.
No.6 LAKELAND – Lakeland (3-4) can hang their hat on the return of RBs Jimmy Flaherty, a junior with some giddy up, and Anthony Capozzi, a shifty sophomore with some swag. Gotta give Panas credit for the win, but the Hornets, to a man, are still in shock over the loss to the Panthers.  I don't mind Coach Cappelli going for two and the win, but I wasn't fond of the play call on the two-point conversion (same goes for Yorktown game). You're a running team, so run Flaherty between the tackles and I bet you're 5-2 instead of 3-4.
No.7 OSSINING – The Pride (2-5) were just too banged up to contend with Sleepy this year.
Class A Playoff Schedule
October 25 (predicted winners in bold)
No.4B Poughkeepsie at No.1A Harrison, TBA
No.3A Hen Hud at No.2B Somers, 6 p.m.
No.3B Saunders at No.2A Sleepy Hollow, 3 p.m.
No.4A Panas at No.1B Brewster, 6:30 p.m.