News Based on facts, either observed and verified directly by the reporter, or reported and verified from knowledgeable sources.
Class A Gets another Monkey Wrench, Panas Tops Lakeland
We are part of The Trust Project
Valhalla Holds Down Fort in Class B; White Plains Survives Greeley
By Ray Gallagher, Examiner Sports Editor @Directrays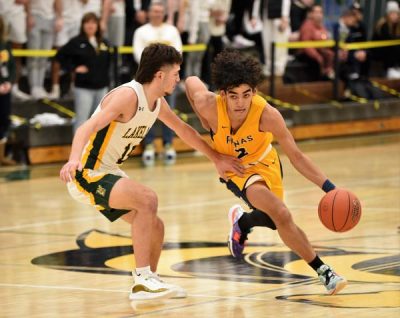 If we're going to be completely honest, there were very few people at LAKELAND High School who would have bet more than a free lunch on unranked WALTER PANAS as Coach Mike Auerbach's Panthers (13-4 overall, 3-1 league) challenged Coach Steve Fallo's state-ranked (No.7) Hornets (16-2, 3-1) last Saturday at the district's fabled Giglio Games.
Lakeland, winners of 14 in a row, had a ton of momentum going in, while Panas had dropped two of its last three, but it became evident early on that the Panthers wanted it more than the Hornets, especially when Lakeland fans dipped on the Hornets midway through the fourth, exiting stage left #BadJob.
"Absolutely (they wanted it more)," Lakeland senior Andrew Mendel admitted. "That's a bad loss, we all need to step back and reload!"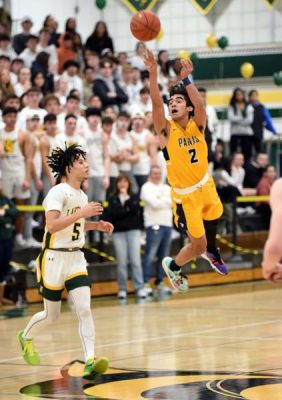 Speaking of step-backs, Panas senior G Alex Tavarez had the whole repertoire on display, draining and paining the Hornets for a game-high 32 points while he and his teammates threw the kitchen sink at Lakeland hotshot Chris Whyte-Luciano and limited him to 23 points on the other end of the court. Sean Perry (12) and Grady Leonard (10) were also in double figures for the Hornets, but Panther Tyler Greene (14) pulled up clutch and Jerry Smallwood scored six of his 12 points in the fourth off a pair of back-breaking triples.
"We've been working on playing a game like this since the first time we lost to Lakeland," Tavarez said, noting a 72-60 loss on Jan. 17. "That stung us hard and we took that loss personal. This is my senior year and I wanted to two-peat at the Giglio Games. I promised this win to my teammates and they deserved this. We cleaned up all of our mistakes and now we feel like we're the team to beat going into sectionals.
"Chris (Whyte) is a tough player and I've known him most of my life and now we're 1-1 this season heading into playoffs," Tavarez added. "We'll probably see them again."
As for Class A, which poses as a monster postseason effort for whoever survives, there's no telling who will emerge, especially on the small school side of the Class A bracket (more on that later)."We knew since the beginning that we can compete with anybody," Tavarez said. "This just proved it to everybody else."
Panas Coach Auerbach said it's more of a mindset than anything else.
"We've been trying to find a game like this," he said. "We played a really good first half against Lakeland the first time and the same with Tappan Zee, so we knew what we were capable of. With us it's just focus. We know we have the talent. We have the athleticism. The kids like each other, but we lose focus sometimes. We slipped a little bit today in that fourth quarter, but if we put it together we've felt all along that we can beat anybody. At halftime, we knew we had this game in us, but let's not celebrate until it's over. That's part of the focus.
"Against a really good team like Lakeland, you know they're going to get on a run and make their shots," Auerbach added. "You just can't give them second and third shots. For us, we have to make the first shot as tough as we can and now allow a second shot because rebounding has hurt us. We didn't do a good job of that the first time we played them and in games we've lost we've given up 18-19-20 offensive rebounds, and for us that's a focus thing: We forget to rebound and don't finish the possession but it was better tonight."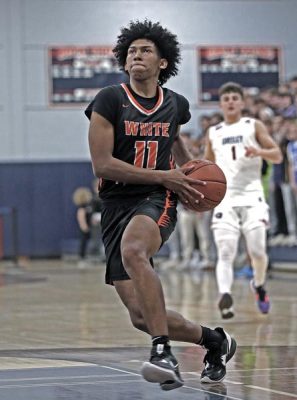 Auerbach's thoughts on the upcoming Class A postseason have been echoed by every coach out there.
"It's crazy," he said. "Every year it's eight or nine teams that can win the gold ball, and no matter where you finish in the seeds every game is a tough first round matchup and then you play someone in the quarterfinals that has also won 15 or 16 games. It's just brutal."
Survival of the fittest, my friends!
In other Class A action, Get SOMERS on your radar if you haven't already because the way things were broken down in Class A the Tuskers are looking like the clear favorites on the large school Class A bracket. One could argue that four of the top five Class A teams are in the small school bracket (No.1 Lakeland, No.2 TZ, No.3 Panas, No.6 Pearl River), which begs the question: Why! Why would Section 1 break Class A into two distinct brackets, only to merge the two finalists in the end? It makes very little sense, though we're sure someone will suggest otherwise. Either way, Somers emerges as the favorites – a smidge ahead of Yorktown – on the large school side while Lakeland, TZ, Panas and Pearl River wage war to reach the Class A finals on the small school side of the bracket #Senseless.
The state-ranked (No.15) Tuskers (15-2, 4-0) are an aggressive nightmare for opposing backcourts when they bring their A-game, which is more often than not. Yorktown found out first hand when the Tuskers forced a ton of turnovers in an 82-66 trouncing of the visiting Huskers. Somers junior G Nate Cohen (18 pts, 5 boards, 9 steals) was an absolute menace at both ends of the court, playing, perhaps, his finest varsity game.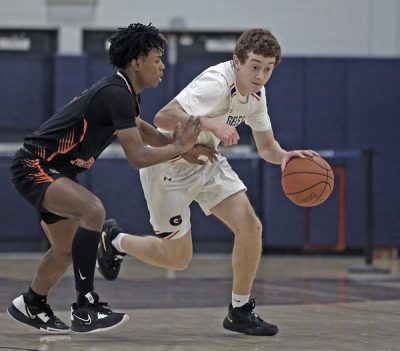 Senior swing Matt Fitzsimons (24 pts 5 boards, 6 loots), Brady Leitner (14 points, 3 steals), Mac Sullivan (8 points, 2 steals), Dylan Ingraham (8 points, 4 rebounds) and Andrew Violante (12 points, 2 assists, 2 steals) led a two-way charge that will present many issues down the road.
Fitzsimons also scored a career-high 35 points, including a monster two-hand slam that put him over the 1,000 career-point milestone on his final bucket of the game, a 63-33 dunking of John Jay – CR last Thursday.
Panas handled PEEKSKILL, 65-51, when Coach Searight's Red Devils (7-11) could not contain Tavarez (34 points). Greene added 12. Josh Jones led the Red Devils with 14 points.
Logan Shiland and Grady Leonard scored 14 apiece for the Hornets in their 54-50 win over HEN HUD a few days prior to the Panas game. Gino Wamack had 14 points for the Sailors and Mike Gagliardi added 12.
"We didn't shoot the ball very well," Lakeland Coach Steve Fallo admitted, "and Chris (Whyte-Luciano) fouled out with four minutes left."
Just days after Hen Hud floored the section with a road upset of Nyack, the Sailors were floored themselves in a 57-55 loss to PEEKSKILL. G Jaden Chavis scored a game-high 19 points for the Red Devils, including nine in the fourth quarter. He hit from distance four times in the game, and got some help from Amir Thames (13 points). Gagliardi led the Sailors with 18 points. Wamak, Dean Hiltsely and Jeremy Heady all scored nine points for the Sailors (10-8, 1-3), who also sank Croton-Harmon, 75-47, behind Dean Hiltsley's game-high 22 points and 13 more from Steve Raguso.
Junior G Billy Feeks went off for 20 points on senior night in YORKTOWN's 80-71 win over a pesky BREWSTER club. Junior wing Brandon Montero added 12 points and eight rebounds and Rocco Conciatori scored nine for the Huskers (14-4, 3-1), the current No.5 seed in Class A, who have won five of the last six and will be the last team anyone wants to see in the quarters. King College-bound senior Conner Griffin led the 16th-seeded Bears, who also had a worrisome 60-56 loss to John – CR.
Against Yorktown, Brewster's Lucas Cabiati had a breakthrough offensively, scoring 24 on 8 of 13 shooting from behind the arc and also contributed with four rebounds and a steal. Conner Griffin and Steven Switzer had 18 apiece and Griffin logged yet another double-double with 14 rebounds.
Griffin led Brewster with an other-worldy double-double, including 26 points and 22 boards in the loss to John Jay. Steven Switzer added 11 points and eight caroms.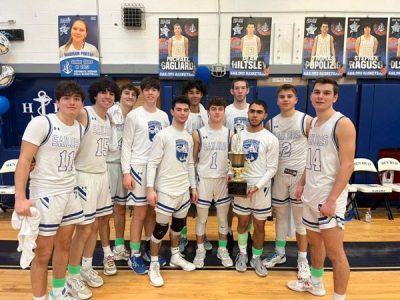 "We had a couple of other key players in this matchup and Matthew Thompson continues to be one of the most consistent players with his positive play making," Bears Coach Michale Nicastro said. "He led the team in assists (7) in this contest. We knew that this was going to be a battle going into it and that Jay was definitely more formidable than their record indicated. They have played an incredibly difficult schedule and are a very tough team. Overall, I'm proud of the effort our guys gave. A couple of shots or calls either way and the outcome of this game could have easily changed.
"Cabiati obviously played a huge role against Yorktown," the coach added. "Every time it looked like they might pull away, Lucas stepped up and kept us competing. Overall we have been doing a much better job with ball security, which will obviously be a huge factor for us down the final stretch."
Brewster will have a rematch with John Jay on February 10th.
FOX LANE is now the No.3 seed on the large school side of the Class A bracket, No.7 overall, after the Foxes (13-4, 7-0) inched closer and closer to running off with their league title after beating Saunders, 72-41. Chris Redhead (17 points, 4 rebounds), Gavin Dooley (10 points, 2 assists, 2 rebounds), Charlie Shevick (14 points, 2 assists) and, Logan Mammola (9 points, 8 rebounds, 2 assists) all had big nights for the surging Foxes, winners of three in a row, including one over Poughkeepsie and Port Chester. The Foxes need to win one of their last three league games to clinch, but Coach Mike Tomassi would rather a sweep and a six-game surge before playoffs.
MAHOPAC is going to grind against whichever teams it opens up against in the tournament, so expect a brawl. The Indians (7-10-, 4-3) are essentially a pack of athletic football/laxer/hardballers on the hardwood, which could make life tough on an unsuspecting Class A foe, particularly after a decisive 53-38 win over Class AA Arlington. Indian G Jake Couzens scored 16 in the first half,  25 in all while shooting 9-13 from the field against the Admirals. Albany-bound football stud Joey Koch (10 points, 3 steals), Liam Scanlon (7 points, 10 rebounds, 3 assists), Daniel Dedvukaj (8 points, 5 boards) and Danny Koch (7 points, 5 assists) were all key contributors.
"Jake was unbelievable scoring the ball, really efficient and jump-started us," Mahopac Coach Matt Calabro said. "We controlled this one throughout, which was really great to see this week in both our wins vs. RCK and Arlington. Our kids are really tough kids and they have been showing that for a couple weeks now. We are playing the right way at the right time. We're taking it one game at a time, but I am really happy with how this group responds when our backs are against the wall. It's a testament to the character on this team, and it fits in with what we demand in our program."
CLASS AA
WHITE PLAINS nipped league rival HORACE GREELEY, 59-57, behind a career performance from junior F Logan McCromick, who dropped 19 on the Class A Quakers (10-7, 3-4), including a pair of big-time dunks Friday when the Tigers (12-5, 5-2) upped their seed to No.6 in a pivotal league win. Miles Johnson (4 points), Jake Labrosciano (3), Luke Brooks (4). Menzy Carden (13) and a big night from Daniel Herzner (16) were key for Coach Spencer Mayfield's Tigers. Greeley was led by fiery G Justin Potack (15 points, 5 assist), Nick Tasso (14 points, 10 rebounds) and Zach Boyriven (13 points) but the Quakers (10-7, 3-4) dropped to the No.5 seed in the large school Class A bracket, No.14 overall.
CARMEL lost at home to Ketcham, 49-38, with Rams Jack Salisbury (11 points) and Jake Storen (10 points) keeping Carmel close. The Rams (6-11) are getting healthy and have won 5 of the last 7 as they cling to the No.15 seed, which would currently pit them against No.2 Mount Vernon in the opening round of the playoffs. No matter how they slice it, the Rams are going to have a brutal first-round matchup on the road.
CLASS B
VALHALLA took its No.10 NYS ranking into Friday's pivotal league bout with host PLEASANTVILLE, which had a tough time containing the balance of Mikaele Martinez (15 points), Basiaka Butcher (13) Devan Cooper and Julian Amorosa (12 each).
Daniel Picart led the Panthers with a season-high 26 points and was all over the court. Declan Bruder had 10 and Dermot McSpedon had nine for the youthful Panthers (8-7, 2-5), the current No.7 seed. Coach Rich Clinchy's Vikings (14-1), the current No.1 seed in Class B, will try to avenge their only loss this season today against a BRIARCLIFF club (9-6, 5-3) that holds the No.5 seed but has gone 3-3 since beating the Vikings. The Bears were trumped by current No.6 seed WESTLAKE in a 62-52 home win for the Wildcats (11-7, 2-6), who had, previously, had a rough go in league play.
Nick Castellano led all scorers with 21 points while Christian Occhipinti (13) and Jack Neglia (7) chipped in for the Wildcats. Alex Vorcam led the Bears with 12 points.
State-ranked (No.28) BYRAM HILLS is rolling, having won six in a row, including a 64-48 romp Ardsley where swingman Tyson Repa went off for 17 points and eight assists for Coach Ted Repa's Bobcats (12-4, 4-0), the current No.3 seed nobody wants a piece of. Young Brody Ceisler added 15 points and Zac Efobi went double-double (10 points, 10 rebounds) with four facials served.
Byram Hills also made short work of Edgemont in a 72-32 trouncing behind a double-double from George Gjelaj (14 points, 10 rebounds) for the Bobcats, who also got 13 and 12 points from Ceisler and Efobi, respectively. The Bobcats would run away with their league title before a mega-playdate with Valhalla on Feb.11 and a follow-up date with Pleasantville on to conclude the regular season on Feb.13 #FunFun.
PUT VALLEY is making gains after an 81-46 win over Pawling and a 52-51 buzzer-beater triumph of John Jay – EF, courtesy of senior F Sean Holzman, who caught an inbounds lob from James Apostolico on the right block before sinking the game-winner at the buzzer. Holzman led the 10th-seeded Tigers (8-7 in Section 1, 8-9 overall) with 22 points and 13 rebounds. Senior F Hudson Sperrazza notched a noteworthy double-double (11 points, 10 rebounds) in the win.
Against Pawling, Holzman (17 points), Apostolic (15) and John Cekaj (10) were prime contributors for the surging Tigers (3 W's in a row), who also bested North Salem behind a career-high 22 from Cekaj (8 boards) and 14 more points from Apostolico
State-ranked (No.18) HALDANE figured out CROTON-HARMON in a 63-53 Blue Devil win when Matteo Cervone (21 points), Matt Nachamkin (18), Will Bradley (10), Ben Bozsik (7), and Ryan Eng-Wong (5) all put up points for the Blue Devils, winners of seven in a row. Orlando Gomez led the 14th-seeded Tigers (7-11) with 23 points.
CHSAA
STEPINAC chalked up three wins last week, knocking off  Mount St. Michael, 60-45, and Molloy, 46-44, in a nailbiter.
Against Mount, five-star recruit Boogie Fland was all over the place for the Crusaders, finishing with 13 points, eight rebounds, five assists and three steals. Braylan Ritvo added 13 points and 11 rebounds for the Crusaders, who have 12 league wins in all after adding Xaverian to its lists of conquests, 66-49, Sunday.
Howard Eisley Jr. finished with nine points and Ben Lyttle had eight points and six rebounds against Mount.
In the win over Molloy, freshman Hassan Koureissi had one of the best efforts of his budding career, going 13 points and five rebounds, picking up an offer from St. Bonaventure earlier in the day. Jasiah Jervis (nine points, seven boards), Howard Eisley Jr. (seven points) and Jordan Gabriel (five points, 11 rebounds) all stepped up big time in the absence of Fland (illness).