News Based on facts, either observed and verified directly by the reporter, or reported and verified from knowledgeable sources.
City of White Plains Announces Police Officer Exam
We are part of The Trust Project
The City of White Plains is actively seeking a diverse pool of candidates for the Police Officer Civil Service exam which will be held on September 9 and 10.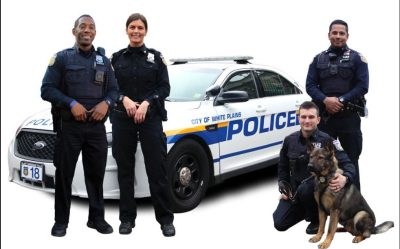 The salary range is $56,563 – $110,749 and the exam is open to residents of any of the following counties: Westchester, Putnam, Rockland, Orange, Nassau, and Bronx.
The application and related announcements may be obtained at: www.cityofwhiteplains.com or picked up and returned to the following locations: City of White Plains Personnel Department City Hall, 255 Main Street, Rm. 301, White Plains, NY 10601 Monday-Friday, 9 a.m. – 5 p.m.; Thomas H. Slater Community Center 2 Fisher Ct. White Plains, NY 10601 Monday-Friday, 9 a.m. – 5 p.m.; El Centro Hispano 346 So. Lexington Ave. White Plains, NY 10606 Monday-Friday, Noon – 5 p.m.
Applications must be submitted or postmarked no later than Thursday, May 4 at 5 p.m. Applications will not be accepted after that time. Please Note: Applications may not be emailed or submitted online. No exceptions will be made to the stated deadline or the submittal process.
The application fee is $50 (no cash accepted). Free training will be offered for both the written and physical agility portions of the exam. Women, Minorities, and Veterans are encouraged to apply.