Cindrich to Return as Mt. Kisco Mayor, Leads Possible Independent Ticket Sweep
News Based on facts, either observed and verified directly by the reporter, or reported and verified from knowledgeable sources.
We are part of The Trust Project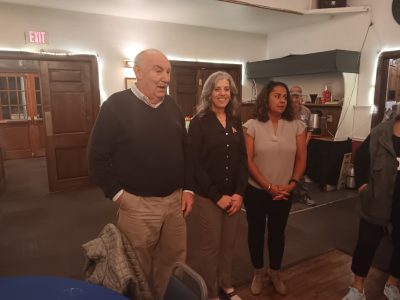 Six years after losing the Mount Kisco mayor's seat, Michael Cindrich secured a comeback victory Tuesday night and will be joined by  at least one of his two running mates on the Village Board.
Cindrich scored a surprising victory on the Village Inclusive Party line over Democratic candidate and sitting Deputy Mayor Lisa Abzun by just over 200 votes (1,084-881), according to tallies posted by the Westchester County Board of Elections after midnight.
Also winning was trustee candidates Theresa Flora and perhaps Angie Garcia-Guerra, newcomers in the local political arena, over incumbent Karine Patiño and Jean Farber, who was looking to return to the board after ending a 10-year run in 2020. Flora was the top performer in the trustees' race with 997 votes.
"This was an uphill battle," said Cindrich, who as a Democrat lost to outgoing mayor Gina Picinich when she ran on an independent line in 2017. "We were transparent, we told the truth and we got the truth out and we made them act. So they were reactive and we were proactive, and that's something we should all be proud of."
Abzun's ticket conceded the race shortly after 10 p.m. at their headquarters, and a short time later congratulated their opponents. However, later in the evening, results posted by the Board of Elections showed Farber having the second most votes in the race for trustee with 968 followed by Garcia-Guerra with 954. Patiño had the fewest votes with 895.
There were discrepancies in the vote totals received by the two campaigns compared to what was posted by the Board of Elections early Wednesday morning, possibly due to a broken machine in District 7, which has thrown the battle for the second seat between Farber and Garcia-Guerra into doubt, The Examiner was told.
Cindrich, who had served 14 years as mayor when he was ousted six years ago, credited a coalition of Democrats who had opposed Abzun and helped Tom Luzio gain the committee's endorsement earlier this year along with Republicans who joined them. Luzio lost the Democratic primary to Abzun in June.
The seeds of discontent with the current Village Board were planted in early 2022 when Flora and Garcia-Guerra were among vocal residents who opposed officials looking at the possibility of relocating a proposed cell tower at Leonard Park. The board abandoned any consideration of that idea a year later.
Critics of the current administration also hammered Abzun and Patiño's support of an accessory dwelling unit law that had been raised by Picinich, claiming it would effectively end single-family zoning in Mount Kisco.
Last month, discussions about homelessness in the village was raised.
The board's passage of a controversial sign ordinance earlier this year may have also been the current board's undoing, Cindrich said. After the law was approved, many of Luzio's signs were removed, which Cindrich questioned as illegal.
Cindrich, who had run as both a Democrat and a Republican throughout his political career, said he "acquiesced" to the demands of residents who wanted him to run and entered the race as an independent in April. He credited his running mates for their success in the election.
"I'm very impressed. I'm very impressed with Theresa and Angie," Cindrich said. "This is their first go-round and it's a tough rodeo."
"The work is just beginning now," he added. "We'll do our best. I can promise you that. We're going to be transparent."
Flora said in addition to the opposition that swelled around the cell tower, they stressed transparency and ethics with voters and campaigned hard.
"I think with us, we had a really good game," Flora said. "We connected with everybody. We went into places where they don't go and I think we had a really great grassroots effort."
Despite her loss, Abzun will remain on the board for another year in her role as trustee.
In remarks made during the Democrats' concession, Abzun called out their opponents and those who supported them for for waging "a very aggressive and brutal campaign."
Abzun pledged to continue working on the Complete Streets project to make the village more pedestrian-friendly and safer and to advocate for more financially reachable housing.
"I continue to be your representative, and please contact me, call on me," she told her supporters. "I will be calling out to you. I will continue to need your support, I think, more than ever at this time."
Patiño, the first Latina to ever serve on the Village Board in a village with nearly half of its residents Hispanic, blasted the winners and their campaign, accusing them of using dog whistles to scare voters.
"Right now, because how I'm looking at it, it hurts," she said. "Born and raised here, going through the '90s, read chapter eight 'Landscapes of Privilege.' It's like they used that chapter in the book in their political campaign against us, using housing, using race, using homelessness, using every single thing that we can control through policy with good government and good work, they used that against us, and that's not right and that's a disservice to all of the children, all of the children here who worked like I worked when I was younger."