Cindrich to Lead Independent Ticket in Mount Kisco Election
We are part of The Trust Project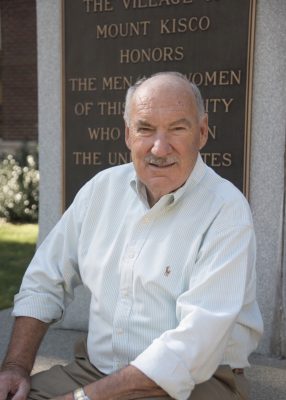 Former Mount Kisco mayor Michael Cindrich is joining forces with two first-time candidates in a campaign for an independent run for the Village Board in November.
Cindrich, who spent 14 years as mayor and also previously served as a trustee, hopes to recapture the seat that he lost in 2017 to current Mayor Gina Picinich. He would be accompanied on the ballot by Theresa Flora and Angie Garcia-Guerra, who both strongly opposed any consideration to place a cell tower in Leonard Park when the board explored that possibility last year.
Their intention is to submit their petition to the Westchester County Board of Elections on Tuesday, the final day that candidates for independent lines can make themselves eligible to run in the general election.
Cindrich said that while talk of Homeland Towers' cell tower relocation, from the proposed site at 180 S. Bedford Rd. to a relatively remote area of the park, was the impetus for him re-entering the local political fray, there are many other issues that need to be addressed. To try and convince the board to abandon the idea for a cell tower at Leonard Park, he and others collected 4,000 signatures.
"I'm concerned about all the other issues that everybody else is concerned about," said Cindrich, who is retired from a long career in law enforcement. "I'm concerned about pedestrian safety, I'm concerned about traffic, and any reasonable person visiting the village saw the lull in traffic during the pandemic and they enjoyed getting from one end of the town to the other end of the village in a few minutes."
Cindrich said they have far in excess of the minimum 166 signatures needed for inclusion on the ballot.
If the ticket does get on the ballot, Cindrich would face the winner of the June 27 Democratic primary for mayor between Lisa Abzun and Thomas Luzio. Flora and Garcia-Guerra would be up against the two Democratic candidates, current incumbent Karine Patino and former longtime trustee Jean Farber.
Patino received the village's Democratic Committee endorsement along with Luzio, while Abzun, the deputy mayor, and Farber did not get the party's backing. There are no Republican candidates.
Picinich, who successfully ran as an independent in 2017 before receiving the Democrats' backing, announced earlier this year that she would not seek a fourth term.
Flora, a retired registered nurse and a 33-year village resident, said she's at a point in her life where she can devote the time and energy to a candidacy and to serve the village. While she agreed that there are many other issues, the secrecy surrounding the potential cell tower relocation didn't sit well with her and many other residents.
She also believes board members should be more welcoming when residents speak during the public comment session at meetings.
"I just felt I couldn't turn away from this," Flora said. "There are so many issues. We need to get back to truth, transparency."
Garcia-Guerra moved to Mount Kisco in late 2019 from Hopewell Junction with her son and husband. The former school teacher who last taught sixth-grade English in White Plains is currently a stay-at-home mom who is homeschooling her son.
The family moved south because her husband changed jobs and needed a shorter commute to the city – until the pandemic shutdown.
A neighbor of Flora's, Garcia-Guerra worked with her and many others to oppose the tower relocation and had to be convinced by Flora to join her in the campaign. After careful consideration and speaking with her family, she decided to give it a try.
"I felt like it's one of those choices where you can't complain about the situation just sitting on the sidelines, and I was like, okay, whatever happens happens," Garcia-Guerra said. "I'm willing to run; I'm willing to lose, but if I win, great. I want to contribute any way that I can to positively impact the community."
When reached last week, Luzio said he wasn't surprised that there were more challengers stepping forward given the dissatisfaction in the village.
"It demonstrates the frustration that Kisco residents are having with the lack of transparency and poor short-term fiscal decisions being made by the current administration," he said. "Mount Kisco needs a change at the top and not more of the same."
Farber said it's good to see interest in the local election and residents getting involved.
"It's been quiet the last several years and it's good to bring out issues and to see what the public feels," Farber said.