Children's Author Brings Love of Reading to Kids Through Jackie Kennedy
News Based on facts, either observed and verified directly by the reporter, or reported and verified from knowledgeable sources.
We are part of The Trust Project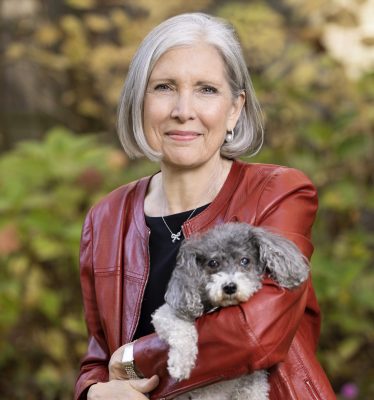 Ronni Diamondstein had long envisioned herself authoring a children's book. After all, she spent most of her career as a school librarian and teacher, the last 20 years with the White Plains School District.
What makes Diamondstein's Nov. 7 debut as a children's author all the more special for her is that her book, "Jackie and the Books She Loved," focuses on one of her favorite people, former First Lady Jacqueline Bouvier Kennedy Onassis.
It is also fitting that Jackie Kennedy enjoyed reading, writing and poetry immensely, imbued her children with the same love and spent roughly the last 20 years of her life editing books.
"She loved to read when she was very little," said Diamondstein, a longtime Chappaqua resident. "She wrote poems, she wrote stories, she was the inquiring camera girl for the Washington Times-Herald, and when President Kennedy, then Senator Kennedy, was running for President, she did a column called Campaign Wife."
For Diamondstein, part of her formative years was shaped by the brief Kennedy presidency and the First Lady. Eight years old when Kennedy was elected President, she, like many others, adored the couple from afar. Diamondstein's long history of community service can be traced to Kennedy imploring the country at his inauguration to "ask not what your country can do for you, ask what you can do for your country."
Even as a child, she would watch many of his press conferences and cherished Jackie's qualities, perhaps none more so than her quiet grace and dignity following her husband's assassination.
She could also identify with Jackie Kennedy, because through her own life Diamondstein loved reading and writing as well. In fact, she has scores of books on her.
"I always admired Jackie, and I remember how she led the country in mourning," Diamondstein said. "I always followed her and the Kennedys through my life, and then after she died in 1994, I had the idea for a novel."
While that's idea didn't get much traction from publishers or agents, Diamondstein thought as a longtime children's librarian it might be most appropriate to devote a children's book to Jackie Kennedy. When she retired from teaching about 10 years ago, she had the time to write for magazines and other publications, and several years later came the idea for "Jackie and the Books She Loved."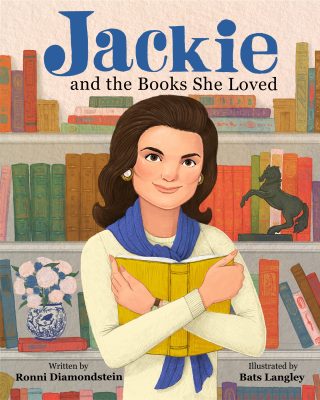 Diamondstein said she hopes that her book will instill a deep appreciation for reading in children today while learning about one of the most famous women in the world at one time, who also loved to read and adored her pets. The fact that it's been 60 years since Jackie Kennedy was First Lady and nearly 30 years since her death, shouldn't be an obstacle, she said.
"This is someone who was a First Lady, and I think that that's something that kids are interested in," Diamondstein said. "How did that person get to where they are now and what was their childhood like? They could relate to that maybe."
Illustrated by Bats Langley, Diamondstein included the poem "Sea Joy" in the book, which Jackie wrote as a 10-year-old. However, Diamondstein's publisher, Sky Pony Press, required her to get permission before it was published in the book.
She reached out to Jackie's daughter, Caroline Kennedy, and two days later was contacted by the Kennedy Foundation that it was okay to use. Diamondstein was overcome with emotion.
"It made me feel like I was meant to write this book," she said. "I really feel like I was meant to write this book, and also I wanted to think it would make Caroline happy to know that young children, a whole new generation, are going to know about her mother and see the poetry she wrote, and poetry is really important to Caroline."
There will be several launch events coming up virtually and one in Chappaqua for "Jackie and the Books She Loved." The first virtual event is this Thursday, Nov. 9 at 7 p.m. co-sponsored by the Chappaqua Library and Friends of the Miller House Register at https://www.eventbrite.com/e/jackie-and-the-books-she-loved-virtual-book-launch-registration-710322823687?aff=oddtdtcreator.
This Sunday, Nov. 12, Books of Wonder in will be holding a virtual event at 1 p.m. Registration is available at  https://booksofwonder.com/blogs/upcoming/november-picture-book-biographies.
The National First Ladies Library will also be holding an online event on Thursday, Nov. 16 at noon. Visit https://www.eventbrite.com/e/legacy-lecture-jackie-and-the-books-she-loved-penning-a-picture-book-tickets-675262156287 to register.
An in-person event will be at Susan Lawrence, located at 26 N. Greeley Ave. in Chappaqua, on Saturday, Nov. 25 from 12 to 2 p.m.
The book is available at Scattered Books in Chappaqua, The Village Bookstore in Pleasantville and the Katonah Reading Room and online at Barnes & Noble and Amazon.