Chappaqua Swim Club Team to Raise Cancer Research Money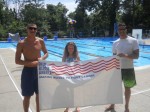 People who love to swim usually don't mind getting to the pool early in the morning to get in their laps.
For those who plan to venture to the Chappaqua Swim & Tennis Club next Sunday, there's even more motivation. On July 15, the club is hosting its first Swim Across America: Making Waves to Fight Cancer event, where swimmers from the community and CST's youth swim teams will take the plunge to raise money for cancer research.
"It's nice to be a part of building Swim Across America, expanding it, making it bigger, bringing it to more people, letting more people know about it," said Dan Levy, the swimming coach at Chappaqua Swim & Tennis who helped bring the event to the club. "I feel as much as people know about it now in the swimming community, there are still a lot of people who don't know about it or haven't heard of it."
Although the swim, which is scheduled for between 6:30 and 9:30 a.m., is being hosted by CST and is expected to attract at least 20 to 30 of its swim team members, it is open to the general public. Participants can swim either a mile, which is 60 laps, or half a mile. Those 17 years old and under are asked to raise $250 each through pledges, while the goal for adults is $500.
For Levy, the event is more than pitching in for a good cause. In 2008, his sister died from cancer, which prompted him to begin participating in two previous swims, both at Orienta Beach Club in Mamaroneck. Shortly after his sister passed away, the father of two CST swim team members and the husband of a former board president at the club also succumbed to cancer.
Levy broached the idea to the CST board, which was embraced by club president Liz Fuerstman. Team Karen and David is named in memory of both Levy's sister and the club member who passed away.
As part of the activities next weekend, former Olympian and lifelong Westchester resident Bobby Hackett will host a free swim clinic on competitive training techniques. Hackett, now a Katonah resident, won the silver medal in the 1,500-meter freestyle at the 1976 Olympics in Montreal and has participated in a number of events for Swim Across America over the years. He said the charity event brings together swimming enthusiasts of all ages and abilities.
"It's such a great thing to do, and we're helping people with cancer at the same time," Hackett said.
Of the club's youth swimming team members, one of the youngest as well as the oldest will be participating. Eight-year-old Norah Kuduk, who will be entering fourth grade at Chappaqua's Roaring Brook Elementary School and is in her first year on the CST team, was planning to tap relatives for donations. She said she's excited to take part because she wants to help others and she loves to swim.
"It gives me a lot of exercise and, to me, it's just really fun to do," Kuduk said.
Tommy St. Vincent, a June graduate from Horace Greeley High School, said there was never any doubt that he would participate.
"You just go out there and do something you love to do and raise money for a good cause," said St. Vincent, who accompanied Levy and teammates to Mamaroneck two years ago.
Levy said it also gives his swimmers a chance to take part in something that also helps the larger community.
"Even though we're only together for a month and a half or so as a team in the summer, I really feel like it's good to get the kids aware of what else they can do besides just being competitive," Levy said. "There's other things they can do as a group and this is one of them, and it's a fun way because it involves swimming."
This year marks the 25th anniversary of Swim Across America. In addition to holding events in pools, there are also open water swims on both coasts, including one each summer in Long Island Sound.
For more information on how to join Team Karen and David for Sunday's event or to donate money, visit www.cstclub.com or www.swimacrossamerica.org.