Chappaqua Sisters Mark 10 Years of Lemonade Sales for Cancer Research
News Based on facts, either observed and verified directly by the reporter, or reported and verified from knowledgeable sources.
We are part of The Trust Project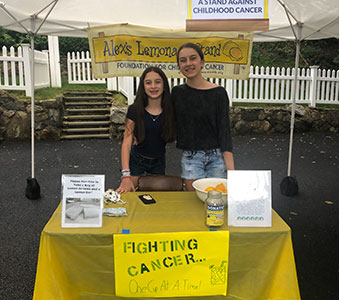 A full decade is a long time to stick with an ongoing community project to help others. It's even more impressive if you're 15 and 18 years old.
Ten years ago, sisters Jenna and Rebecca Blum started their lemonade stand to raise money for childhood cancer research. Of course, at that age they needed the assistance of their mother and others, but for the past few years they have managed to organize the annual sale mostly on their own.
On Saturday, they will return to the Chappaqua Farmers Market in their home community, which has opened a spot for them to come down for one day each spring. Jenna, now a Horace Greeley High School freshman, and her older sister, Rebecca, who recently finished her first year of college, will be on hand when the market opens at 8:30 a.m. and will be dispensing cups of lemonade to thirsty patrons.
There is no price for the thirst-quenching drink, just a request for a donation at the person's discretion.
"It's definitely been a rewarding experience, especially to be able to do the stand in memory of our grandfather for the past six years," said Jenna Blum, referring to their Grandpa Neal who succumbed to brain cancer. "It's nice to really know that we are making a difference…It's the satisfaction that we're helping the greater community and things that go beyond our own lives."
In the previous nine years, the sisters have raised nearly $23,000 that is donated to the organization Alex's Lemonade Stand Foundation, a pediatric cancer charity.
Rebecca said this year they have an ambitious goal this year of reaching $4,000. As of Monday, they already had pledged online donations of $1,880 with five days to go – without selling a single cup of lemonade.
A couple of days beforehand, Jenna and Rebecca will be squeezing enough lemons to make 10 gallons of lemonade. They'll wake up early on Saturday and bring two large containers to the market, which is in front of the Chappaqua train station.
Although they've managed to make it through a rainy day for a couple of years, and had some successful years in inclement weather, it's just better when the weather cooperates.
"Clearly, the nice weather is always a bonus because it just attracts more foot traffic to the farmers market in general," Rebecca said.
The sisters aren't only relying on donations and lemonade sales to help them in their fundraising goal. They will also have a guessing jar where passersby can put I their guesses as to how many lemonhead candies they have. Whoever comes closest will win the jar of candy.
If you have a sweet tooth, they will be making lemon bars to sell as well as applying temporary tattoos for children.
"We try to add something more like the tattoos each year," Jenna said. "So really, we just don't do one thing, but this is our 10th year, we're doing all three of these extra things in addition to the lemonade this year."
The Chappaqua Farmers Market will be open from 8:30 a.m. to 1 p.m., but if it's warm supplies can go fast so plan accordingly.
To find out more about the Blum Sisters' Lemonade stand or to donate online, visit https://www.alexslemonade.org/mypage/3278030.