Chappaqua Music Instructor Teaches Yoga for the Voice
We are part of The Trust Project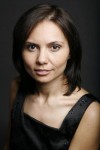 You don't have to be an aspiring singer or preparing for an audition at the Metropolitan Opera for Bengi Tasci to help you.
Tasci has developed a technique called YoYa, or yoga for the voice. The practice helps to strengthen and exercise people's vocal cords, enabling them to not only project their voice better but have it represent them more effectively.
While many of her current students take music and voice lessons, Tasci, in her second year as an instructor at Music in Chappaqua, has helped people of all ages and walks of life.
"Every person that you come in contact with, we are presenting ourselves with our voice, and I think it deserves proper attention since we are using it to represent ourselves so much," Tasci said.
The name YoYa comes from two of the more frequently used syllables in Tasci's voice exercises. She compares her exercises with the reason why people go to a gym to work out the rest of the body—to be in good physical condition. The same is true with the vocal cords: the healthier and better trained the voice is, the better one's message comes across.
YoYa also uses the conditioning and strengthening technique used in yoga, Tasci said. Instead of specific postures for the body, there are postures for the vocal cords.
Tasci, who has performed in opera houses worldwide, including at the Metropolitan Opera, said it is her mission to discover people's true voices.
"That's the beauty of it, just like our fingerprints. It's that unique," said Tasci, a lyric coloratura soprano. "You can't match any other voice with each other."
Music in Chappaqua Director Janet Angier is fully aware how good a voice teacher Tasci is. In fact, her technique is so effective that Angier and her husband each take two voice lessons a week with Tasci.
"It's a great find for me personally because I've had a tremendous amount of trouble finding a voice teacher that can make my voice feel like my own," Angier said. "It's always been very lofty and I don't feel I have the characteristics, but no other teacher that I've ever studied with has ever been able to make it sound like it's my voice."
Not only does Tasci, 37, possess outstanding credentials, but she knows from personal experience how important the voice can be. Calling herself an introverted child growing up in Istanbul, Turkey, she first studied piano, but after her parents divorced, Tasci no longer had access to the instrument. She switched to bassoon for five years while attending music conservatory in her native city, but once she changed schools she no longer was able to rent the bassoon.
So at 17 years old, Tasci decided to concentrate on voice instruction. She figured at the time that if her voice was her instrument, she would always have it with her.
"I had a lot to say (growing up), I just didn't know. I didn't have the courage to be able to go out and do it," she said. "So through my singing, as I found myself making a sound. I said ,'I can do that. I can say things.'"
Under the tutelage of a series of outstanding instructors, Tasci earned a partial scholarship to the University of Miami but couldn't pay for the remainder of the tuition, so she attended the New World School of the Arts, also in Miami. During her time in Florida she was encouraged to enter several opera competitions.
It was at a competition in Palm Beach in front of a juried panel, which included a representative for the Metropolitan Opera, that Tasci got her big break. After that performance, she was invited to New York to audition at the Met, one of the world's preeminent opera companies, and earned a contract as a principal for the 2003-04 season.
"I had a tremendous exposure. I got a chance to sing under the baton of James Levine," said Tasci, who currently lives in New Jersey but is looking to move to the area. "(It was) the perfect gift to me that I never thought was going to happen in my life. Every single one of the rehearsals I would just pinch myself."
The opera's grueling schedule, however, forced her to reconsider after the following season. Tasci also realized that she missed her first love, teaching. She took some time off, then concentrated on teaching, which she had done while going to school and performing.
Since developing YoYa, Tasci has helped children as young as seven years old, and in one instance, a 95-year-old man. She said as soon as children are ready to read and learn songs they can benefit from YoYa, noting it would help self-confidence at an early age.
While Tasci has seen students individually and in small groups, at Music in Chappaqua, the instruction is one-on-one.
"For younger children, I see a lot of self-esteem development because they learn early on, especially the very well-behaved children; they choose to be soft-spoken," Tasci said. "Of course, [given] that under-usage for vocal cords, we would like to speak out and project and be confident."