Chappaqua Man Biking Across America to Help Ethiopian Women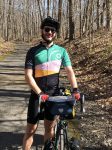 Later this year James Rosenberg will attend Columbia Business School to begin his graduate studies.
But before he embarks on the next chapter in his life, Rosenberg will take on a challenge to help others in a distant land realize their entrepreneurial dreams.
On Sunday, the 25-year-old Chappaqua resident began a three-month, 4,200-mile bike journey called Ride for Kore starting in Yorktown, Va. and taking a circuitous path to the Oregon coast.
Rosenberg's mission is to raise $20,000 through donations to help women in Kore, Ethiopia, a community of about 100,000 outside the capital of Addis Ababa, launch their own businesses.
"I'm going to be going back to school to get my MBA and what this does is to help women in Kore to essentially get their MBA, obviously on a slightly more microscale," said Rosenberg, a Horace Greeley High School graduate who earned his undergraduate degree at Emory University. "We're going into Ethiopia and helping these women and training them to make sure they can run their own businesses and help them network and get the capital that they need, and if that's not an MBA I'm not sure what is."
What attracted Rosenberg to the cause after learning about it through a friend's cousin who participated in a previous Ride for Kore, is how the area and its residents have been ostracized, even in their own country, as they have suffered from rampant cases of leprosy and AIDS, extreme poverty and despair.
The project is one of many overseen by the Missouri-based nonprofit organization I Pour Life. Among the organization's many initiatives is a Global Women's Economic Empowerment program, which targets poor women for a 10-month training period that includes start-up capital, medical attention and basic living expenses to help them acquire the skills and knowledge to enable them to become self-sufficient.
Rosenberg, who after college worked as a strategy analyst for a company in Virginia before returning to New York to work for JP Morgan, said I Pour Life's previous record and their experience in Ethiopia intrigued him.
"That kind of makes me feel really good about it because they have had a huge track record of success over there," Rosenberg said. "They've gotten a bunch of women onto their feet and starting second and third businesses even, hiring members of the community. So the women start this self-sustaining environment."
To help the effort, Rosenberg has mapped out an ambitious biking schedule aboard his Trek 520 touring bike over the next three months, which will certainly test his limits. Until he reaches his destination of Astoria, Ore., tentatively scheduled for July 29, he plans to bike an average of 55 miles a day.
He trained by taking his bike out and by using a resistance wheel in his home, so even when the weather didn't cooperate he could work to get in the best shape for the ride.
In a route called the TransAmerica Trail that keeps him off major highways, Rosenberg is heading due west out of Virginia until he reaches the Rockies. He will then head north before traveling west again to the Pacific. Rosenberg will pass through places such as Berea, Ky., Girard, Kan., Rawlins, Wyo. and Missoula, Mont.
He will be making the trek mostly on his own, except for three weeks when his father will join Rosenberg in Jackson Hole, Wyo.
Rosenberg has collected some donations from friend and family, but the route will allow him to stop in small towns and interact with people in local communities. As of Sunday, he had raised more than $8,400.
"What I'm doing is I'm just trying to talk to as many people as I can as I'm biking across (America), and if a couple of people can throw in $5, if people can throw in a dollar, it all makes a difference," Rosenberg said. "So I'm really trying to go through the grassroots way. People across American will show how giving they are."
For more information on Rosenberg's trek across America, visit www.rideforkore.com.