Chappaqua Land Owner Issues Ultimatum: Green Project or Current Use
We are part of The Trust Project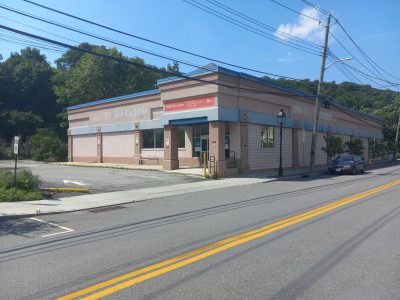 The owner of the former Rite Aid site in Chappaqua told New Castle officials and residents last week that they can choose between his four-story, mixed-use carbon-neutral building proposal or have him rent the existing space.
Don Feinberg, whose family has owned the property at 50 N. Greeley Ave. for more than a half-century, reacted to mostly negative reaction during resumption of a public hearing before the Town Board last Tuesday. The hearing was to receive community feedback regarding a requested special permit for mixed-use residential buildings that meet certain green building and design standards.
Residents voiced a series of comments criticizing and questioning the proposal from FFLP Holding 50 North Greeley LLC, the applicant of record for the project, for being too large and out of character with downtown Chappaqua. Feinberg said he has the passion to redevelop the property in the community and hopes to bring a project that would vastly improve the site that has often been referred to as an eyesore since Rite Aid vacated the space about five or six years ago.
"The alternative is not between this project and some other project; it's between this project and what's there now, which we will then just rent as is with its present beauty spot and its 20,000 square feet of asphalt that you all apparently think makes a contribution to the hamlet," Feinberg said while participating in the hearing remotely.
"I don't think it makes a contribution to the hamlet. I don't think it's the highest and best use. I think it's a very partial use and it's an imperfect use."
Feinberg's development team has proposed 45 apartments – three studios and 21 one- and two-bedroom units each – in the building that would also have more than 4,000 square feet of ground-floor retail.
The key attraction for the building would be its mass timber construction that would drastically reduce its carbon footprint, use electricity, have a green roof and a car-sharing plan for residents. There would be one parking space for each tenant for their own car in addition to four spots for the car-sharing vehicles, four spaces for visitors and a service space.
Before Feinberg spoke, a handful of residents were all critical of the proposal for its average 50-foot height, inadequate parking for its residents and surrounding businesses and for appearing to be out of place.
King Street resident Tony Palmesi asked board members if they would choose to move near an oversized project that blocks the sun. The project could also open the gates for other downtown property owners to want a similar approval from the town.
"Though development is warranted on North Greeley Avenue, it is up to the developer to conform to the town's building code and framework," Palmesi said. "They should not be driving the process in our town. Their main purpose is to sell their project and maximize their ROI, which is return on investment, and not to create a project that is in the best interests of our community."
Another resident, Chuck Napoli, a longtime architect who has introduced a scaled-down version of a residential-only possibility for the site through weekly Monday night webinars, said the number of units proposed for the .8-acre property has "urban density."
Napoli said the proposal takes up all the remaining parking and open space and leaves little chance for other nearby property owners to improve their parcels.
"The seeds of grandeur that are all over this project…are sown with hands of greed and looking for a dollar based on a housing market," he said. "It's an ROI, it's a play on using housing as a business. That's not exactly welcoming or friendly, and now the big point is they're seeking relief from a self-imposed need."
While critics outnumbered project proponents, there were a few who spoke in favor. Resident Shokoofeh Rajabzadeh said the growing housing shortage in New York and the region will continue to intensify unless communities agree to projects that may be less than perfect but add value.
New York could face a similar crisis to her native California where the housing crisis became so acute that the state began dictating where new development would go, she said.
"The truth is no housing is going to feel perfect, and it's not going to feel perfect for a lot of people because people are afraid," Rajabzadeh said.
But resident Margaret Ferguson countered that the major need in the area is for affordable and moderate priced housing, not units as large as 2,000 square feet. Ferguson suggested the developer reduce the size of the apartments to roughly half that size to meet the need.
Feinberg said the forward-thinking design would help the town embrace the future, which is more environmentally aware and with less reliance on cars. He said he was invited by the town about five years ago to see what the possibilities would be and indicated he would explore his options.
"But I also said that I only wanted to do something that was significant, not something that would make me rich, Chuck Napoli, or the gentleman banker who spoke, but something that will contribute to the town architecturally and, yes, challenge the town to move in a new direction," Feinberg said.
The hearing was adjourned to June 13. Before its resumption, the town's working group is expected to meet regarding issues related to the project, Supervisor Lisa Katz said.