Chappaqua Girl With Rare Blood Disorder Holds Out Hope for Transplant
Like millions of other high school seniors through the generations, Rebecca Bachenheimer was looking forward to life as a college student.
She made it through the balance of her junior year at the outset of the pandemic and was excited to be graduating from Horace Greeley High School.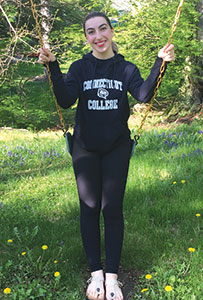 But in May, when she should have been counting down the dwindling number of high school days and preparing for her freshman year at Connecticut College, Bachenheimer was suffering from fatigue, completely out of character for the 17-year-old.
"Rebecca was just extremely tired and so we called her doctor who told us to go in and just get a regular blood test, and when the blood counts came back, the doctor called us and said we're going to the emergency room at NewYork-Presbyterian now," said her mother, Doria.
Rebecca was diagnosed with severe aplastic anemia, a rare but potentially life-threatening condition where the bone marrow fails to produce adequate red and white blood cells. It also results in a failure to produce platelets, which inhibits a person's ability to clot. There's also a sharp increase in the chance for infections and unexplained bruising, among other symptoms.
The rare condition affects fewer than 20,000 people in the U.S. each year, according to the Mayo Clinic.
On Saturday, Sept. 18, in hopes of helping Rebecca find a match for a stem cell and bone marrow transplant and raise awareness for signing up more people to be potential life-saving donors, the family is holding a drive-through event for Be the Match at New Castle Community Day.
Anyone between the ages of 18 and 44 can register with Be the Match to get a quick cheek swab. It takes 10 minutes and people can remain in their car or get the swab at the Be the Match table at Community Day.
Doria Bachenheimer said there are more than 70 diseases, including blood cancers, where someone can be helped.
"We're all inundated with causes that ask us for money," she said. "You can't always contribute money, and there's not a lot you can do, but if you're willing to do a cheek swab, you can go on the registry and perhaps you'll be needed, and depending on which type of treatment you match for, it can be a matter of one or two hours."
Both Doria and her husband, Bruce, were tested, but like a lot of parents, they each have only 5 of the 10 criteria needed to be a match. To be suitable, 10 out of 10 are needed.
The most likely matches are full siblings, materials from the Mayo Clinic stated, but Rebecca is the couple's only child.
"As much as we want a match for Rebecca, we also feel very, very fortunate because she has received excellent care," Doria said. "We live in an area that has amazing hospitals; we've gotten stellar care at NewYork-Presbyterian at the pediatric units at Morgan Stanley Children's Hospital where she needs to go for weekly transfusions."
Rebecca is currently on an alternate medical treatment, which is a combination of immunosuppressants, she said. The family is hopeful that will work, even though it has a lower success rate than a bone marrow transplant.
It's been a difficult year-and-a-half for Rebecca and her parents, as they take every precaution possible because of COVID-19. She's had to take a gap year from college and can't go for walks because if she falls and gets a nick or a scratch, it can turn into a serious event. She hasn't seen her friends or her grandparents in over a year, fearing the risk of infection, although Rebecca makes good use of FaceTime.
Despite the situation, Doria said they feel blessed that she and her husband both have understanding employers who allow them to take the time they need to tend to their daughter – and that Rebecca is determined.
"She's very focused on getting better, so that helps a lot, but also she's tired and a little bit tired of living with her current situation," Doria said. "At 17, you want to be going to college."
The Sept. 18 drive-through Be a Match event can be accessed through the Washington Avenue entrance to the Chappaqua train station. The drive-through and the table at Community Day will be open from 10 a.m. to 2 p.m.