Chappaqua Friends Part of Record-Setting Rocket Launch Attempt
We are part of The Trust Project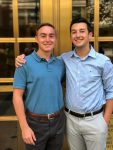 This has been an exhilarating summer for Adam Katz and Keith Corso.
The two friends from Chappaqua and Horace Greeley High School graduates are members of a team called Operation Space, a group of about 45 college students from 30 colleges and universities who hope to break the world record for altitude reached by a student-launched rocket.
Since late May, Katz and Corso have been working with aerospace and mechanical engineering students who are working alongside business, marketing and development majors to finance, build and launch an 11-foot, two-stage rocket to reach 150,000 feet. The current student rocket record is 144,000 feet.
Katz said he is part of the services development team, which is responsible for reaching out to companies and organizations for financial support, sponsorships and partnerships to meet the fundraising goal of about $20,000 to fund the project.
Before the end of next month when the students return to school, Operation Space members will need to complete the project.
"What makes our project unique is that the timeline is around three months, so the work on this project is being done remotely so it's done with a huge amount of collaboration," said Katz, who is entering his sophomore year as a business analytics student at MIT.
"The other thing is we're not backed by a specific institution," he added. "There's a lot of things going against us in this project and really if we're going to be successful we're going to be beating the odds that we can put a group of 40 students from across the country together, have one vision, one goal in mind to achieve that goal with hard work."
Since the students involved in Operation Space are scattered and work remotely, connected by the team messaging platform Slack, they will meet for one week starting Aug. 1 at Vanderbilt University in Nashville for the rocket build, said Corso, a rising sophomore who is attending Northeastern University and is also part of the project's business team.
While there are plenty of logistical challenges, a major advantage is that each student has resources at the college or universities at their disposal, Corso said. Furthermore, there are aerospace companies and organizations that have been contacted and enjoy helping the next generation of explorers and entrepreneurs.
"It's pretty neat having these institutions like Spacex, like NASA, and the small businesses, delis, pizzerias that are pitching in to give us opportunities," Corso said. "We're getting help from all these different organizations and it's really neat."
What was also unexpected was having already been acquainted with some of the Operation Space project members. About 10 of the students attended an undergraduate tech summit in Silicon Valley earlier this year, he said.
Katz said a key component that the students still had to decide is a place for the rocket launch. One possibility is Spaceport America, an FAA-licensed spaceport in the desert of Sierra County, N.M. Another possibility is an offshore carrier, he said. A launch is anticipated around Aug. 15.
Katz and Corso said they've been excited to contribute in a tangible way to a project that is outside their course of study and collaborate with some of their brightest and most capable peers.
"For me, it's something that's pretty different, it's to collaborate with people who are very different, who have very different communications, etc.," Corso said.
"Diving into teams like this allows me to really hone in on my skills on a personal level."
The project has also helped with time management skills, Katz said. Virtually all the students involved have full-time summer jobs and/or internships during the working day. They each carve out time in the evenings and weekends to communicate and work with their team members.
Katz said he is looking forward to meeting all the other students from Operation Space at Vanderbilt.
"Everyone is unique in their own way and we'll have that extra special interest and watching all of us work together with this one goal and one vision, I'm really excited for this outcome and to watch all of our hard work be put in place," he said.