Chappaqua Faith Community Comes Together to Celebrate Thanksgiving
We are part of The Trust Project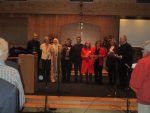 Sometimes differences between people are emphasized more than their similarities, but on Sunday afternoon members of eight houses of worship in New Castle and the larger community made sure to know each other a little better.
For the 12th year, the Chappaqua Interfaith Council presented its annual Interfaith Community Thanksgiving Service and Dinner at Temple Beth El of Northern Westchester. Religious leaders reminded everyone who attended that despite religious or ethnic differences or divergent views on issues there is much more community members have in common than they realize.
"I think what it says is this is a community that welcomes not just the neighbor but the stranger, and that we can come together despite whatever differences we have in belief and politics and celebrate as a group, the opportunity to kind of realize we're all human and we do have something in common, which is our humanity," said Rev. Dr. Martha Jacobs, the senior minister at First Congregational Church of Chappaqua and the council's co-leader.
Congregants representing each of the participating houses of worship read passages or sang selected prayers and other songs during the service held inside the Temple Beth El sanctuary. The event also included remarks from Rev. Canon Alan Dennis from The Church of St. Mary the Virgin and a special recognition for Lutheran Church of Our Redeemer Pastor Leigh Pezet, who is retiring within the next year.
Following the service, a traditional Thanksgiving meal featuring turkey with all the trimmings and a large assortment of delicious desserts were donated by local businesses and served buffet style in the synagogue's social hall. Jacobs and Temple Beth El Rabbi Johnathan Jaffe urged the guests to leave their comfort zone and sit with attendees from other congregations.
Elizabeth Powell, a parishioner at The Church of St. John's and St. Mary's, who sat next to Joban Kour of Baha'is of New Castle, said she wanted to make sure she supported what the Interfaith Council has done.
"It was really important (to attend) because of diversity, and being in this area of Westchester we don't experience it as often as we should, so I thought this was a great time and a great way to come out to meet my neighbors, to understand their religion a little bit and to make new friends," Powell said.
Aamir Mumtaz of the Upper Westchester Muslim Society said it's critical that everyone gives thanks in their own way this time of year. He circles the date each fall to attend the interfaith Thanksgiving service and dinner to show that people from an assortment of backgrounds can get along and have a common purpose.
"This is probably at the top end of interfaith relations and integration of the different communities, collaboration," Mumtaz said. "This is a good example for the rest of the country, etc. The thing is, because of the people that are here and the close proximity to so many institutions within four, five miles of each other, people have put in the time to cultivate the relationship the last 10, 15 years. So this is the fruits of that effort."
Jaffe said it's an honor for Temple Beth El to be part of the rotation of houses of worship in the town to host the event.
"I think it's incredibly important at least on an annual basis that we come together as a community to break bread together," he said. "The fact that we host it every so often just adds to the joy."
The Chappaqua Interfaith Council is comprised of the congregations of Baha'is of New Castle, Chappaqua Friends Meeting, Church of St. John's and St. Mary's, Church of St. Mary the Virgin, Luther Church of Our Redeemer, Temple Beth El of Northern Westchester and the Upper Westchester Muslim Society.