Chappaqua Club Raises $35G for Cancer Research in Swim Event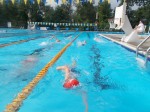 It can be difficult getting up before 6 a.m. on a Sunday morning in the middle of  July. Maybe even more so if you're heading out at that hour to do some intense physical exertion.
But close to 50 area swimmers, many of them children, made their way to the Chappaqua Swim & Tennis Club pool at that hour last Sunday to help raise money for cancer research, prevention and treatment in the annual Swim Across America event.
Chappaqua Swim & Tennis Club is one of nine venues in Westchester and Rockland holding a Swim Across America of Long Island Sound fundraiser between early July and early August. The Long Island Sound chapter has been part of  Swim Across America since 1992; this is the third year Chappaqua Swim & Tennis has joined in.
Roughly 20 of the children who took part are members of the club's swim team, although anyone from the community of any age, including nonmembers, were welcomed to participate. Each swimmer would go at least a half-mile (32 pool lengths) while some went as far as two miles.
"I'm just so proud of them getting involved," said Dan Levy, coach of the club's swim team. "That's really what it's all about."
By afternoon the efforts had raised $35,000, said Carrie Dillon, one of the adult swimmers who helped with publicity. With donations still expected to come in, organizers were optimistic that they could top last year's $37,000.
The Long Island Sound chapter has become the largest in the organization, having raised over $12 million since its inception, said chapter President Tony Sibio. Two years ago it raised more than $1 million.
Despite the hour and the challenge, the children didn't seem the worse for wear.
"I'm able to do something I love while raising money for a good cause," said Norah Kuduk, 10, who swam one mile.
Luka Cekic, 10, participated with his two younger sisters, Jaida and Kiara, and put in two miles with relative ease.
"I feel good helping fight cancer," he said.
Their mother, Maija Cekci, said that there was friendly competition for the swim team members to take part.
"We have a great team and a great community and we wanted to do what we can to help support a great cause," she said.
Katonah resident Bobby Hackett, a silver medalist in the 1,500-meter freestyle in the 1976 Olympics, was on hand to give a free swimming clinic. Hackett has been involved in a large number of Swim Across America events across the country since its launch in 1987.
He said most are open water swims,  but there has been a movement to hold swims in pools to attract more people. In Westchester the open water swim is Saturday, July 26 on the Long Island Sound.
Regardless, whether you're doing a half-mile or several miles, there was no pressure and no one was made to feel like they're racing superior swimmers, he said.
"So here, you can stop, take a break and keep going and you could take two hours or you could take 15 minutes," Hackett said. "Whatever it takes to swim a mile or half a mile, whatever it is. It's a good way to start the day, too."
Denise Buckley of Chappaqua said it was time for her to help in the fight against cancer. Three years ago she lost her husband to colon cancer at 44, leaving her with two young children.
Although not a strong swimmer, Buckley, with the help of a board, completed 40 pool lengths and vowed to continue every year.
"It was a really positive experience," she said. "I enjoyed it and I feel good about it."