News Based on facts, either observed and verified directly by the reporter, or reported and verified from knowledgeable sources.
Chappaqua Church to Hold 85th Annual Strawberry Festival on Saturday
We are part of The Trust Project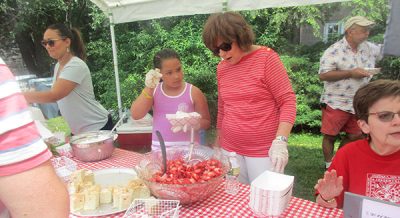 One of the many highly anticipated events that fell by the wayside the past two years is one of the longest-running festivals in Westchester County.
This Saturday, the Strawberry Festival at The Church of St. Mary the Virgin in downtown Chappaqua makes a comeback and will be held for the first time since 2019.
Most of what has made the festival a fixture on the calendar for 85 years will be returning – the live music, a children's petting zoo, puzzles and bouncy castles, various vendors, hot dogs and hamburgers, a bake sale, the strawberry café where smoothies and strawberry lemonade are sold, and, of course, the incomparable strawberry shortcake with ice cream and whipped cream.
"It's a big event for us," said John Priscantelli, a member of the church's vestry who hasn't missed a festival when it's been held since he joined the congregation in 1998. "It's a fundraiser (for the church) but at the same time we consider it outreach to the community, so it's really our opportunity, too. Of course, we struggle financially. Of course, it's going to help us but it's our chance to see people from the community come out."
And the community has come out in droves in years past, especially when the weather cooperates.
In addition to the usual attractions, this year there will be an appearance by watercolor artist and Westchester resident Susan Lanzano, Priscantelli said. Plus, Chappaqua children's authors Mara and Matt Van Fleet are scheduled to attend and read from their most recent book.
While the festival is a church fundraiser, a portion of the proceeds is usually donated to charity, Priscantelli said. About 15 or 20 years ago, that could mean upwards of $25,000 or $30,000, he said. Prior fundraising efforts have gone toward Midnight Run in New York City, the Bedford Hills Correctional Facility and Hope's Door, among other organizations.
This year the church will be donating 10 percent of net proceeds to help Ukraine, he said.
With dwindling church attendance in recent years, St. Mary's is a little pressed financially, although Priscantelli said the church applied for and received money from the federal Paycheck Protection Program that helped it navigate through the teeth of the pandemic.
The only thing that might be missing from this year's festival is few kids' activities, he said. Plus, there won't be a raffle this year because they don't have the manpower to run it.
"We probably had a lot more kids' games in the past because we had a lot more parishioners, but as you know religion these days is not on the top of everybody's list," Priscantelli said.
The Strawberry Festival is held on the grounds of The Church of St. Mary the Virgin located at 191 S. Greeley Ave. in Chappaqua. It will be open from 11 a.m. to 5 p.m. and will be operating rain or shine, although the long-range forecast for this Saturday was highly encouraging. There is no admission to the grounds but food and most activities have a cost.
"It's really a fun day for us as much hard work as it is," Priscantelli said. "I don't think I've missed one in over 20 years."