Chappaqua Children's Book Fest the Biggest Yet for 10th Anniversary
We are part of The Trust Project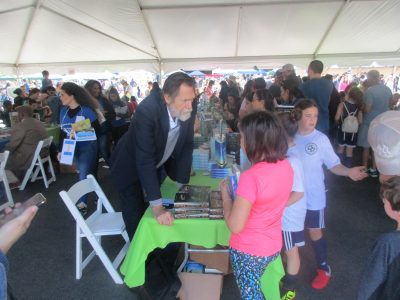 It may still be two months away, but for those who look forward to the Chappaqua Children's Book Festival every year, there are reasons to eagerly await its return even during the heat of summer.
One of the largest and most anticipated festivals of its kind in the United States is celebrating its milestone 10th year on Saturday, Sept. 30at the Chappaqua train station parking lot. While there will be the expected scores of children's authors and illustrators on hand to greet their young fans, the 2023 festival is one to really get excited about.
To start, this year's headliner is Mary Pope Osborne, the author of the acclaimed Magic Tree House series, which has reportedly sold well in excess of 100 million copies. Perhaps the growing cachet of the Chappaqua Children's Book Festival caught the attention of Osborne – or at least her publicists or publisher.
The festival will kick off with her being featured at 10 a.m.
"She does not do a lot of festivals," said Festival Executive Director Dawn Greenberg. "We were thrilled her people actually reached out to us. She's iconic. Every kid in America has read a Magic Tree House book at one point or another."
This year, KidLit TV, which has a national following of teachers and parents, will be broadcasting live from the festival, and author Alan Gratz, a fixture on The New York Times bestseller list, will also be on hand, Greenberg said.
Throw in a wide assortment of authors and illustrators of the expected 180 who will participate, including 25 graphic novelists and artists, a stage for the first time to conduct some of the author interviews, along with more food trucks, story time and sponsors, and it promises to be a day to remember.
"It's just going to be more of everything," Greenberg said. "All we need is a beautiful weather day."
Author Nick Bruel, who has been at the festival nearly every year, said his favorite one is in Chappaqua, and not because it's literally a quick drive down the road from his Pleasantville home, but that it's so well-organized.
"I've been to loads of children's book festivals and there's new ones popping up every year, which is, I think, marvelous," Bruel said. "By my estimation, and it's not really even an estimation, the one in Chappaqua is the largest by far in the country, the largest children's book festival, exclusively, in the country."
Aside from an enjoyable day for children and families, the festival may take on even greater importance this year with it being held against the backdrop of an avalanche of challenges and bans on children's books in areas of the country. Close to 30 of the invited authors have had their works banned or challenged somewhere in the U.S.
Greenberg said the issue is likely to come up in some form and "it's not something that we're going to be shying away from."
"I get the parents' rights efforts," Greenberg said. "If there's a book you don't want your child to have, okay. But you don't have a right to tell every other child in America that they can't have access to it."
Bruel, author of the Bad Kitty series, said he was ensnared in a challenge over one installment of that series about 10 years ago because he referred to a character's parents as partners. He said he always responds to people simply and directly.
"I was aware that there was a kid out there, whether they like it or not, that kid existed, who might have two moms or two dads or who have parents who call each other partners, and their experience was valid and they had just as much right as every other child to see their story respected in a mainstream children's book," he said.
Greenberg said parents should check out the festival's website in advance and plan the authors they may want to meet and speak to.
For more information about the Chappaqua Children's Book Festival and the complete list of authors and artists, visit www.ccbfestival.org.