Changes on Way for Taxi Service at Chappaqua Train Station
We are part of The Trust Project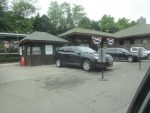 The livery company that provides local taxi service for commuters at the Chappaqua train station will vacate that location at the end of the month.
Leros Point to Point, which has had a contract with the Town of New Castle to have their vehicles in seven prime spaces in front of the station, recently sent a letter to the town and the public that it will discontinue service after June 28.
Its president, Jeff Nyikos, cited competition from Uber and Lyft and the scheduled increases in minimum wage that makes short, local runs impractical to continue.
"At some point when you're driving and doing nine, $10 jobs in Chappaqua, to justify the increases that are coming down the pipeline, it's going to have to be $20, and instead of ruining our reputation and everyone commenting on social media about the most expensive taxi cab company in America, for our sake it makes sense for us to focus on other things that we do in the transportation business," Nyikos said.
The Valhalla-based Leros, the parent company for Greeley Transport Services and 769 Taxi and employs about 250 drivers, will continue to do its van services throughout the region, corporate transportation and runs to the metropolitan area airports, he said. The company dedicated about 10 drivers for train station service.
Nyikos said Leros pays its drivers a salary, which will rise to the eventual $15-an-hour minimum wage over the next few years. Cab companies are also faced with regulatory expenses, such as insurance and payroll taxes and dispatching costs that Uber and Lyft aren't subjected to by transportation network companies, he said.
Although the contract with Leros was scheduled to run through the end of August, the company will pay the town money it is owed for the agreement's final two months, said New Castle Supervisor Robert Greenstein.
Greenstein said the town has sent a Request for Proposal to about 10 taxi  companies in hopes of replacing Leros in the near future. The town's preference is to agree to terms with a single company with their cars clearly marked, but if officials have to temporarily contract with individual taxis that can be done as well.
"Having a dispatcher and a whole bunch of cabs with the same company is our number one choice, but the other model that other towns have used is just having individual spots and you may just register with individual cabs and you let them use the spots," Greenstein said.
In Pleasantville, the contract for Leros's 769 Taxi expired on May 31 and there has been no response from the company in correspondences from the village, said Village Administrator Eric Morrissey.
In the letter that was sent to the public, Nyikos stated that Leros is also ending service at the village's station.
Administrative aide Noreen Regan, who handles this issue for the village, said there has been little to no outcry in Pleasantville over the discontinuation of cab service. Leros had access to three spaces in that location, she said.
The village is looking for another company and has been letting other taxis use the spaces, Regan said.
Nyikos said while Uber and Lyft have hurt the taxi business, there is still a place for traditional transportation companies. For example, about 30 percent of the time a company like Leros will have cheaper rates, with Uber and Lyft charging surge pricing at certain hours. Also, a corporate traveler who needs to leave for the airport at 5 a.m. will have difficulty finding a ride with Uber and Lyft, he said.
Despite the inconvenience, Greenstein said he's not overly concerned with the pending change.
"The residents just want to have cab service," he said. "I think we will get cab coverage but I'd like to replicate what we have now. That's what residents have grown accustomed to."