Changes on the Horizon for Chappaqua Farmers Market
We are part of The Trust Project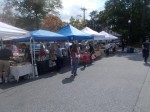 Chappaqua Farmers Market organizers have reached out to New Castle officials about potentially partnering with the town on the operation of the popular Saturday morning market to receive assistance for the growing administrative tasks.
Priscilla Sorensen, farmers market board of directors chairwoman and co-founder, and Market Director Pascale Le Draoulec appeared with several members of their board at the Sept. 16 town board work session to discuss an arrangement that would ensure the market's future remains bright.
The Chappaqua Farmers Market, a nonprofit entity that is currently run by its board of directors, was established four years ago. Estimates have pegged average weekly attendance at about 2,000 patrons for the outdoor market at the Chappaqua Metro-North station, which runs from May through November.
Sorensen said that by coming to the town, she and the board are seeking continuity.
"So for four years, starting from nothing, it's really accomplished what we think is remarkable," Sorensen said. "Really, this partnership could be formalized so we have some administrative support and also have some assurances the market will be in place."
While details must still be worked out, Sorensen and Le Draoulec said they hoped the current board of directors, which is comprised of community volunteers, would continue in its role of overseeing the operations as a town advisory board.
However, if the town becomes involved there are likely to be certain protocols that would need to be followed to make sure municipal law is adhered to, said Supervisor Robert Greenstein. Greenstein, however, assured Sorensen and Le Draoulec the farmers market board of directors would remain in place.
"The last thing we want to see is anything that would happen to stop it from being (the) great asset that it is to the town, and let's figure out how we can do it," Greenstein said. "We looked at other markets for models. We decided, we had our board get involved, and we decided we can take it over."
However, during last week's discussions, the first time there was public dialogue on the topic, a couple of apparent misunderstandings between the two sides surfaced.
First, Sorensen said this year's indoor winter market is in jeopardy because the Church of St. Mary the Virgin has doubled its rent and attached various conditions to the lease. Sorensen said when she recently met with Town Administrator Jill Simon Shapiro, she and Le Draoulec were left with the impression that the town wasn't committed to continuing a winter market. The winter market has run from December through April.
Shapiro said that at the time she couldn't be more definitive about a winter market because she hadn't spoken with the town board. Greenstein said the town hadn't closed off the possibility of a winter market.
Last week, officials also floated the idea of reaching out to the Chappaqua School District for use of one of the schools or keeping the market open outside throughout the winter.
If there is no indoor venue found, there is the likelihood that the market would take a 10-week hiatus from mid December through February, said Will Wedge, a member of the board of directors.
Another apparent misunderstanding cropped up when officials talked about offering Le Draoulec a one-year contract to continue through 2015. She said she was worried that with only a guarantee for next year, the town would be able to easily replace her despite helping to make the market a success.
Le Draoulec, who manages the markets in Irvington and Hastings-on-Hudson, also was concerned that the Chappaqua market could lose some of its unique local flavor.
"Something that was running very smoothly and very organically and very passionately may become a little too corporate and I just worry how that will affect the timber of the market," she said.
Shapiro said that when municipalities become involved, agreements are more formal.
"When the farmers market comes under the town's control, you're talking about public funds and public funds being used to support the market," Shapiro said. "When there are public funds that handshake that you have …doesn't necessarily translate into the municipal world."
Another meeting to discuss issues and to iron out differences will be scheduled in the next couple of weeks.