Chamber Seeks to Force Referendum on Roundabout
We are part of The Trust Project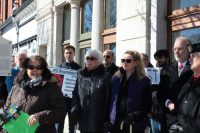 Three former mayors joined Greater Ossining Chamber of Commerce members Friday in downtown Ossining to lobby for a permissive referendum on a proposed roundabout in the area of Main, Spring and Brandreth streets.
"This isn't a political movement of any kind. This is a difference of opinion," said Gayle Marchica, president of the chamber. "We want to make Ossining a walkable town, a place where people will spend money. Putting a roundabout in place, at this time, so quickly, without proper studies, is irresponsible."
The Ossining Board of Trustees voted 3-2 last November to pursue the roundabout instead of making improvements to the intersection. Three weeks ago, the board approved $500,000 in serial bonds to finance the roundabout.
Mayor Victoria Gearity has said the current intersection is "antiquated" and options have been explored for nearly two years. Village officials maintain the roundabout will save money long-term, be safer for pedestrians, calm traffic while improving flow, be environmentally-friendly, and expand sidewalks inviting greater seating, greenery and public gathering spaces.
However, former Mayor Miguel Hernandez, flanked by fellow former mayors William Hanauer and John Perillo, contended constructing a roundabout will cost "at least $9 million" and ruin the character of the district, which is listed on the National Register of Historic Places.
"It is a damn shame that the current mayor and her administration want to destroy this place so they can say they built something," said Hernandez, who is on the village's Historic Preservation Commission. "The community was never consulted. When is this madness going to stop?"
John Van Steen, secretary of the chamber's Board of Directors, said the Board of Trustees was ignoring recommendations in the Comprehensive Plan and the need to change traffic patterns throughout the village.
"We believe the roundabout is a poor policy decision for the village," said Van Steen, who works for Merrill Lynch.
In order to trigger a permissive referendum, the chamber needs to obtain approximately 2.500 signatures on petitions that are circulating by the end of the month. Otherwise, village officials said construction of the roundabout is scheduled to take place this summer.