Castelli to Run Primary Challenge for 40th Senate District Seat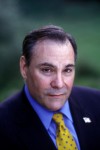 Former Assemblyman Robert Castelli made it official on Tuesday announcing that he will challenge Yorktown Councilman Terrence Murphy for the Republican nomination for the 40th state Senate District seat being vacated by Sen. Greg Ball.
Castelli, 64, of Goldens Bridge, said he is running to give Republican voters in the district a choice of who they want to represent the party in the November election rather than have that selection made by party bosses. The winner of the Sept. 9 primary will take on Democrat Justin Wagner.
"We believed the voice of the people was taken and it should be returned to them," said Castelli, who made his comments outside the Lewisboro Public Library accompanied by about a dozen supporters. "If I'm not their choice, okay, but I want them to have a choice."
The Republican committees in Westchester and Putnam counties have already endorsed Murphy. However, Castelli said his campaign is in the midst of collecting about 2,000 signatures on the petition to get him on the primary ballot. About 1,000 valid signatures from registered Republicans in the district must be submitted to the Board of Elections by July 10.
Castelli, who called Murphy a friend, said Ball's late announcement last month left the party in a bind because it limited potential challengers who would have little time to plan an effective campaign. He suggested that strategy was no coincidence.
"It appears to everyone that it was made with the purpose of forcing out any other candidates other than his handpicked candidate," Castelli said.
Three days after Ball's announced that he would bow out, the Westchester nominating convention was held, he said. Despite a request for a postponement by Republican representatives from five towns–Mount Pleasant, New Castle, Pound Ridge, Lewisboro and North Salem–the decision was made to back Murphy.
Castelli, a Vietnam veteran, retired state trooper and former criminal justice professor, said he has eyed this seat for a couple of years but had promised Ball that he would not challenge him.
Castelli, who defeated County Legislator Peter Harckham in a February 2010 special election for his Assembly seat before defeating current White Plains Mayor Tom Roach for a full two-year term later that year, said that he has the experience to navigate Albany more effectively than either Murphy or Wagner.
In his nearly three years in the Assembly, he said he worked effectively with Democrats and has earned the admiration of Gov. Andrew Cuomo for his bipartisanship.
"I've been up there, I swam with the sharks. I understand the culture of Albany and the corruption of Albany," Castelli said. "I have been a reformer, I'll continue to be a reformer."
Castelli lost to Assemblyman David Buchwald in 2012.