Carmel, Somers, Pleasantville, Byram Advance to Section 1 Finals
News Based on facts, either observed and verified directly by the reporter, or reported and verified from knowledgeable sources.
We are part of The Trust Project
Mahopac's Koch Scorched Earth, Runs for 6 TDs, 319 yards in Record-Setting Effort
By Ray Gallagher, Examiner Sports Editor @Directrays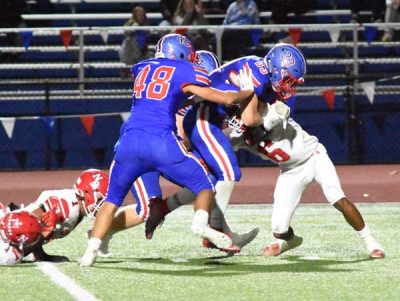 It was business as usual for the state-ranked powers that be upon the Section 1 grid circuit. No.4 Class AA Carmel – the reigning NYS champion – No.1 Class A Somers – the 2021 NYS runner-up – No.5 Pleasantville – the Class B runner-up – and Class B No.12 Byram Hills all survived and advanced along the road to Mahopac, home of the Section 1 finals this weekend.
CLASS AA
Top-seeded CARMEL wasted no time in dispatching North Rockland, 38-0, doing so behind a whirlwind ground game that saw the Rams (9-0) amass 286 yards, the vast majority before halftime. Par for the course, All-NYS RB Nick Rosaforte paced the attack and was wired defensively. The senior captain had nine carries for 79 yards and three scores, giving him 20 TDs on the season.
"And Rosey is also one of the best free safeties I've seen in many, many years," Carmel Coach Todd Cayea said of the two-way sensation, who added four tackles on defense.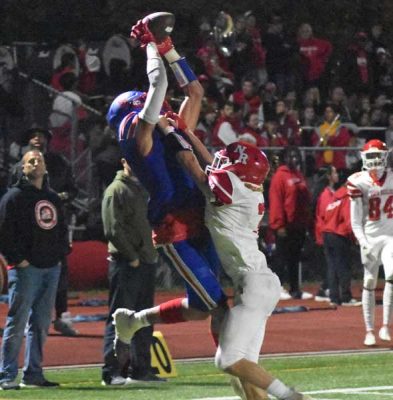 Ram sophomore Tristan Werlau added two rushing TDs and 117 yards as Carmel won its 25th-straight game and will play a sneaky good, undefeated Mamaroneck club at 6 p.m. Saturday at Mahopac High where the Rams will play for the Class AA title for a third-straight year. RB Thomas Keating added 81 yards on 11 carries.
While advancing, the Rams have humbled playoff foes by a combined 76-0 count. Normally, No.1B Mamaroneck (9-0), which has never advanced to the sectional finals in the state-playoff era (since 1993), would be a minor bump in the playoff road, but the Rams will see the film this week, which doesn't lie: This isn't an ordinary Mamaroneck team. They can run power, extend the edges and throw deep behind QB Jason Cox. Neither the Rams, nor the Tigers, have faced anybody as good as each other this season. It boils down to a doozy at Mahopac High, which, and in all probability, will not host the 2023 sectional championships in favor of Mt. Vernon #RumorHasIt.
"Mamaroneck is very good," Coach Cayea said, "but we will be prepared. Our kids are very physical. We will see fast enough. Mamaroneck ain't no joke, agreed."
CLASS A
No.1A SOMERS (9-0) was a well-oiled machine in its 39-6 thrashing of No.2B Harrison in Friday's semifinals. It was the Tuskers' 25th-straight win over Section 1 foes.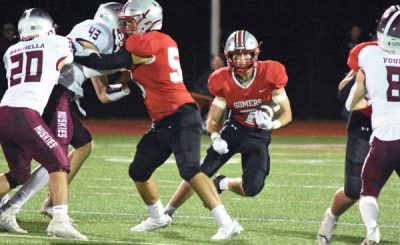 "Everyone came to play," Somers QB Matt Fitzsimons said after hitting on 6-of-6 passes for three long TD strikes and 196 yards. "Once again, our defense did its thing and just gave the O good opportunities. We capitalized off those opportunities and the O-line just dominated up front and helped put the game away by halftime."
Fitzsimons connected for scores with Ravi Davis (80 yards), Andrew Violante (35 yards) and 'Big Mac' Sullivan (63 yards). Dass added 40 rushing yards on three carries while RB Luke Savino rushed for 90 yards on 10 carries, including a key 31-yard, second-quarter score for a 14-0 lead, just prior to Luke Kennedy's pick-six, which spotted the Tuskers a 21-0 lead late in the second quarter.
"We had our best week of practice this week," said Savino, who added a second TD trot. "It was a great team win and everyone stepped up. The O-line did a great job opening gaps for me. We have unfinished business and want to get back to the dome."
Somers senior OL/DL George Forbes was an absolute animal, leading the defense with 12 tackles, including three for a loss. Tusker DL Ryan Cole went to town, adding 10 tackles, three for a loss, and four sacks. Cole and Forbes simply blew the state-ranked (No.13) Huskies up after Harrison showed some ability to push the pile in the first quarter.
"We had a great week of practice and prepared hard," Cole said. "We knew it was going to be a battle, but I think just us being able to come together as a team and have that bend but don't break mentality helped us come through in the end."
The Tuskers will need more of the same as they face No.1B Rye, an age-old nemesis, in Friday's Class A title tilt at Mahopac (6 p.m.) against the state-ranked (No.15) Garnets.
Here are some eye-popping numbers posted by MAHOPAC (5-4) senior RB Joey Koch we'd like to share. The All-Section captain finished his varsity career with six touchdowns and 319 yards (all school record) on 21 carries in the visiting Indians' 49-39 non-playoff win over BREWSTER (4-5). Koch concluded the season with 1,597 rushing yards and 22 TDs on 158 carries (10.1 yards per carry. He added three receiving scores and two more via kick return for a single-season school record 27 touchdowns in all, 43 for his career.
"I always wanted to play for my town and with my friends that I grew up with and if I'm able to be in the record books then that is just icing on the cake," Koch exclaimed! "It's also a testament to my guys up front and on the outside. We are a team 100%. Everyone understands their role and goes at it as hard as we can. Individual records reflect team success. If I have the record, then that's something we can share as a team forever."
Brewster Coach Ed Mulvihill is just glad he won't have to see him again.
"Offensively we played one of our best games but ran into a buzz saw in the Koch kid," Mulvihille said. "It was a back and forth game all night with both sides making plays. Koch was phenomenal as was our QB Massimo Parrello but Koch was too much tonight. You think you have a good angle and with his top-rate speed he's suddenly by you. I was hoping he would get tired from all the long runs and have to come out."
Parrello rushed 15 times for 100 yards and three TD's while hitting on 21 of 28 passes for 302 yards and two TD's.
"Mas and Koch combined for over 700 yards of offense," Mulvihille said. "In the end, Mahopac, with the help of a kickoff return for a TD and a red zone interception, were able to secure the victory. Our offensive line was outstanding, pushing the bigger Mahopac line off the ball."
LAKELAND (5-5) QB Grady Leonard went out on a high note in the Hornets' 32-21 win over Clarkstown North, connecting on 12-18 passes for 250 yards and four TD passes. He added another seven rushes for 104 yards and a score. Hornet WR Anthony Jennings (6 grabs, 104 yards) was on the receiving end of two of those TD passes.
CLASS B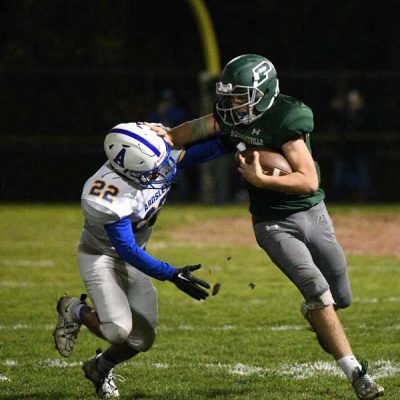 PLEASANTVILLE will face BYRAM HILLS in a be-all, end-all Examiner-area battle for all the marbles after the Panthers and Bobcats took care of business in the semis.
The top-seeded defending champion Panthers (9-0) will head into the finals undefeated after a 30-7 trouncing of No.4 Ardsley, thus securing a second-straight trip to the Class B final.
Versatile Panther Daniel Picart rushed for 203 yards and a pair of touchdowns on 23 carries.
"Daniel is right up there with the best players I've ever coached," Pleasantville boss Tony Becerra said.
P'Ville QB Aidan Picart hit Owen Mooney for a touchdown pass and a 27-0 halftime lead. Emmet McDermott spotted the Panthers a 7-0 lead with a pick-6 just 58 seconds into the game.
"We're starting to get to where we want to be," All-NYS WR/QB/DB Daniel Picart said after padding his season-long numbers to 13 rushing scores and 1,378 yards on the ground, "but we can still be much better and no matter who we play we're prepared to play at the highest level. We are starting to play for four quarters and keep this run alive."
Nobody said getting to the finals would be easy and No.2 Byram Hills (8-1) discovered just that in a 14-12 win over No.23 Nanuet Saturday when Colin McManus blocked a punt and returned it for the game-winning score in the third quarter against a Nanuet club that eliminated Byram Hills on a touchdown in the waning second of last year's semis.
"It was a big day for our defense and special teams units," Byram Coach Simon Berk said. "Defensively, linebackers Jack Quinn and Daniel Leff were making plays in crucial situations. James Moran ran hard and racked up yards, but the defense held when it needed to and Leff, Sean Siegel and Scott Miller were all in on the 2-point conversion sack to maintain the lead.
Senior Colin McManus, our starting strong safety, made the play of the game with a blocked punt, recovery and run into the endzone. Luke Weiler was a weapon in the special teams game also, kicking three touchbacks on three kickoffs and flipping the field position in the punt game." Weiler also recovered the onside kick with four minutes remaining.
Byram was later forced to stop Nanuet's two-point PAT with 4:04 left when Scott Miller played the hero with a strip sack. Miller had also blocked a PAT in the second quarter to help his team hold a 7-6 lead. Bobcat RB Gavin Javorsky, returned from a two-week absence (ankle injury) to rush for a team-high 80 yards on 16 carries. Bobcat QB Jon Accurso ran for a touchdown, but the Bobcat defense will need to stiffen against Pleasantville.
"Javorksy was solid in his first game back from injury and helped secure the key first downs to end the game," the coach said. "Jon Accruso made some huge conversions through the air and ground game. Nanuet's defense was impressive from start to finish and James Moran is as talented as they come in Section 1."
Byram allowed Moran to go off for 210 yards and two touchdowns on 37 carries, so one can only imagine the Panthers are salivating at the chance to unleash Picart in the title tilt.
Byram Hills (9-1) will face Pleasantville at 3 p.m. Saturday at Mahopac High School. The Bobcats are on the verge of winning their second sectional title in less than two years after being crowned champs in the spring 2021 COVID season.
Ten-time sectional champion Pleasantville will be seeking its fifth sectional title since 2013.
CLASS C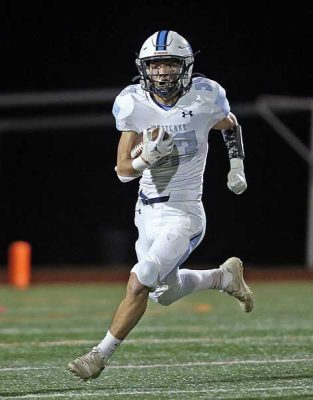 WESTLAKE (7-2) rolled into the Class C semis after smashing their way past Blind Brook, 39-13, but VALHALLA wasn't as fortunate in its 45-20 loss to reigning sectional champion and state semifinalists Dobbs Ferry (8-1).
Westlake junior RB Chris Kalle was the horse the Wildcats rode to the finals. His three TDs set the stage for state-ranked (No.20) Wildcats' Class C title tilt with state-ranked (No.6) Dobbs Saturday at high noon for the rights to rep in the state tourney, what would be Westlake's first and only crack since 2015. History is against the Wildcats, as Dobbs has won 15 sectional titles since 2001, including four state titles.
"We started a little slow against Blind Brook in the first quarter but we picked it up as a team and came together to pull out a win and compete for a championship," said Kalle, the son of former Lakeland baseball great Jay Kalle. "We are definitely going to have a great, sharp week of practice, but me and the team have been waiting for this rematch since week four (a loss to Pleasantville), so we are all excited to play for the championship on Saturday."
Hudson River Football Independent League
WALTER PANAS was building its foundation through the independent league in 2022, and build the Panthers did in their 56-28 Independent League championship win over visiting Spring Valley Friday. Panas QB Travis Carlucci capped a remarkable season by rushing for four touchdowns and connecting with Randy Wiesner for another. Bullish Panas RB Paul Ronga plowed in for two more rushing touchdowns and Cooper Schmidt added another for Panas (7-2).