Carmel Routs CBA, 51-7, Advances to NYS Class AA Final 4
State-Ranked (No.7) Rams Get No.9 Newburgh in NYS Semis #RoadtoCuse
By Ray Gallagher, Examiner Sports Editor @Directrays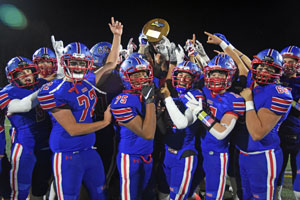 MAHOPAC — The Albany-based Christian Brothers Academy traveled well. The buses pulled up at Mahopac High School last Saturday and their boisterous fans filled half the bleachers, but it wasn't long before the ride home would turn to misery. A 41-yard strike between Carmel QB Kevin Dall and WR Andrew Fiore set up a first-and-goal from the two yard line, which was followed by a two-yard TD plunge from FB Nick Rosaforte for a 7-0 midway through the first quarter. Carmel DB Vincent Mazzamuto, who had a team-high seven tackles, returned a fumble 35 yards for a TD on the ensuing possession at 3:45 of the first quarter for a 13-0 lead.
CBA (9-3) knew from jump street that Carmel (11-0) meant business, and Coach Todd Cayea's state-ranked (No.7) Rams kept the pedal to the medal en route to a 51-7 thrashing in the regional final of the NYSPHSAA Class AA football tournament.
Carmel will challenge state-ranked (No.9) Section 9 champion Newburgh Free Academy Saturday at Middletown High School (6 p.m.) with a berth to the state finals on the line.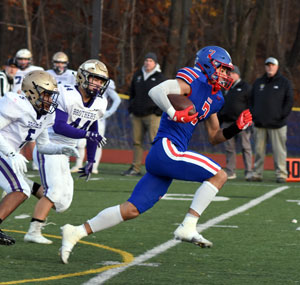 Section 2 champion CBA, ranked No.17 in NYS, tried to respond to Carmel's initial blow, but Carmel DB Trevor Cayea triggered a fumble with a big hit that put the ball in the hands of Mazzamuto, who raced 35 yards, untouched, for a touchdown and 13-0 lead with 3:45 to go in the first quarter. Mazzamuto, who played the game of his life, was everywhere.
"I just put my head down and played Carmel football," Mazzamuto said. "We're champs and they're champs, so it came down to heart and effort tonight. I think this might have been my best game ever. I'm just glad to have helped us get the win."
Dall was as poised and calm in the pocket as he's been all season, leading the charge by connecting on 9 of 10 passes for 179 yards and a clutch 25-yard TD pass to Patrick Kiernan. He added 44 yards on eight carries and was in total sync with Fiore throughout the day.
"Me and Kevin have been playing football together since third grade, so our connection has always been there," said Fiore, who had four grabs for 97 yards "But we put in a play to line me up at fullback to get me a good matchup and it worked out great, and Kevin delivered a great ball and I just had to secure the catch and make a play."
Carmel sophomore LB Matt Risley closed out the scoring with a 70-yard scoop and score, following in a ball-jarring sack by Kiernan. The Rams have now outscored their opponents by a 425-56 margin this season. CBA was held to 87 yards on 27 carries.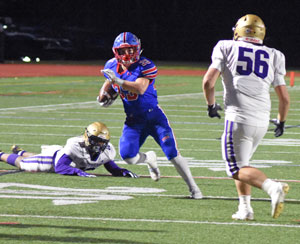 "Our coaches, as they always do, had a great game plan," said Carmel RB Josh Massi, who finished with two TDs and 58 yards on 19 carries after what looked like a damning second-quarter fumble. "My teammates picked me up. They weren't going to let me stay down for long. Get a game plan, watch some film, time to move one."
A 51-7 outcome would suggest a complete blowout but CBA was leigt, according to Coach Cayea. Carmel amassed just 121 yards on the ground and another 179 via air, so yards were tough to come by. Opportunity, though, was something Carmel jumped on.
"That was a really good football team we just played," Cayea said. "We knew we had to come out and play our best game against them. CBA is a well-coached team, probably one of the best teams we played all year. Our kids were up for the challenge though. A lot of will, a lot of grit and a lot of heart. They come out every week and take care of what they are responsible for. The coaching staff is enjoying every moment we have with them. Every phase is working now. We don't know much about Newburgh right now, but we will by tomorrow."
Carmel K Nick Sodano hit on 6 of 7 on PATs and nailed a 32-yard field goal after a momentum-swinging 80-yard kickoff return by Dylan Shields as time expired in the first half. Rosaforte set up the second Massi TD with a 32-yard interception return, and RB Shields added a six-yard touchdown run for a 44-7 lead with 6:37 left in the game.