Carmel Mashes, Bashes Down Championship Door
Rams Win 1st Section 1 Class AA Title in 31 Years; White Plains, Byram Hills Fall in Late Rounds
By Ray Gallagher Examiner Sports Editor @Directrays & Rob DiAntonio @RJD_Photos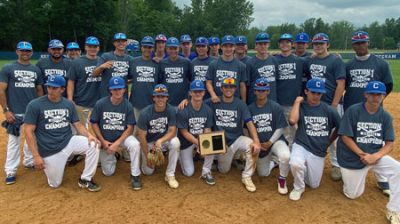 Imagine hitting above .400 all season, hovering near .460 at season's end, yet somehow flying under the radar: Welcome to the 2021 spring of Matt Demme. The All-Section Carmel senior, playing in the shadows of UConn-bound senior Jack Sullivan and Iona-bound senior Anthony Febo, helped carry Coach Joe Hackert's fourth-seeded Rams to their first Section 1 Class AA championship in 31 years last Saturday when visiting Carmel flirted with first-inning disaster only to post a 5-1 win over perennial powerhouse Roy C. Ketcham, the No.2 seed.
"Hands down, Matt was the most unheralded star in Section 1 this season, hands down," Hackert exclaimed after watching Demme deliver two hits and three RBI, including a two-run single after RCK Coach Pat Mealy intentionally walked Ronnie Shofi to get to Demme in a critical four-run fourth. "Matt carried us at times. If Febo or Sullivan weren't hitting on those rare days, Matt came up huge for us and he did so again throughout the playoffs."
Demme went through a mental phase as a junior when he couldn't hit the broad side of a barn during summer ball, but Hackert took the bat out of his hands and talked the kid off the ledge.
"We literally sat down and laughed about how poorly he was hitting," the coach said. "Sometimes it helps to laugh at yourself, and so he comes in this year and just tears the cover off the ball and gives us quality innings as a No.2 starter in every game he pitched this season. Honestly, when the season started, I would have put up three other kids for All-Section ahead of Matt, but he was unbelievable."
Unbelievable is going 31 years, since 1990, in fact, without a title and then going to RCK to win the first since former Coach Bob Shilling did so three decades ago. RCK is home to 11 league titles, six Section 1 championships, three regional crowns, three state Final Four appearances and one state title.
Sullivan survived a shaky first inning but escpaed further damage when Miele opted for a first-inning suicide squeeze, which popped into the air for an inning-ending double play.
"That was huge," Hackert said. "That was our first big defensive play but shortstop Kevin Dall made another later in the game when he went up 10-feet high to snare a line drive to his glove side to get us out of another potential jam."
Sullivan went on to assume command of his slider, which was so effective it rendered the Indians scoreless over the final six frames. Sully slotted fastballs and bent sliders with equal effectiveness, whiffing 10 and scattering four hits.
"Him and I were in sync all day," said Febo, who scored twice to finish with 27 runs in 22 games. He tore the cover off the ball, finishing with a .493 BA, five dingers and 34 RBI. "We just knew what type of team we were up against. I knew exactly what to call. Jack is a stud. He has been a stud from freshman year and he showed up today. It was an insane win and I am just proud of my team and the fight we had all year."
Sullivan's fight was evident since he bulldogged his way onto the scene as a fresh-faced 14-year-old back in 2017. Fast forward four years and we're looking at Player of the Year material: .542 BA, 5 HR, 14 2B, 42 RBI, 27 R in 22 games at the dish; 5-1 1.44 ERA, .175 BA on the mound.
"We threw Sullivan and Febo to the wolves as freshman, then did the same with six of seven sophomores the next year, so we took some lumps early on," Hackert said. "But it got to the point where I only step in here and there to call parts of the game. Febo and Sullivan call their own game now. After four years together, I felt they earned that right. They have built such a rapport. Jack struggled in the first innings as he has at times this season before he figures out what's working. Once he established his slider from the second inning on, they were done. To go through RCK like he did gave us chills watching. RCK is the barometer, the team you measure yourself against every year. When you go in there and win you show mental toughness, and we believe our kids have that after what we put them through as freshmen and sophomores. It paid off today."
And did so all year during an historical season that saw the team rock 21 homers, drive home 206 RBI, mash 239 hits and bat .383 as a team. In the fourth, RCK's St. John's-bound ace Xavier Kolhosser could not keep the Rams at bay. Nick Montagna's long double to left tied the game. Sullivan followed with an RBI single for a 2-1 lead before Demme provided some insurance for Sullivan with a clutch two-run single that made it 4-1. Game over!
"They loved every minute of playing baseball together," Hackert said. "We're in a nail-biter with RCK and these kids are coming off the field or sitting in the dugout all smiles, totally unfazed and always had each other's backs. I've got to believe this was one of the best hitting teams in Section 1 in a long time. I've never seen anything like it. "
And neither had Carmel High, for at least 31 years.
In Thursday's 6-5 semifinal win over White Plains, the Rams were not at their best, coimmitting three errors, but they pounded out 11 hits and overcame a 5-3 deficit with three runs in the fifth. Demme went 6-2/3rds for the win, fanning six Tigers. Sullivan and Jon McIntyre had three hits apiece for the Rams.
The Rams also topped No.5 Suffern, the then-reigning champions, 11-1, last Wednesday when the Rams scored three runs in the bottom of the fourth of a game delayed by Tuesday's foul weather. Mason Compton hit an RBI double and Brendan Murphy hit a two-run double. Tim Albano pitched a scoreless fifth inning to close the game that Sullivan had started and worked four innings without allowing an earned run. Sullivan added a two-run single and Febo (two hits, three RBI) mashed.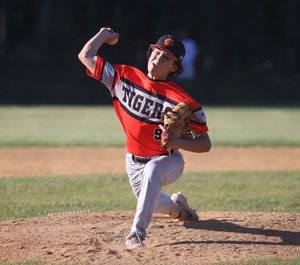 WHITE PLAINS had a memorable postseason run that came up just short against eventual champion Carmel in a 6-5 Class AA semifinal loss last Thursday.
"The boys made a heck of a run," said White Plains coach Marcel Galligani, whose squad finished 14-7. "Super proud of their efforts, toughness and compete level. Knocking off the No. 1 seed Mamaroneck and being the only team to beat them speaks volumes about this group. The fact that we won our first two playoff games not allowing a run and only scoring two, shows you that these boys handled the bright lights like men."
The eighth-seeded Tigers took a 5-3 lead in the top of the fifth inning against the Rams. Teddy Hauser's two-run double drove in John Myers and Chris McGuire. Mark Kent singled home Hauser to extend the lead. But the Rams answered with three runs against Kent in the bottom of the inning and regained the lead, aided by some fielding miscues by the Tigers.
White Plains had chances to tie it up in the sixth and seventh innings but couldn't capitalize. Myers (3 for 4, 2 runs) was stranded at second after a double in the sixth. Hauser reached second in the seventh after an errant Carmel throw but the Rams were able to induce a groundout to end the game.
"We unfortunately let it slip away," Galligani said. "We were able to come up with a huge hit in the fifth and unfortunately a few mistakes in the bottom half of the inning doomed us. Despite giving away the lead, we fought and managed to get the tying run into scoring position in both the sixth and seventh innings. That showed toughness and character. Despite not being able to push the tying run across, I could not be more proud of my boys. You have to give Carmel credit. They're a very good team and very well coached. They played solid defense and swing the bats really well."
Declan Bruton went 2 for 4 with an RBI for the Tigers. Derek Diaz had an RBI and Nicky Vendola added a hit and a run scored.
The Tigers earned a pair of 1-0 wins to get to the semis, including a nine-inning upset of top-seeded Mamaroneck in the quarterfinals. The teams had split during the regular season. Diaz, a freshman phenom, tossed a complete game three-hit shutout while striking out seven with zero walks.
"Derek was fantastic against Mamaroneck," Galligani said. "His ability to command his pitches in any count was impressive. He got ahead in the count and hit his spots. As a 14-year-old freshman on a big stage like that, I can't tell you how impressed I was, as was everybody else in attendance. Keep in mind they had seen him a few weeks prior when he pitched another gem at home for us when we handed them their first loss of the season."
Joe Salerno had the lone RBI for White Plains in the second inning on a fielder's choice, driving in Bruton (2 for 3). On top of his impressive pitching performance, Diaz was 2 for 2 with a double.
CLASS A-1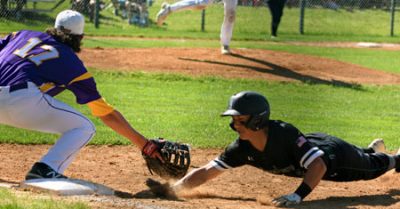 YORKTOWN's dream season — among the finest regular seasons in school history — came to an abrupt halt last Thursday when the top-seeded Huskers were sent packing in a 5-3 extra-inning Section 1-A semifinal loss to visiting Clarkstown North.
When you string together 10 hits, are aided by three walks and three Ram errors, the Huskers normally win those types of games going away, but they are still waiting for that elusive clutch hit that might have broken the game open in their favor. Instead, the Huskers left 13 runners on base and made three uncharacteristic errors behind their stellar pitching.
If we learned anything about top-seeded Yorktown in Year 1 of the CJ Riefenhauser era it's that his Huskers have no quit in them. The Huskers battled ceaselessly throughout the season, including their loss to eventual champion Clarkstown North, the No.5 seed.
Clarkstown North scored four runs in the top of the eighth, aided by a couple of booted balls, and then stranded the bases loaded in the bottom half of the inning, limiting Yorktown to two runs in another comeback bid.
Yorktown took its quarterfinal match against visiting John Jay-Cross River, 12-5 when lefty Scott Weitman threw four scoreless innings in relief and struck out two to earn the win. The senior hurler had one of the finest seasons in Yorktown history and will be sorely missed next season. Husker 1B Swaroop Pujari was 2 for 3 with a double and five RBI to lead one of the more feared offenses in the section. The Huskers were in early trouble, down 4-0, but never panicked. Tyler Pugliese (2 for 4, 2B three RBI) and Kyle Zaslaw (3 for 4, two runs) initiated a couple of key rallies.
No.10 SOMERS had some magic going and the benefit of an easy quarterfinal draw against No.2 Yonkers that had some Class A managers questioning the structure of the tournament seeds. COVID played a part in the determination of the seeds this season, but brackets were broken early and often in all team sports because certain teams that hadn't truly challenged themselves — for whatever reasons — were rewarded with high seeds they may or may not have deserved. Certainly, Yonkers, which had a great season but lacked quality W's, was one of them. Somers blew out Yonkers before falling to Eastchester, the eventual A-1 runner-up, 14-1.
CLASS A-2
WALTER PANAS (12-3) had been struggling to score runs as the regular season concluded and it caught up to Coach Anthony Fata's top-seeded Panthers in last Wednesday's season-ending 5-0 loss to No.5 BYRAM HILLS in the sectional semis. The Panthers opened the playoffs with a 2-1 win over visiting Nanuet when ace P Jackson DiLorenzo fired a complete game and allowed no earned runs while striking out 15. Panas C Danny Witters went solo and Gavin Carlucci added an RBI single for the Panthers, who return a ton of talent for another run in 2022.
BYRAM HILLS went on a memorable run to the Section 1 Class A2 finals, where the fifth-seeded Bobcats were out dueled by second-seeded and host Tappan Zee, 2-1, on Saturday.
Bobby Chicoine, a junior who is committed to Boston College, allowed two earned runs on three hits and fanned eight Dutchmen. Tappan Zee chucker Kyle Roper needed just 77 pitches to get through seven innings.
Tappan Zee took an early 2-0 lead on a Brendan Baiamonte two-run single in the first inning. But Byram got on the board with a run in the fifth inning with Christian Bellantoni's two-out RBI infield single. The Bobcats, however, were unable to muster any more offense as the Dutchmen's stellar defense held them at bay.
TZ moved on to the Class A championship game where they were routed by Clarkstown North, 14-2, on Sunday.
Byram's Jordan Baskind tossed a three-hit shutout and struck out eight in a 5-0 win over host Walter Panas in the semifinals last Wednesday. Michael Ascanio blasted two homers and had three RBI. Jared Cohen socked a solo shot while Danny Bernstein went 2 for 3 with an RBI.
The Bobcats bested Hen Hud 5-2 in the quarterfinals behind a complete game effort from Chicoine. He struck out six, scattered seven hits and let up the two earned runs. Chicoine (2 for 3, double, RBI, run) and Bellantoni (3 for 3, RBI, run) paced the Byram offense. Josh Gillison (3 for 3 RBI) led the Sailors.
CLASS B
Second-seeded BRIARCLIFF reached the Class B semifinals but lost to eventual champ and third-seeded Rye Neck, 6-3, on Thursday. Rye Neck broke open a tie game with a three-run sixth inning. In the bottom of the sixth, the Bears' Max Haberman (3 for 3, RBI) was robbed of a bases loaded hit that may have tied the game.
Tom Poggi had a two-run homer for Briarcliff in the bottom of the first, tying the game up after Rye Neck jumped out to the early lead.
The Bears cruised past 2019 Class B champ WESTLAKE, 12-2, in five innings in the quarterfinals. Jay Amador sparked the Briarcliff offense with two hits and four RBI, including a single in the fifth which brought home two runs to end the game. Poggi picked up the win on the hill and also had a two-run home run. Marc DeNunzio supplied the No. 7 Wildcats' offense with a two-run single.
Just like Briarcliff, VALHALLA had a strong postseason run, reaching the Class B semifinals. The fifth-seeded Vikings went on the road to Rockland County and defeated fourth-seeded Albertus Magnus, 4-2, in the quarters. Marc Weeks tossed a complete game gem, fanning nine Falcons and letting up two earned runs. He retired the final 15 batters of the game.
Christian Rossi (2 hits, 2 RBI) and Jason Rodriguez (2 hits, 2 runs) sparked the Vikings' offense in the upset win.
Valhalla lost to top-seeded Bronxville, 3-2, in eight innings in the semifinals. The Broncos' Charlie Vail was issued a bases loaded walk to end the game.
PLEASANTVILLE had an 11-inning, three-day marathon affair with Bronxville in the quarterfinals but just like Valhalla, lost 3-2. The game was suspended after nine innings last Monday, rained out on Tuesday and finally completed on Wednesday.