Carmel Looking to Build on 2020 Campaign, off to 2-1 Start
We are part of The Trust Project
By Tony Pinciaro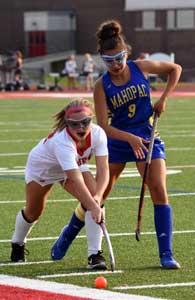 CARMEL co-captains Kasey Lewis and Nikki McGough and their teammates are planning to build on the success the team had in 2020.
Last year, the Rams played for the Northern Westchester/Putnam Large-School field hockey title. Despite the loss to Horace Greeley, Carmel came away excited and psyched for 2021.
"Last year, we were proud to finish as runner-up," said Lewis, a three-year varsity starter. "Last year was definitely tough, considering the pandemic, but because of amazing girls we started something big off for Carmel Field Hockey and look forward to continuing that this season."
The Rams did just that, opening 2021 with a pair of victories — over league foe Arlington (1-0) and Horace Greeley (2-1). Despite a loss to Lakeland, Carmel has established itself as a contender for the Section 1 Class A title.
"Our success last year helped us prepare for this season in that it had us motivated to work hard and build on what we accomplished last year," McGough said. "Coming into preseason we were excited and felt good even though we had lost some key players that graduated."
"We have a variety of girls this year, some from last season and some new girls including two sophomores," Lewis said.
"Preseason this year was definitely different then past years, especially because this is the most normal season we've had in a while. But I think we handled it very well, each girl working for one another creating a bond within the program both at JV and Varsity levels. Nikki and I both are so proud of how far we've come just this season, and with so many competitive games coming up we know we can just keep growing!"
Carmel was tested right from the start with Arlington and Horace Greeley, two perennial Section 1 Class A powers. In fact, Horace Greeley won the 2019 Section 1 Class A title and was the state runner-up.
"Personally, I've always loved playing Arlington as it's such a close game," McGough said. "But I'm mostly proud of the girls and the grit it took to win. So much team effort is necessary from each player and I really think that all of us wanted it, not only for ourselves but for one another. The team playing together learns more from each other every quarter and after walking away from the Arlington game, we came out as a stronger team."
Carmel did not have to wait long to face Greeley again. And following its win over Arlington, the Rams had confidence going against Greeley.
"It told us that we have the skill to compete against such great teams but most importantly that we could finish," said Lewis of the win over Arlington. "With such strong, talented players like Laila Rosenquest on the offense along with Claire Bumgarner, Ashley and Nikki McGough and Gracie Sonnergram playing up, we have a good chance to keep this success."
Lewis and McGough attribute much of their success and the team's success to veteran coach Aislinn Breslin.
"Coach Breslin has made a big effort to improve her coaching skills during the offseason," McGough said. "She worked with Nexus and brought back tons of new drills for us to work on and better our skills. Coach Breslin has an upbeat attitude. She makes practice and games fun for all of us."
HORACE GREELEY had a busy and perfect 3-0 as the young Quakers shut out Clarkstown North and Fox Lane, 4-0, and over Mahopac, 2-1.
"We have a young team and we still have a lot to work on," Horace Greeley coach Sukhwinder Sandhu said. "Hopefully, we can improve and step up even more in the next few weeks."
Cat Salamida had two goals and an assist against Clarkstown North. Stephanie Novick added a goal and an assist, Aidan Lane scored a goal and Hannah Mortman collected an assist. Fiona Hayes made one save.
Salamida scored Greeley's goals against Mahopac with Mia Brown and Nina Byrne assisting. Hayes came up big in the cage with 16 saves.
Ava Jennings had Mahopac's goal and Madison Orsini stopped five shots.
Salamida continued her torrid scoring week with two scores and an assist against Fox Lane. Emma Schwartz and Byrne also had goals while Brown, Mortman and Lane registered assists. Hayes did not make a save for her second shutout in three games.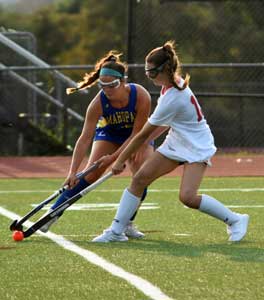 PANAS opened its week by giving first-year coach Leah DiSisto her initial varsity win in a 3-1 victory over Croton. Hayley Madden put Panas on the board and Kylie Edwards followed with two scores. Mackenzie Schmidt assisted on Edwards' second goal and Kate Astrab rang up eight saves.
Astrab made 12 saves in a 2-0 loss to PLEASANTVILLE as Caitlin Rubsamen, Maeve McCourtney assisted, and Cynthia O'Brien scored. Isabelle Baxter had two saves.
BREWSTER received two goals from Morgan Brace and one goal and one assist from Eva Cucinell in a 3-1 win over Panas Sofia Sanchez and Emily Monaco also had assists.
Schmidt converted a penalty stroke for Panas and Astran was outstanding in goal with 19 saves.
Ava Harman scored twice and added an assist as PUTNAM VALLEY registered its first win of the season — 4-2 over Valhalla.
Julia Carlin opened the scoring for the Tigers, assisted by Shayla Lussier. Harman scored her goals, including one on a stroke, and she assisted on Allie Granieri's score.
Kylie Reccupio made three saves.
VALHALLA goals were scored by Ava De Natale and Gianna DiGilio. Kat Wolfman had an assist.
Putnam Valley dropped a 5-2 verdict to undefeated Albertus Magnus as Sara Lussier and Carlin had the goals Ava Buerkle and Granieri collected assists.
LAKELAND shook off any rust it might have had after not playing in a week and improved to 4-0 with an 8-1 win over Carmel.
Emily Yazzetti and Jaden Ray each had a hat trick. Gabby Santini added two goals and Mia Smith and Yazzetti each posted two assists.
Lauren McCartin had a hat trick and Brianna Coolican added two goals in SOMERS' 7-1 win over HEN HUD.
Paige Johannsen scored for Hen Hud, assisted by Caitlin Pignataro, and goalie Emily Hunt made 20 saves. The Tuskers were also knocked off by MAHOPAC, 2-0, in the consolation round of the Somers tournament.
Field Hockey coaches are encouraged to contact Tony Pinciaro at TFinch23@optonline.net to be included in our Field Hockey Notebook. If your team's not included, you know why.