Carmel Elementary School Student Reigning Irish Dance Champion
News Based on facts, either observed and verified directly by the reporter, or reported and verified from knowledgeable sources.
We are part of The Trust Project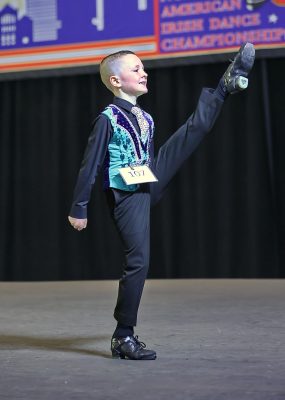 The COVID-19 pandemic presented many challenges, but it also provided time for individuals to try new things.
One case in point is Paul Rodden, a nine-year-old fourth-grader at Matthew Paterson Elementary School in the Carmel School District.
Rodden, who resides in Patterson, accompanied his sister one day to a free Irish dance class. His sister wasn't impressed, but Rodden, who was six at the time, fell in love with it, and he has been obsessed ever since.
"He just took to it," said Kassie Rodden, Paul's mother. "He loved it so much."
Rodden started taking lessons and within a year he progressed from a beginning stage dancer to a champion-level performer. He entered his first competition and took first place in every category.
His mother said Paul, who donned a $12 vest from Amazon, was impressed and further motivated by the fancy vests older competitors were wearing.
Last year during Thanksgiving weekend, Rodden was crowned the Mid-Atlantic Region Champion. A few weeks ago, during the week of July 4 in Nashville, Rodden won the North American Irish Dance Championships in the Under 9 category.
"He's definitely not in it for the fun," Kassie Rodden said. "He's very competitive. Not in general, just in Irish dance. He's very mature. When he doesn't do well, it's very frustrating on him. He doesn't give up. He's persistent. He's so self-motivated. He's willing to put in the work."
Rodden, a straight A student, practices about 20 hours a week.
"There's never been a time where he has said I'm tired or I want to take a day off," Kassie said. "He could do it wherever he goes. He dances wherever he goes, even in a store. He doesn't walk. He could do it all the time."
Kassie said Paul's ultimate goal is to be a world champion. To qualify to compete in the championships, Paul would have to finish in the top 25 percent in the Under 10 category at various events.
She said the whole family is very supportive of Paul's aspirations.
"This is our life," she said. "I used to think it was the craziest thing, driving everywhere. Now we go everywhere. We take trains and buses."
"I don't know how much he talks about it (at school)," Kassie added. "It's not something that many boys do. He's not a braggy kid. That's what I'm here for."