Carmel Cruises Past White Plains, Coach Cayea to Retire
News Based on facts, either observed and verified directly by the reporter, or reported and verified from knowledgeable sources.
We are part of The Trust Project
Mahopac Mauls Harrison; Pleasantville Bounces Byram; Somers Back on Track; PV Improves to 2-0
By Ray Gallagher, Examiner Sports Editor @Directrays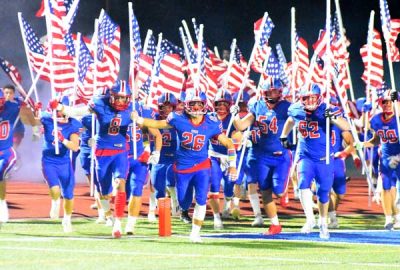 Week 2 presents a loaded slate of local action this Thursday, including a Class A Mahopac at Yorktown showdown that features a pair of unbeaten rivals and two of the top fan bases around. Reigning NYS Class A champ Somers will also host Fox Lane and defending Section 1 Class AA champ Carmel will visit an Arlington team that many are calling the favorites. Week 1 had some funky weather-related issues and some eye-opening wins, which we'll take a dive into below, but not before we bid adieu to Carmel Coach Todd Cayea, who, after three decades on the sidelines, will be stepping down as coach of the Rams after winning a state title in 2021 and repeating as section champs in 2022, his third such title.
Coach Cayea was recently suspended for the Week 1 game against White Plains because his team was videotaped during contact drills that were not legal to partake in at that time. His team/players were on the sleds, which for some reason, are deemed "contact" drilling. He took the suspension in stride before deciding, for the second time in two years, that his health should become his primary concern. Carmel went 13-0 in 2021, winning every game by 24 points or more, including a 42-12 romp over Buffalo Bennett in the Class AA state final in Syracuse. Shortly thereafter, the ol' ball coach resigned amidst serious health scares, but he returned to the sideline shortly before the start of the 2022 season because the program and the kids of Carmel, which means the world to him, wasn't in a good place without him. In 2022, Carmel repeated as section champs for the first time in school history. He tried to give it a go again in 2023, but coaches are wired differently than the rest of us and the stress and strain of another grinding season began to take its toll.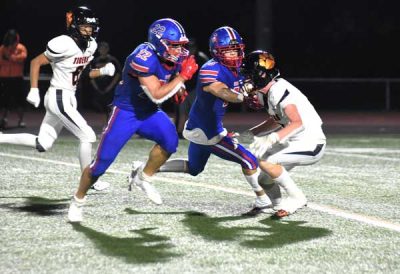 "Didn't want to go out like this but it is what it is," Coach Cayea said Friday. "I've got to think of my health and my family first. I'm just wired different when it comes to this game and it's just not safe any more, really hasn't been for a few years now."
Before departing, Coach Cayea transformed Carmel from a run-of-the-mill football town to one of the most fanatic fan bases in Section 1. He leaves with his players and coaching staff ready to rumble, poised to challenge for a third straight sectional title. Well done, sir, well done!
In the interim period this season, former Mahopac Coach Tom Donahoe will lead the Carmel coaching staff. Donahoe was the head coach at Mahopac where he dutifully served for many years before recently leading the freshman program through the 2022 season.
CLASS A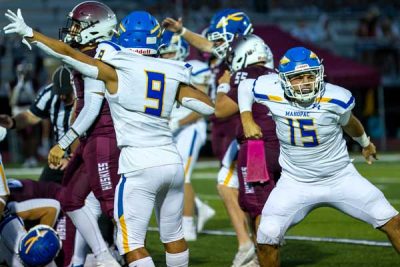 MAHOPAC (2-0) opened some eyes last week when Coach Dom DeMatteo's WolfPac went on the road to Harrison and dominated the second half for a 28-14 victory. The Huskies had been bandied about in preseason conversations as potential challengers to Somers' Class A throne, but a lot of that chatter will simmer down after Mahopac QB DJ DeMatteo (7 of 10, 152 yards) torched the Huskies for four TD passes, three of which went to speedy senior WR John Kearney.
"The guys are absolutely dialed in right now," DeMatteo said. "I see improvement at every position and in all three phases of the game every day. Happy our guys showed no quit after a rough first half, down 14-7. Everyone stayed locked in and simply just did what we were coached to do. The game plan was outstanding and the guys executed well. Kearney was an absolute weapon, but he is that kind of player. That isn't a one night performance from him. Having a career night on offense and tagging along an interception. As always, the O-line kept my jersey clean. This was another zero sack game, props to those guys. They held their own against an excellent Harrison line.
"Yorktown is a very strong 2-0 opponent," he added. "We are looking forward to another great game and team to go up against."
Versatile sophomore Lorenzo Echandy added a 19-yard TD grab, highlighting a class of sophomore rookies who have been a truly great asset to the program thus far. Junior DL Landon Varley crushed it on the other side of the ball with seven tackles and a pair of sacks while sophomore Nate Mascoll added a team-high eight tackles and recovered a fumble. Ryan Sacco and DJ DeMatteo added six tackles apiece for an Indian defense that pitched a second-half shutout.
"Our effort and resiliency in the second half was something we were very proud of," Coach DeMatteo admitted. "Kearney and DJ have a strong connection and it showed tonight."
All eyes turn to YORKTOWN (2-0) as the two rivals square off Thursday (6 pm), with the Cornhuskers coming in fresh off their 47-13 win over Clarkstown North Friday. After completing 13 of 19 passes for 200 yards and 2 TDs, plus a pair of rushing scores in their Week 0 win over Poly Prep, Husker QB Kaden Gonzalez, just a junior, continued his assault on opposing defenses. Gonzo went bonzo against North, 13 of 17 for 182 yards and five TD passes, including lofts to Justin Price (2 TDs, 52 yards), Tommy Costello (5 catches, 59 yards, TD), Chris Constantine (4 catches, 29 yards, TD) and Andrew Weissman (6-yard TD catch, 58-yard rushing score). RB Dylan DelVecchio added seven carries for 57 yards and a score as the Huskers were hitting on all cylinders. Conor Duncan (8 sticks), Ryan Vogel (6), Chad Bowen (5) and Jack Ferone (5) led a stout defense that will have its hands full with a deep Mahopac outfit.
Expect the Mahopac Maniacs and The Crop to pack the house Thursday.
"Pac is a really good team but we have to take a one-day-at-a-time approach and trust the game plan and trust the coaches," Gonzalez said. "We have built up a lot of confidence within each other and we have a really good bond that I think can take us far."
Clarkstown South took a 6-0 lead on host SOMERS (1-1) on the game's initial drive, but the jig was up from that point forward as the Tuskers steamrolled to a 42-13 triumph Friday behind a combined 475 yards (rushing, passing). Somers senior QB Mac Sullivan hit on 8 of 13 passes for 161 yards and three touchdowns, including one to Andrew Violante (44 yards) and two more scores to Dean Palazzolo (20 & 57 yards). Miguel Iglesias threw just one pass but it went to the house, a 67-yarder to Luca Ploger. Tusker RB Mason Kelly was a difference-maker, getting the Tuskers going after a slow start. His 66-yard TD jaunt sparked an offense that found another gear, finishing with 104 yards and two TDs on just 10 carries.
"We came out a little slow in the beginning but we are a team that is coached to work through adversity," said senior captain Ryan Cole, who was in on seven tackles and has received D-I offers from Marist and Bucknell. "We have always had that bend not break mentality, and I think you are able to see that throughout the game on both sides of the ball. I'm really proud of our line, too. They are a bunch of hard-nosed, old-school football players, who love to just jam the ball down the other team's throat."
Nick Newman (5 tackles, 2 assists) and Nick Crecco (5 ackles, 1 assist) led the Tusker defense. Kelly added two tackles, an INT and a sack.
The Tuskers expect to jam up vastly improved host Fox Lane Thursday (4 pm).
"We are ready to go," an enthused Coach Anthony DeMatteo said.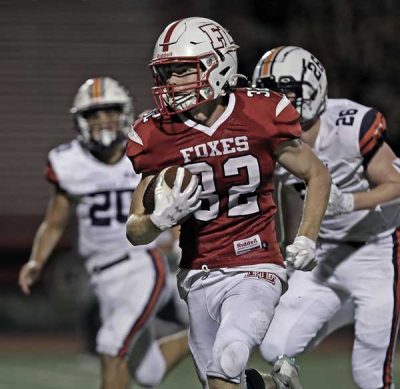 FOX LANE (1-0) Coach Andrew Giuliano has been excited for the start of the season since the 2022 season concluded. Having little to show by way of positive results last year (1-7), the coach remained optimistic and Thursday's 27-6 win over rival HORACE GREELEY (1-1) has put a charge back in the program.
Fox Lane amassed more than 400 yards of total offense and RB Declan Connors went for a career-high 209 yards on 22 carries, including a TD. He was joined in the paydirt party by Max Travis, Will Rudolph and Theo Friedman  Fox QB John Czernyk fired an efficient 7 of 8 passes for 85 yards, seeking Rudolph (5 catches, 85 yards) most of the day. James Minotti (INT), Friedman had 13 tackles apiece while Connors had six plus a pick.
"In the second half, I think our physicality and experience started to show," said Giuliano, who scheduled the rivalry game on a Thursday with a purpose in mind: To put all eyes on his invigorated Foxes. "I thought we were physical and played tough on both the OL/DL.
Hats off to my coaching staff.  I am blessed to have a crew who works hard for these kids, and they are extremely dedicated to putting our kids in situations to be successful. And hats off to the players for responding to us and how we are pushing for higher expectations out of them."
Expectations were through the roof for Czernyk and Connors and the two have been steady leaders.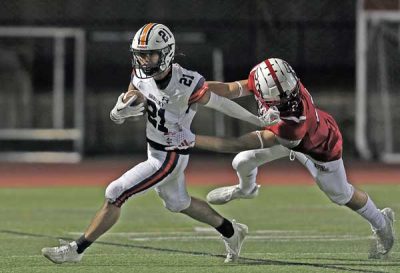 "I'm proud of the way our QB has grown and been able to manage the game," the coach said.  "We always knew Czernyk was a special kid and a big thing on our minds was us looking to see him mature. He matured physically and emotionally, and it showed in the game with his decision making. Nothing needs to be said about Declan Connors and our O-line: 22 car for 209 speaks volumes and 400 total yards as well. We were anticipating Declan's development as well this year and it was on display Thursday night with not only how he played, but with the energy he played with. Our captain James Minotti was a force on defense. Looking back, we had opportunities to accept Week Zero games early on but with the way our schedule unfolded we wanted to keep our minds on nothing but Greeley so we opted out of it. That was a group decision made by our coaching staff and I think paid off for us. The kids know that this was the last day of enjoying it, and we have switched gears to the tough task ahead in playing Somers. We are up for the challenge, and we are going to do everything to put our kids in the best position to be successful for Thursday."
CLASS B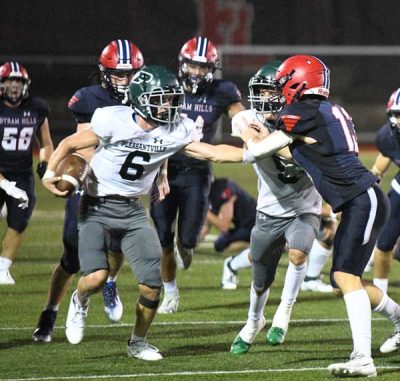 PLEASANTVILLE (1-0), the two-time reigning Section 1 champions and two-time NYS finalists (2021-22), wasted no time stating its purpose for the 2023 season when NYS Player of the Year Daniel Picart raced 65 yards on the Panthers' first play from scrimmage for a 7-0 lead at 10:30 of the first quarter, shortly after 2:00 p.m.
Coach Tony Becerra's club has but one purpose this fall: To win its second state title since 2017, and there was nothing host BYRAM HILLS (1-1) could do to stop the five-time sectional champion Panthers in Saturday's 42-10 romp of the 2022 sectional runner up Bobcats, which wasn't without weather-related impediments.
At 9:16 of the first quarter, both clubs were escorted off the field due to lightning in the area, and when they returned to the field well after 7 pm they were at another venue altogether when Fox Lane opened its facility for a nighttime conclusion, which did so after 10 p.m.
Picart went for 185 yards and dashed for three touchdowns on 13 carries and added a pair of touchdowns on defense for five scores in all. He had over 100 yards just four carries in.
"All the credit in the world to the hogs up front," Picart said of his O-line. "They're a young group of guys, but they've been working and it showed yesterday, so definitely very excited to see them mature and grow through the season."
His twin, QB Aidan Picart, hit on 4 of 6 passes for 115 yards and two TDs, including one to Erik Coleman (63 yards, 4 carries, 25-yard TD pass).
Bobcat QB Jon Accurso (11 of 19 throws, 95 yards) scored off a 1-yard sneak. Pleasantville will host Pearl River Thursday at 6 p.m. while Byram Hills has a bye and will be home for Saturday's Sept. 23 (1:30 p.m.) game against Ardsley.
PUTNAM VALLEY (2-0) senior RB/LB Rick Meister has been shredding opposing defenses over the course of the last two seasons, and he boosted his totals by scoring three more TDs to go with 150 yards on 23 carries in the Tigers' 28-10 win over visiting Albertus Magnus Saturday.
"Couldn't do it without my O-line, they got the motivation," said Meister, who passed the 1,000-yard career rushing milestone. "We couldn't ask for a better start and we're going to keep rolling into the meat of our schedule. PV is ready!"
Nick Grippo raced 74 yards up the gut of the Falcons special teams for an electrifying score shortly after 9 am when the two teams reconvened after Friday's postponement.
PV junior Caden Glenn (4 catches, 74 yards, 4 tackles, 2 sacks and a tackle for a loss), Philliph Oden -(5 tackles, caused fumble), Alex Gecaj (4 tackles, sack, two tackles for a loss) and Dylan Tucker (4 tackles, sack, fumble recovery) were integral components to the victory.
"We came out slow and to Magnus' credit – after the postponement and early game – they came out aggressive and flying around and got on the board early," PV Coach Ryan Elsasser said. "We had some trouble getting our offense going at the start, but our captains led us out from halftime determined to change that. I give them a ton of credit for rallying the team and pushing each other to make the necessary big plays in the second half. Philliph Oden, Alex Gecaj, Caden Glenn and Dylan Tucker were beasts on the defensive side of the ball for the second week in a row. I could not be prouder of the way these four have played the last two weeks. They are leaders and determined when they are out on the field. Marcos Olivera orchestrated the defense during the game at free safety and did an outstanding job identifying formations and adjusting coverages to what we saw. This win came down to some big defensive plays for us. We came out of the half with a fumble recovery by Tucker, a safety caused by Philliph and Mike Turner, and an interception by Thomas Cunningham. You can not ask for a better way to swing the momentum of a game.
"Ricky Meister was an absolute workhorse on the offensive side of the ball," the coach added. He has been an absolute stud the first two weeks of the season. Nick Grippo gave us the jump we needed on special teams with a 75 yard kickoff return for a TD. We have a lot of things to work on and clean up before we travel to Nanuet, but I can not say enough how proud I am of this group. They battled back after going into the half down by three to put 28 points on the board in the second half. Coach Mike Dellabate has been pushing our running backs and defensive backs and Coach Nick Lapadula has been priming this offense and defensive line for the past three years. It is going to be a tough three weeks on the road, but I think this group is up for the challenge."
We'll find out for sure after PV's bye week.
Traveling to Rye is never easy but going toward the Sound Shore is always tougher when the Garnets are coming off a rare loss, so LAKELAND (1-1) was up against it from the start in a 42-6 setback.
CLASS AA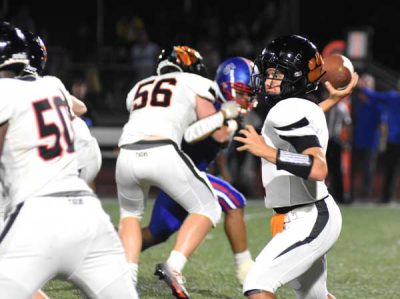 Two-time defending Section 1 champion CARMEL looked in midseason form during its weather-delayed 28-0 win over visiting WHITE PLAINS, which concluded Saturday evening after Friday's sudden postponement due to continued lightning.
Ram junior RB Tristan Werlau (12 carries, 106 yards, 1 TD), senior RB Leo Venables (11 for 83 yards, 2 TD) and junior RB Tamba Kassoh (1 for 17 yards, 1 TD) all found paydirt while Thomas Connolly (4.5 tackles), Venables (4.5 tackles, 1 TFL), Kassoh (3 tackles, 2 TFL) and Ryan Aabel (2 tackles, 1 INT, 1 fumble recovery) led the shutout effort on defense.
The Rams will visit pre-season favorite Arlington on Thursday with the Ram coaching staff in a state of flux.
CLASS D
HALDANE RB Evan Giachinta (1-yard TD) hauled in five catches for yards and took a fumble in for a TD as the Blue Devils (2-0) cruised to a 29-8 win over Poughkeepsie. Blue Devil RB Merrick Williams added 72 yards on 15 carries in his debut. Michael Murray was a force on both sides of the ball, reeling in a 75-yard TD pass from QB Ryan Van Tassel while racking up three tackles for a loss.
TBD: Brewster 14, Pelham 0, suspended till Monday; Croton-Harmon 6, Hen Hud 0, suspended, game is to resume at 3 p.m. on Sept. 19; Briarcliff/Hamilton at Irvington, ppd. to Tuesday