Carmel Cops 2nd NYSPHSAA Region 1 Title in 3 Years
News Based on facts, either observed and verified directly by the reporter, or reported and verified from knowledgeable sources.
We are part of The Trust Project
Rams Overcome Slow Start, Beat Shen', Advance to State Semis
By Ray Gallagher, Examiner Sports Editor @Directrays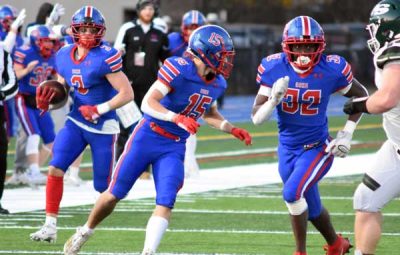 MAHOPAC – It didn't look good early on for three-time reigning Section 1 Class AA champion Carmel in Saturday's NYSPHSAA Region 1 title game against Section 2 runner-up Shenendehowa, who took advantage of two uncharacteristic turnovers by the Coach Tom Donahoe's state-ranked (No.12) Rams (10-1), leading to a 7-0 lead and nearly an entire quarter of possession by the 11th-ranked Plainsmen.
Not to worry, though, Carmel ran off the next 28 straight points and defeated the Plainsmen, 28-14, to advance to its second trip to the state Final 4 in three years. Carmel, the 2021 state champion, will face Section 2 champion CBA (Albany) Saturday (6 pm) at Middletown High School in the NYSPHSAA Class AA semifinals with a berth for the state championship on the line against the winner of Section 3's CBA (Syracuse) vs. Section 6 champion Bennett/Olmsted/Middle Early College.
An abysmal start, for sure, but Carmel was undeterred.
"This team doesn't stop for nothing," Carmel captain Matt Risley said. "The wheels never fall off no matter the situation. Move as one, stay as one, no matter what's happening. That's what's kept us alive throughout this whole run. Our coaches give us a game plan at the beginning of the week, put us in a position to win, and after that our job is pretty easy."
The heroes were out in force for Carmel, including senior DB Damien Santiago, who's first of three interceptions stalled a Shen' drive at the Carmel four-yard line, setting things up for the Rams to even up the score at 7-all after an electrifying 96-yard touchdown run from junior RB Tristan Werlau, who went basically untouched for the score at 7:51 of the second quarter.
"From my angle I just got to give thanks to my linemen for opening up a huge hole for me to run through up front," Werlau cooly stated. "We knew we were going to come out stronger in the second half and come through with the win. We knew we had the energy after that huge run."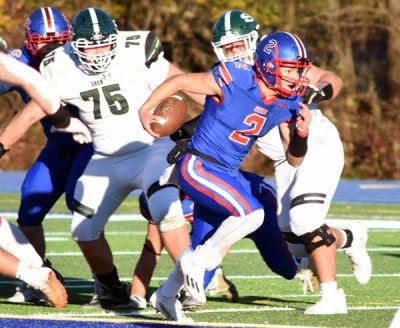 Werlau was quick to credit the Carmel D.
"Damien is a hell of a player," he said. "He was insane with those picks. I can't believe he went all the way on that one (the pick six). That was definitely a game-changer. We'll keep the train rolling and come back next week."
On Carmel's next drive, QB Christian Nunez moved the Rams inside the Shen' five when he found WR Ryan Aabel on a go route, setting up a short plunge to paydirt from RB Leo Venables with :51 left before the half and a 14-7 lead after the second of four PAT's by steady K Jared 'Felice' Navidad.
"We play as a family and once we get going we don't lose that momentum," Nunez said. "Tristan makes my job easy. He makes everyone's job easy when he breaks a 96-yard run for a touchdown. It's wonderful having these playmakers on both sides of the ball."
Aside from Santiago's three picks, Aabel also had an interception, leading to a Werlau third-quarter score before Santiago sealed the deal with a riveting, 91-yard pick-six along the near sideline.
"I was reading the quarterback's eyes," Santiago said. "Our linemen were giving great pressure on the play. The corners and each safety were pressing up on their men, and then on that return I just had guys leading me, blocking for me, telling me where to go, and our coaching staff has just shifted everybody's mind sets. We are in the right spot right now, and our mind sets are amazing right now."
On both sides of the ball, the Rams were locked in. Carmel's D held Shenendehowa to just 27 rushing yards for the game, forcing it to throw more than 40 pass attempts.
Offensively, Aabel had four receptions for 59 yards from Nunez (5 of 8, for 61 yards), who also rushed seven times for 46 rushing yards.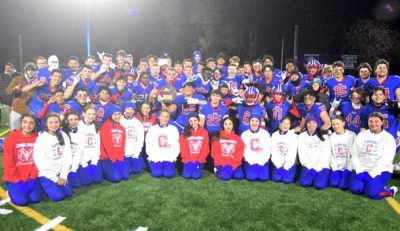 Plainsmen QB Michael Whatley was having his way in the first half, carving Carmel up between the 20's, hitting on out patterns with regularity. He completed 17 of 42 passes for 200 yards and a  touchdown but had four interceptions work against him as Carmel showed some bend but not much break. Shen WR Luke McAuliffe had nine receptions for 102 yards and a touchdown, but the Rams figured out a way to stiffen inside the 20s.
"We had a few flat series early on," said Coach Donahoe, the former Mahopac coach who humbly returned to his roots for the finest coaching moment in a 30-year career, "so that was a tough start, but our seniors and captains, in particular, did a great job of picking us up. I mean, guys like Damien Santiago are doing what he's doing on like 75% of his legs. He's got ice on them already, but he's a tough kid and he wasn't going to be denied."
Neither would Carmel: In one of the greatest, most unlikely runs in Section 1 history after a Week 2 55-18 beatdown vs. Arlington.
Corrections:
Sourcing & Methodology Statement:
References: