Cazzari Shrugs Off Attacks from Schmitt as Duo Face Off in Primary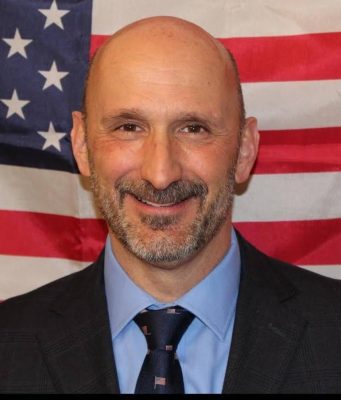 Former Carmel Police Chief Mike Cazzari maintained he was not taken aback by the sharp criticism levied at him by Supervisor Kenneth Schmitt for deciding to challenge the seven-term incumbent in a June 22 Republican primary.
"I wish the man no ill will. This is America. I have every right to run for office," said Cazzari, who noted he considered Schmitt a friend. "He's been there so long it's time for new ideas and change. If people think it's time for honesty and integrity, they'll vote for me."
Cazzari, who served as chief for six years before retiring last July and for a few years was Schmitt's superior in the Police Department, said he was never given an opportunity to address the Carmel Republican Committee before they endorsed Schmitt and his Town Board running mates, Councilwoman Suzanne McDonough and Steve Baranowski.
After mulling several elected offices, Cazzari, whose father served eight years as supervisor in the Town of Kent, said he opted to run for supervisor after being encouraged by many people, including some individuals on the GOP Executive Committee.
"I'm not beholden to anyone. I'd like to make it better here," he said. "When I look at the jobs, a councilperson really doesn't have any say in the day-to-day operations. You won't be able to change the dynamics between management and the employee. As supervisor, you're the manager of the town. There's such a lack of leadership. I've been hearing for 14 years I'm only one of five (on the Town Board). You're not one of five. When you're leading people and serve the public, if you treat them with respect, you'll get more out of them."
Cazzari, a longtime Mahopac resident who served three years on the Mahopac Board of Education, said he was instrumental in saving the Carmel Police Department when there was effort to disband it and have the Putnam Sheriff's Office take over the police coverage.
He emphasized Carmel was in dire need of new businesses, adding he favored allowing residential units being located above commercial establishments.
"We should be encouraging business, not discouraging business," Cazzari said. "When you're in office too long you kind of get stagnant. You're set in your ways and not willing to see new ideas."
Cazzari confirmed while Erin Lee Crowley and Gerard Ahler, who are running for Town Board, will appear on the same primary ballot, they are not running together.
"There's no ticket or team. There are people running against the establishment," he said. "I think people will vote against the establishment, that we haven't had any business, we haven't had any change. We're out of balance. It's just common sense."