Candlelight Vigil Marks September 11 Anniversary in Putnam
We are part of The Trust Project
More than 200 people joined together to observe Putnam County's memorial ceremony to mark the 20th anniversary of the September 11th attacks of 2001.
Many came to the Putnam Heroes Memorial at the Spain Cornerstone Park in the heart of Carmel last Saturday to remember and mourn those who died 20 years ago from the attacks on the World Trade Center. The ceremony featured a candlelight vigil which started just after sunset under a clear sky and a bright waxing crescent moon. An illuminated, large American flag floated over the park held up by an extended ladder from the Carmel Fire Department.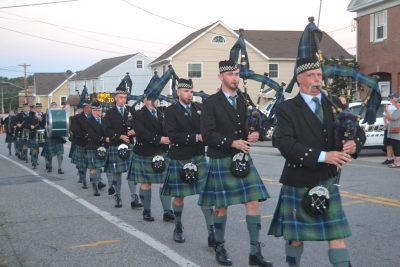 Opening and closing the program was Patrick O'Malley, retired Captain of the Putnam County Sherriff Department. The ceremonies began with the Stephen Driscoll Memorial Pipe Band who started playing a block away and continued as they marched into the park. The Presentation of Colors was by the Putnam County Civil Air Patrol.
Not only did the ceremony honor Putnam County men and women who lost their lives on September 11, but it also recognized the 94 Putnam residents who lost their lives since the COVID-19 pandemic began. Memorializing them were 94 white carnations placed around the World Trade Center Survivor Tree at the park.
Officials in attendance included County Executive MaryEllen O'Dell, Putnam County Legislators Joseph Castellano and Paul Jonke, Putnam County Sherriff Robert Langely, Kent Supervisor Maureen Fleming, Carmel Town Councilman Frank Lombardi, New York State Assemblyman Kevin Byrne, and Father Szymon Kurpios representing the clergy of Putnam County.
The Brewster High School Choir sang the national anthem at the beginning of the program and "America" at the end. Lighting the candles was done by the Kent Police Department Cadet Corp.
The keynote address was given by Detective Kirsten Jones, a retired New York Police Detective and World Trade Center responder. Jones said it was important to not only remember those that gave their lives at Ground Zero but those who suffered with illnesses from the toxic environment by working for days, weeks and months following the attacks while attempting to save people and after sifting through the rubble.
"There was no shortage of heroes on September 11th, that fateful day," said Jones. "Men and women who risked their lives every day stepped further into the unknown and put their lives on the line against the most heinous of attacks."
Community support and coming together was Jones' passionate message. She recalled how the country was angry at the attackers on September 11th. "We were united as a people, as a country against a common foe. Entire communities rallied together to help one another."
Jones acknowledged the deep schisms and wide divides now gripping the country. "We stand together at a crossroads in our country — politics, racism, separatism, radicalism — all testing the strength of our unity. We need to turn to our faith in God and our fellow man to work together to overcome our fears and misconceptions."
"It doesn't matter if we call ourselves liberal, conservative or independent. At the end of the day, we all have fathers, mothers, brothers, sisters and grandparents. It is my great desire to see our community come together and to support one another every day, not just in times of crisis but throughout the year."
She concluded by asking that common ground be sought before individual differences. "Friendship before rivalry, unity before conflicts."
The candlelight vigil ended with Sergeant Joe Baldanzo playing taps.
Putnam County lost eight men on September 11, 2001: Thomas Kuveikis of Carmel (F.D.N.Y.), 48; Robert Minara of Carmel (F.D.N.Y.), 54; Christopher J. Blackwell of Patterson (F.D.N.Y.), 42; George Kain of Patterson (F.D.N.Y.), 35, Daniel Harlan of Kent (F.D.N.Y.), 41; Stephen Patrick Driscoll of Lake Carmel (N.Y.P.D.); 38, George Paris of Lake Carmel (Cantor Fitzgerald), 33; and David Fodor of Garrison (Fiduciary Trust International), 38.