Byrne Vying for Third Term Against Veterans Advocate from Somers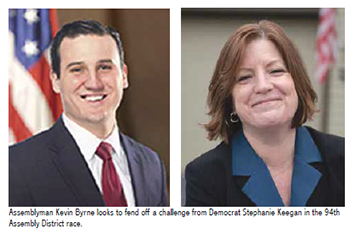 Republican Assemblyman Kevin Byrne is running for a third two-year term in the 94th Assembly District against Stephanie Keegan, a Democrat from Heritage Hills in Somers who has advocated for veterans' issues on the federal level.
Byrne, 35, a Carmel resident, is proud of the legislation he has championed and the funding he has brought to municipalities in the district.
"I've always been honest about what I'm doing and why I voted the way I did," Byrne said. "We have much more work to do."
Keegan, 61, is a former educator who also worked in the medical field. One of her three sons, Daniel, served in Afghanistan for 26 months. When he returned home, he struggled to get the care he needed. After a long struggle with PTSD and addiction, he died in 2016. Keegan has been carrying forward his legacy ever since.
She's been to the State of the Union in Washington, D.C. as an honored guest, and spoken on panels with presidential candidates. She's traveled the nation to tell Daniel's story and deliver legislation that puts veterans first.
"This the perfect place for me to put my foot in. It's time we have someone who represents everyone in the district," Keegan said. "I'm absolutely an underdog. Being a woman and a Democrat in this district, it's an uphill battle, but I'm kind of optimistic."
The district includes Brewster, Carmel, Southeast, Putnam Valley, Somers and Yorktown.
Issues
Byrne said the top priority for the state will be getting past the coronavirus, which he stressed should involve the legislature "reasserting itself" and not relying exclusively on Gov. Andrew Cuomo's guidance.
"I don't like how the governor has continuously moved the goalpost, but I think we did the best that we could," said Byrne, who noted his office assisted about 300 residents navigate the Department of Labor's unemployment process. "We did act quickly. The legislature shouldn't just rely on executive orders. We are facing unprecedented challenges with COVID-19."
Keegan said the pandemic has been "unchartered territory" and praised the response of state officials.
"I'm really, really proud of how the governor has handled this and the way the residents of the state, except for a few communities, have responded to the guidelines," she said. "New York has been a role model."
Endorsed by the CSEA, Byrne said it's important for the state to make it easier for small businesses to open and operate.
"I want to be welcoming to every business of every size," he said. "We want the storefronts filled."
Keegan supports establishing a Division of Supplier Diversity to make government contracts more accessible to LGBT, disabled and veteran-owned businesses.
"There is no diversity in our businesses in the district," Keegan said. "To keep communities vibrant, we need to bring a reason to be there. I will work hard on that. It's not easy for anyone to open a business."
Byrne said the so-called no cash bail law that was "rammed through the budget in 2019" was "a disastrous way of running a government."
"We didn't have a problem with bail in Westchester and Putnam. There were problems in New York City," he said. "It's not fear mongering. It's still a major problem."
Keegan said she was "definitely in favor of an improved bail system."
"I think this is a good step in the right direction," Keegan said of the legislation. "Having a cash bail system seems inequitable. We have to make this equitable."
Byrne said he had respect for anyone who wants to "stick their neck out and run for public office," but contended Keegan was "misinformed on some of the issues."
Keegan said she has been "very disappointed" by Byrne's representation.
"This seat needs to be held by someone who (the residents) feel comfortable to talk to," she said. "My life experience as a mother, advocate and educator have brought me to this point. I am here because I want to help."