Byram's Storybook Chapter Cut Short in NYSPHSAA Finals
News Based on facts, either observed and verified directly by the reporter, or reported and verified from knowledgeable sources.
We are part of The Trust Project
Bobcats Fall to Aquinas, 3-2, in Class A Double OT Thriller
By Ray Gallagher, Examiner Sports Editor @Directrays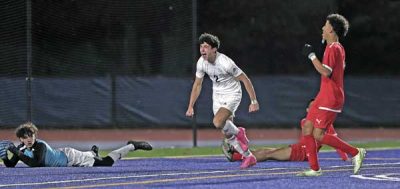 It's one thing to have your cake, but a cake without icing is always short of expectations. State-ranked (No.3) BYRAM HILLS had baked one hell of a cake as its rose from a fourth-seeded Section 1 playoff hopeful to a Class A NYSPHSAA finalist last weekend at Middletown High School where the Bobcats erased a two-goal, second-half deficit only to come up short in double overtime by a 3-2 count at the hands of Section 5 champion Aquinas Institute of Rochester.
John Leary was credited with the game-winning goal, which wasn't pretty but did the trick Saturday afternoon at Middletown High School. The Bobcats had iced their cake during this improbable to the state finals, the only thing missing was the cherry on top.
Byram hadn't been down two goals all year, according to Bobcats Coach Matty Allen, who directed this club well beyond its readily-apparent means. The unit made the necessary changes in the second half and rallied to tie the game behind a pair of goals; the first off a PK from Billy Gillespie with 20:51 to play and the equalizer off the foot of Harrison Boyd off a feed from Reid DuToit a short time later.
Overtime, specifically double OT, was the last thing either club wanted. Both teams were drained by Friday's semifinal wins. The Hills beat Long Island power Mineola, 2-1, in extra time behind goals from Boyd, a playoff hero, and a give-and-go, game-winning tally between Gillespie, the playmaker and finisher Chris Amenedo. Aquinas, the state's top-ranked team, beat No.2 Westhill, 1-0, the day before. The bond between Gillespie and Amenedo grew over time.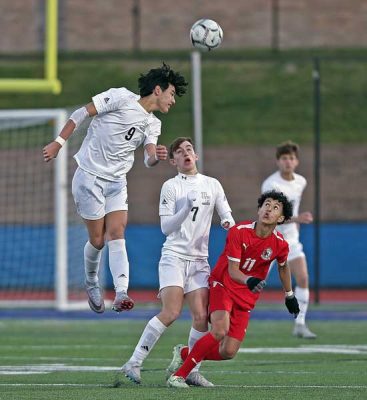 Gillespie, an energizing, crowd-pleaser, moved the ball well throughout the postseason. The academy player made the decision to play for his high school team, which is frowned upon by academy bigwigs. Coach Allen believes he's proud he made that decision to play for his high school team and hopes for more of the same from Section 1 players in the future.
"There's nothing like playing for your high school team," said Allen, who begins every season as a new chapter in a book the Bobcats write each season.
"Some books are long and some are short," the coach said. "This one got better as the year went on. We had ties against Pearl River, Ardsley and Pelham and couldn't find the back of the net early in the season. We turned the corner in a loss to Somers where, although we lost the league title, the team understood the potential. Then we went on a scoring spree and got hot in the playoffs. We started putting in goals that were shiny in nature and the book began to take on new life."
Gillespie (12G), Amenedo (team-high 24G) and Ryan Nichols (6G) began to find their stride. The unit went on an unexpected run and the book became a bible, which the players read chapter and verse, as they wrote it and bought into the tried-and-tested Byram system.
The outside midfielders – Zach Pero, Erik Cipriano, Daniil Lebedev and Reid Dutoit – began to contribute. Connor Boekel – a rock and recent Con Edison Award winner – on the back line, along with G Gavin Nichols, steadied the last line of defense. The outside backs began to shut down legitimate forwards as Emmitt Wolland and Max Miller, both underclassmen, quickly developed.
The Bobcats got solid play from center midfielders Greg Shrayer, Jacob Berland and Harry Boyd, and the result was the fourth NYS regional title and second NYSPHSAA final, one goal shy of the second state title in school history.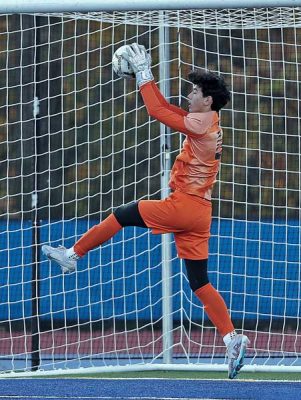 "In essence, our kids began playing like stars and the 35 men bought in," Allen said. "They didn't care about playing time, they cared about writing the next chapter of the story. In the end, they became a second half team. We were tied at halftime in every playoff game and were even down two in the finals. The boys continually fought back and just ran out of steam against Aquinas. We did have a goal called off in that game on a phantom call, so things could have broken differently.
"With that, it was a dream season," added Allen, the dean of Section 1 soccer. "The team and the community bought in in the end. My coaching staff (Steve Skonieczny and Brian Roth) really began to sort it all out and design how to win. It was really an unbelievable season and we only started four seniors. Hopefully, we can write another long book next year."
Whatever you do, don't put it past them to put pen in hand and scribe a more spectacular ending in 2024.
Corrections:
Sourcing & Methodology Statement:
References: