Business Profile: Sinapi's Bakery and Cafe, Pleasantville
We are part of The Trust Project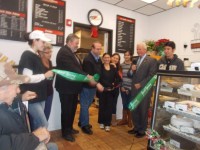 Luigi Sinapi has spent most of his adult life in a bakery, so when the opportunity presented itself to open a shop not far from his Hawthorne home, he didn't need too much convincing to jump at the chance.
A few days before Thanksgiving, Sinapi swung open the doors  of Sinapi's Bakery and Cafe at 57 Wheeler Ave. in Pleasantville, the same storefront that has housed two previous bakeries, Keane's, which closed last summer, and before that Linda Louise. Sinapi said he was approached by Barbara DeMarco who owned and operated Linda Louise and is the landlord.
"I thought it was a nice neighborhood and so my family and I would take a shot," Sinapi said.
In the opening weeks of his new business, Sinapi couldn't be happier. A steady stream of customers are sampling his baked goods, happy that an old-fashioned bakery is back in town.
Visitors can choose from the myriad items filling Sinapi's glass display case, an assortment of mouthwatering desserts and treats most people expect from a good bakery. There are a variety of cookies, miniature éclairs and cannolis, muffins, crumb buns, danish and the large black and white cookies, some of the favorites that can satisfy anyone's sweet tooth on a daily basis. All baking is done on the premises.
There are plenty of rolls, bagels and breads, not to mention a full line of birthday cakes, layer cakes and cheesecakes. Close your eyes and it's like being transported to any one of a number of neighborhood bake shops throughout New York City's five boroughs.
"We give them the best we can do, top of the line," Sinapi said. "They're made from the best ingredients."
Sinapi knows a thing or two about what makes for a successful bakery. He started working in one in Yonkers when he was 22, before striking out on his own with the first Sinapi's in the ThornwoodTownCenter in 1986.
He sold that operation after five years but opened up other bakeries–all named Sinapi's–in Hartsdale, West Harrison and later Yonkers. Currently, Pleasantville is his only location.
Open seven days a week, Sinapi's is a family affair. His wife, Miriam, can often be found at the store as well as any of his four children–Luigi, Marco, Joseph and Francesca.
"They all chip in at the bakery," Sinapi said. "They're here side by side."
In addition to the pastries, cakes and breads, the bakery also serves coffee for those who need their morning brew to start their day before stepping on the train or driving off to work. For those who have a few moments before rushing off, there are a few tables and chairs inside the store to enjoy a bagel, roll or pastry with your coffee.
Sinapi said although his bakeries have moved around the county, he has some loyal customers throughout Westchester, including those who remember the shop from his days in Thornwood. Whatever area Sinapi has opened up, he said he's received a positive response.
"We did move around a lot over the years. We did," Sinapi said. "It was a good experience. We got to meet a lot of people."
So far, business at Sinapi's has been strong, with a friendly clientele along with a village that's happy to have a bakery return to its downtown. It also helped that Sinapi was able to get the shop open in time for the holidays, always a busy time.
Sinapi's Bakery and Cafe is open from 7 a.m. to 7 p.m. Monday through Saturday and on Sunday from 7 a.m. to 3 p.m. For more information or to place orders in advance, call 914-773-2014.