Business Profile: Once Upon A Time, Putnam Valley
We are part of The Trust Project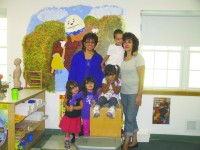 The walls of the spacious, freshly painted rooms are adorned with characters from classic fairy tales that were drawn by students from Putnam Valley High School.
The themed murals are part of the hallmark of Once Upon A Time, a new preschool on Peekskill Hollow Road in Putnam Valley that is committed to providing a learning environment in a home-type setting for children from six weeks old to elementary school age.
Together, co-owners Lisa Montalto-Rodrigues and Vera Iaconis have more than 25 years experience working with infants and school-age children, most recently at the International Preschool on Oregon Road in Cortlandt.
"This is truly a dream come true," said Montalto-Rodrigues, who was director of the former Flying Goose preschool on Oregon Road for nine years and taught grades 5-8 at Assumption School in Peekskill.
"We will have a back to basics approach. We feel the name of the school reflects a back to basic mentality, thus the traditional fairy tale theme," she explained. "We want to create a home-like environment. We take great pride in our moms first approach."
The former Pines Grove preschool has been completely refurbished, inside and out. Each room is airy, well lit and dedicated to a specific age group. Montalto-Rodrigues said each room was designed "to be as comfortable as the rooms in the child's home, so they will feel safe and secure."
Iaconis, who has taught preschool-age children for 11 years, said a lot of time and effort was spent on making sure the learning environment was inviting for children.
"Not long ago we walked into a cold and empty building. Now it's a place where children will have fun and a place where they'll learn," she said.
Once Upon A Time, which is open all year round from 7 a.m. to 6 p.m. and offers full, half-day and after-school programs, can accommodate up to 65 students. It also welcomes therapists to serve children with special needs on site and will be teaching children Portuguese and Sign Language.
"There's a significant need in Putnam Valley for daycare and we can fully accommodate that need," said Montalto-Rodrigues, a former six-year president of the Lakeland Board of Education. "We try not to be the common type of daycare center where it's more traditional care. We have a home away from home type of environment, yet they'll also be receiving an education."
In addition, Once Upon A Time has a large, terraced yard in the back with three interactive play areas for different ages that is designed to encourage learning through play and "experiential learning."
To schedule a tour or find out more information, call (845) 284-2941 or send an email to onceuponatime47@gmail.