Business Profile: Melts Gourmet Grilled Cheese, Armonk
We are part of The Trust Project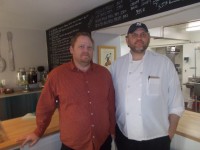 We all have days where we don't know what to eat or are simply too tired after a long day at work to do much heavy cooking.
Sometimes that void is best filled with a grilled cheese sandwich.
Brothers Greg and Nathan Kramer tapped into that sentiment last June when they opened Melts, a gourmet grilled cheese restaurant on Bedford Road in Armonk in the same space that had previously been occupied by two different burger joints.
"We figured it's a good-sized space, it's easy enough for (my brother) and I to work in the beginning and who doesn't love grilled cheese?" said Nathan Kramer, a chef for 20 years at restaurants from Connecticut to California who handles Melts' kitchen chores while Greg takes the orders and tends to the register.
"It's family friendly, it's kid friendly, it's really everybody friendly," Nathan added.
While the classic American cheese on white sourdough bread accounts for about two-thirds of its sandwich sales, Melts has about 10 other specialty sandwiches that all look like grilled cheese, but with the brothers' own spin on some popular staples.
There is the Wisconsin Patty Melt, featuring ground beef, Wisconsin cheddar, applewood bacon, crispy fried onions and barbecue sauce. Other choices include the Reuben (pastrami, sauerkraut, Swiss cheese, Russian tartar sauce and pickles on rye bread) and The Pork (barbecue pulled pork, Vermont aged white cheddar and pickles with cabbage slaw).
For those who like spice, there's The Heat, which includes wild mushrooms, pickled jalapenos, cherry peppers, goat and muenster cheeses, parsley pesto and mayo. The Tuna Melt contains melted Vermont sharp cheddar, sliced tomato and avocado on multigrain bread.
The common denominator is that all of the sandwiches have melted cheese, said Greg Kramer, who spent the past 15 years in the building construction materials industry in California before returning to New York to help his brother. He considers what they serve to be comfort food.
"Our Philly isn't like what you would find in Philadelphia," said Greg Kramer. "It's our version of a Philly that's like a grilled cheese."
Nathan Kramer said the idea for Melts arose because he wanted to open his own business but didn't want to work the seven days a week that's often required to operate a full-service restaurant. He noticed that a few grilled cheese specialty shops had succeeded in Manhattan, but there were none in Westchester.
"It's a small town but I think there's still potential for it to do pretty well," Nathan said. "It's just a matter of getting the word out inside the town."
So far that strategy seems to be working. Local social media sites have praised Melts and it has proven to be a big hit among diverse clientele, whether it be the lunchtime crowd from nearby offices, students after dismissal from Crittenden Middle School down the street or local families.
Greg Kramer said aside from fresh, high-quality food, the price and the portion size have received raves. None of the sandwiches are more than $7.95. For $2.50, a patron receives a heaping portion of French fries–not frozen but freshly cut potatoes–that could feed at least two people. Tater tots, barbecue potato chips or roasted Brussel sprouts are also always on the menu. Or on a cold winter's day you can get tomato basil soup made daily to go with a sandwich.
For a mom or dad who may be watching what they eat, a classic Caesar salad or a green salad topped with chicken, tuna or a burger is available.
With 10 indoor seats and outdoor seating in warm weather, patrons can eat in or take out. The brothers hope to be able to add a counter with stool seats in the future. At some point they also hope to be able to hire staff to add more days.
Melts is located at 144 Bedford Rd. It is open Tuesday through Saturday 11:30 a.m. to 8 p.m. For more information, call 914-219-5995 or visit www.meltsny.com.