Business Profile: Maypop Design
We are part of The Trust Project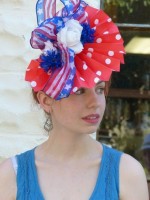 Hats have made a comeback.
If you don't believe it, then check out Maypop Design, an online business launched earlier this year that carries an intriguing line of hats, Fascinators, hair bands and hairpins, combs and other head ware that puts a modern twist on accessories some people may associate with a bygone era.
Since CEO Susan Chitwood and fashion designer Nita Lee Roberts, two compatriots in the Peekskill Garden Club, joined forces to start Maypop Design, business has been strong as customers have been enthusiastically snapping up their products. Most of their merchandise is for women, but they also carry a line of fedoras, including some for men.
"People have been getting tired of being ultra-casual," said Chitwood, a former magazine editor who has enjoyed wearing hats for years. "Dressing up can be fun and it's a little more elegant."
So far, many of Maypop Design's products have attracted women who are planning to attend weddings and other formal occasions. Chitwood said one woman asked her for a Fascinator with feathers for a wedding she was planning to attend in France. In fact, head ware for women has long been popular in Europe but is now catching on in the United States for certain occasions.
Chitwood, who operates the business from her home, said hats seemed to fall out of favor in the 1960s in the United States when bouffant hairdos were the rage and many women didn't want anything to mess up what they had spent hours having worked on in the hair salon.
But a highly anticipated event that attracted worldwide attention in 2011 may have made a major contribution to the recent surge in interest in hats.
"Hats have become more popular in the last couple of years and a lot of people say it's because of the royal wedding a couple of years ago," Chitwood said.
Last Sunday, Chitwood went to Saratoga as part of an effort to expand the company's reach to find new outlets for its products. Prestigious race meets, such as Saratoga, have long been a common place where women come dressed in hats and Fascinators–and not just the socialites and the horsey set.
Roberts, a Yorktown resident, is the creative mind behind Maypop Design's styles. A longtime fashion designer, her work has been sold in boutiques and department stores from London to Los Angeles.
Roberts makes use of various fabrics, feathers and trim to create pieces that can range from the outrageous and whimsical to the conservative and demure. She recently designed a line of Fascinators for July 4 that featured, of course, red, white and blue designs.
Wearing hats also has an unexpected advantage, Chitwood said. There's no such thing as a bad hair day when a woman has her head covered, she said.
Aside from the website, Maypop Design hats and accessories can be found locally at Elephant's Trunk in MountKisco. Chitwood said their hope is to have the Maypop line in an increased number of boutiques, women's clothing stores and department stores.
After a strong start, the positive reaction from customers has helped motivate Chitwood and Roberts that they not only have a business that's fun but special.
"People love our stuff, even though it's a hard slog," Chitwood said. "That's our fuel to keep us going."
For more information, visit www.maypopdesign.com.