Business Profile: Kidville, Mount Kisco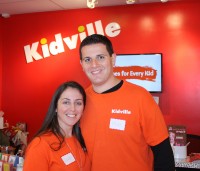 There may be no better testimonial for a product or service than if a mother uses it for her own child.
Since Diana Mann's now four-year-old daughter was a few months old, she's been taking her to classes at Kidville, an early childhood development and enrichment center, near where Mann and her family live in Manhattan.
Kidville features more than 20 different fun classes in art, dance, music and enrichment for children from infants to six years old.
"It was like her home immediately, so it became our home," Mann said of her daughter's experience. "We just loved the concept."
Last weekend, Mann held the grand opening for the latest Kidville, located in MountKisco at 145 Kisco Ave. She is the franchise owner and is looking to bring some of the same excitement and fun learning experiences for young children and families in Westchester that her four- and two-year-old daughters  have experienced.
Among the wide variety of classes and activities at the 6,100-square-foot facility is Run Wiggle Paint & Giggle, My Big Messy Art Class, Big Muscles for Little Babies, Ballet Tea Party, Kidville Gymnasts, Kidville Sports, CampKidville and KidvilleUniversity, an alternative preschool program.
Semesters last 16 weeks, although since Mann has just opened the location, the initial session will be for eight weeks. The first full semester will begin the week of Jan. 13. Classes typically run for 45 minutes each.
"You come at the same time every single week with the same kids," explained Mann, whose return to the area is a sort of homecoming since she is a FoxLaneHigh School alumnus. "You really grow and develop with that group of kids. It's really great for the instructors, too, to have that same consistency every single week with the kids."
At the local Kidville, which is using the space that had formerly been occupied by the old Mount Kisco Athletic Club, two of the most attractive areas are the music studio, featuring the organization's four-piece house band, Rockin' Railroad, and the gym.
Mann said that Rockin' Railroad is different than almost any other music class around. The children are entertained for 45 minutes straight and the band gets the youngsters moving, dancing and jumping. A different type of music genre is explored each week.
Four local musicians who work well with children have been hired to teach the classes, she said.
A variety of activities await the children in the gym, including gymnastics basketball, soccer and baseball. Kidville also features a separate indoor play space.
"It really give the kids the opportunity to try all different types of activities," Mann said.
While children are engaged in their classes, parents may wait in a lounge area and watch television or they can look through windows for each area to see how their children are interacting.
Mann said that when a child is enrolled in a class–it will be $480 for the 16-week sessions–the families automatically become members. When a child is signed up, the family receives 30 play space passes.
There is a staff of 10 instructors, including the four musicians who comprise Rockin' Railroad are
"They love what they do," Mann said of her staff. "There's a smile on their faces. As soon as my daughter runs into Kidville, she runs and gives them a hug. They're like second family to her and just the warm welcoming nature of the atmosphere of Kidville we were sold right from the beginning. It was the right place for us."
Another advantage for members is that Kidville hosts birthday parties for children up to nine years old. Each party runs for 90 minutes and the entire facility is open only for the host and guests.
For more information about Kidville, call 914-458-1909 or visit www.kidville.com/mtkisco.