Business Profile: Eye Level Learning Center, Pleasantville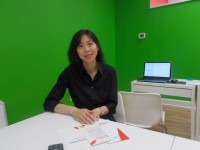 Margaret Mak had spent more than 20 years as a marketing professional in the corporate world, but teaching has always been in her blood.
Her mother was a middle school teacher in China and Mak has taught as a private tutor and served as vice president of the Northern Westchester Chinese School in Briarcliff.
Starting next week, Mak fuses her expertise and her passion with the scheduled opening of the latest Westchester location of Eye Level Learning Center on Pleasantville's Wheeler Avenue, a franchise that provides small group and individualized instruction in English and math for students from pre-kindergarten through middle school.
The weekly hour-long after school or weekend sessions are customized to help each student  receive a boost in the areas where they need assistance.
"There's always been a need but I feel it's natural for parents to want to give their children more support," said Mak, who has tentatively scheduled Saturday, Sept. 7 as the opening day for the center. "Sometimes it's more for getting them an early start, or if they feel they're falling behind a little bit or even kids who want an extra challenge."
With more emphasis than ever on children keeping pace in school, particularly as some parents and students fret about the new Common Core Standards, Eye Level Learning Center's goal is to develop a program for each child depending on their starting-off point, regardless of age.
However, Mak said Eye Level provides more than basic instruction. She also stressed that it doesn't replace classroom learning.
"Basically, this is an afterschool program for kids and it's supplemental to their education in school and it really puts forth their English and math skills," she said. "We have very unique programs in both math and English. We really work on not just the basic fundamental skills but also the critical thinking and problem-solving skills."
Mak said the English instruction will focus on reading, writing, speaking and learning. She will employ two certified teachers to start and believes the critical thinking and problem-solving component is special for a supplementary program.
"We have critical thinking, which really challenges them and has them look at problems in a different way," she said. "It gets them to think about different ways to solve different problems."
Children will be given about 15 to 20 minutes of homework for the week to help reinforce the ground covered in each session. The idea isn't to saddle students with more work when so much is expected of them inside and outside of school but to maintain the momentum so they won't forget what they have learned.
Eye Level Learning Center is a South Korean-based company that has made inroads in the American tutoring market over the past decade. It now has about two million students at locations worldwide. Eye Level also has locations in Armonk, Rye Brook, New Rochelle, Mamaroneck and Scarsdale. Mak said Eye Level's Westchester branches work well together, sometimes collaborating on joint programs.
Make is optimistic that Pleasantville is the right location for her to launch the franchise.
"I think in this area we're really fortunate to have great school systems and outstanding teachers, so there's not really more of a need here, per se," she said. "But I think it's just finding the right location and serving the community because, I think, it's needed. Parents can work with their kids at home. It's something that we naturally do and this is a supplemental resource for those parents."
Eventually, Mak hopes to also develop programs during vacation weeks and summers.
Eye Level Learning Center is located at 71 Wheeler Ave. For more information, call 914-741-0407, email pleasantville@myeyelevel.com or visit www.myeyelevel.com.