Business Profile: Bowls Handcrafted Salads & Soups, Armonk
We are part of The Trust Project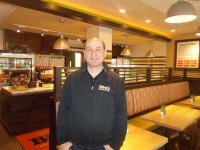 Neil Lesher understands a growing segment of the population cares deeply about eating smartly and healthfully. For the past month he's been doing his part to help patrons at his new Bowls Handcrafted Salads & Soups in Armonk feed into that trend.
Despite having owned and operated food establishments in the New York area for years, including ice creams shops and a bar and grill, when it came time for Lesher to open a business locally, the Pleasantville resident went the healthy route.
The 40-seat eatery is located in a brand new space at Armonk Square on Main Street and is attractive to those who want to watch their waistlines and their wallets.
"The hamburger is never going away and the salad is never going away," said Lesher, who opened Bowls about five weeks ago. "I believe America, or a good portion of America, is on a health kick and we wanted to be able to contribute to that and I felt that people being able to create their own salads, having a large variety of soup to choose from would complement what you're looking for, whether it's lunch or dinner. We felt putting them together made a lot of sense."
Bowls features 11 delicious signature salads and a daily lineup of seven to nine soups, which are rotated regularly, along with chili. Lesher's customers, or guests as he refers to them, have also found the make-your-own salad option particularly appealing. Starting at $5.99, patrons are able to choose from a variety of greens, ingredients, toppings and about two dozen dressings, many of which are gluten free.
Every salad is served with warm whole wheat pita slices and can be topped with Bell & Evans chicken, shrimp or organic tofu for an additional charge. Typically a lunch costs about $10, Lesher said.
One of the more popular signature salads is the Euro Kale Caesar Salad, featuring a European Kale blend and Romaine mix with parmesan cheese and croutons paired with pure olive oil or creamy Caesar.
Another favorite, Lesher said, has been the Vegan Salad, consisting of chick peas, sun dried tomatoes, cucumber, corn, marinated artichoke hearts, roasted red peppers and red onion mixed with spinach and romaine and paired with a house balsamic vinaigrette.
As the weather continues to warm up, Lesher will sell lighter soups, then return to heartier offerings in the fall.
For children, Bowls makes its own macaroni and cheese, which has also turned out to be a hit with adults.
"We've had a great, great positive response from the community and local businesses and we've had a lot of people come from Connecticut and the surrounding towns," Lesher said.
The food choices aren't the only aspect of Bowls that are healthy, as Lesher and his staff practice precautions for the allergen sensitive. For those who want nuts, such as almonds, walnuts or sunflower seeds as a topping, his staff serves them in a separate container, plus the utensils, cutting board and preparer's gloves are changed with every order.
On top of all the healthy and tasty food, customers can sit in a comfortable upscale surroundings which tries to makes it seem as though one is dining in their living room. This week tables with up to 25 seats will be added outside for outdoor dining.
In the early going, Lesher has been pleased with business and the enthusiasm of the community.
"The food is upscale and the food is the epitome of healthy," Lesher said. "We wanted to be in the quick-serve, fast casual sector and we achieved that with our system."
Bowls is located at 402 Main St., Store #5 in Armonk. It opens every day at 11 a.m. and closes at 7 p.m. on weekdays, 6 p.m. on Saturday and 5 pm. on Sunday. For more information, call 914-730-1020 or visit www.bowlssalad.com.