Business Profile: A.N.S. Seafood, Pleasantville
We are part of The Trust Project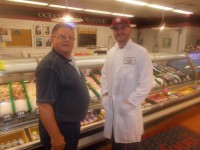 Andy Konstantakopoulos knows where to look to find top-notch seafood.
After 40 years of owning seafood restaurants, selling fish from behind supermarket counters in Westchester and the Bronx and operating a wholesale seafood outlet in Elmsford, Konstantakopoulos uses one rather simple rule to keep customers satisfied and coming back for more.
"We have a lot of experience with good fish, and it's where the fish comes (from). It's very important to know where the fish comes," he said. "If nothing else, that's the most important (thing). Most good fish come from colder water."
Konstantakopoulos is the owner of A.N.S. Seafood and has leased space in Pleasantville's Key Food Marketplace on Pleasantville Road for the past 14 years, maintaining longtime and loyal customers, some of whom drive out of their way, to pick up their fish from him.
That's because he and his staff, which is comprised of mainly family, including son-in-law Paul Zorbas, make sure to maintain high-quality products and service. There is a full display case of choices that you would find in any of the best seafood outlets: Alaskan halibut, flounder, swordfish, Alaskan and Norwegian salmon, Boston cod, lobster and shrimp and many others.
Zorbas said having a good product that customers can trust to be tasty and fresh every time is critical. They're also responsive to changing tastes and demand. For instance, most customers prefer fillets today rather than steaks so they don't have to pick through the bones.
They're also fortunate to be in Key Food because there's a certain amount of built-in foot traffic and less overhead than if they were in a storefront of their own, Zorbas said.
"The business comes to you if you have a good product," Zorbas said. "We built this product up from the beginning before it was a Grand Union, before it was a Key Food and no other supermarket privates out their seafood or their meat or their sushi and this is what this company does."
Although he's been out of the restaurant business for a while, which is where he got his start, Konstantakopoulos still operates his seafood outlet in Elmsford, selling both wholesale and retail. He's been in the business so long that he has been dealing with many of the same suppliers for about 30 years and knows who to trust.
"So we try to buy from good companies," Konstantakopoulos said.
With an oven in their space, one convenience that Konstantakopoulos and Zorbas provide customers is pre-preparing meals for people to pick up on their way home from a busy day at work. There are dishes such as seafood penne with their own marinara sauce, calamari marinara, linguine with clams, baked clams and stuffed mushrooms that can be warmed up and ready to eat.
Konstantakopoulos said it's important not to add too many spices when you have fresh fish, just the right amount of seasoning.
They also take orders from customers who may look for a large quantity for a party or for a fish that is out of season. Zorbas said if a customer gives them at least 24 hours notice, they can fill most requests.
"If you're looking for three dozen little neck clams, those are easy to do, but if you're looking for more expensive things like bluefish, which is seasonal, it's sometimes harder to do depending on how much you want to purchase," Zorbas said.
Communication with their customers is crucial, including remembering regular customers' name.
"He's been in the business so long they know him by first name," Zorbas said of his father-in-law. "You can't replace that. It's a family."
A.N.S. Seafood at Key Food Marketplace is open seven days a week from 8 a.m. to 8 p.m.