Business of the Week Mario's Pizza & Pasta, Mount Kisco
Folks who've lived in Mount Kisco a while will remember the depot that was located next to the Metro-North train station and served as the Mount Kisco Volunteer Ambulance Corps headquarters. The ambulances left and about seven years ago and Mario's Pizza & Pasta moved in, with the attraction these days its wood-fired Neapolitan pizza.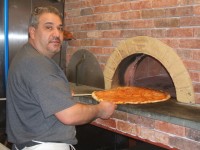 Owned by Mario and Nicole Carillo, the restaurant, with its ceramic tile on the floor, the Tuscan colors on the walls and decorative items providing a warm Italian ambience, includes a newly purchased wood-burning pizza oven from Italy, helping it to make quite a name for itself.
But that shouldn't be surprising. Apart from turning out a much crispier, lighter pizza than those cooked in a regular gas oven, customers already know about Carillo's talent for making great pizza, having been a merchant in town for 28 years.
The last child in a family of nine, Carillo, who was born in Italy but grew up in Mount Vernon, loved to watch his mother cook. It was in her kitchen at the age of 13 that he learned to make his first pizza. Five years later he was in business for himself. Carillo also learned to make bread, which he now bakes in his restaurant daily as well as other Italian-style dishes.
Carillo admits that operating the wood stove takes a bit of getting used to, especially since an average pizza pie cooks in as little as three minutes. Maintaining a temperature of approximately 700 degrees Fahrenheit also takes some skill. A wood stove can reach very high temperatures in a short amount of time.
Because of the stove's dense walls, heat radiates across the inside of the oven, creating a type of convection heat that bakes everything to perfection, while the fire creates the crispiness. Carillo uses a variety of woods each day to generate a distinct flavor on his pizzas. The woods he uses include apple wood, ash, oak and hickory. So far, he's had positive reviews.
"Depending on the wood you burn, you will get a crispier, lighter pizza," explained Carillo. "Our customers have been noticing the difference."
Carillo is passionate about cooking good, wholesome food.
"Pizza is really nutritious," he said. "It's not like something that comes out of a deep fat fryer."
Apart from the appetizers, entrees and baked pasta dishes you'll find at Mario's Pizza & Pasta, specialty pizzas are a favorite. Customers can choose from the ziti pizza, the foccacio pizza, the primavera pizza, the buffalo chicken pizza and the eggplant parmigiana pizza, to name several. Carillo also maintains a healthy lunch trade, serving sandwiches, wedges, salads, and soups.
In addition to supplying good food on a daily basis, the Carillos gain great satisfaction from interacting with their customers. In the time that the 50-year-old Carillo has been doing business in Mount Kisco, he's seen many families grow up, move away and then return.
"People move away from here and the first thing they do when they come back is visit Mario," said Nicole Carillo.
While winter typically yields slower business, Carillo said he's looking forward to the warmer weather and the opportunity to serve customers on the restaurant's outdoor patio. Mario's Pizza & Pasta, located at 1 Kirby Plaza, operates a dine-in or carry-out service. The Carillos also provide catering for all occasions. For more information, call 914-666-6338.