Business of the Week: AFC Urgent Care, Yorktown
We are part of The Trust Project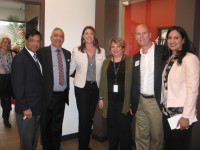 A Yorktown resident with 25 years' experience in emergency medicine will lead a new state-of-the-art American Family Care Urgent Care facility that opened last Thursday in the BJ's Wholesale Club shopping plaza on Route 202 in Yorktown.
Dr. Rajesh Gupta said he started two years ago looking to set up his first business after he purchased an AFC Urgent Care franchise.
"I am looking forward to being more involved with our patients, their families and our greater Yorktown community, which is very different than being in an emergency room setting," said Gupta, who has lived in Yorktown for 14 years with his wife, Seema, and their two sons.
"Developing relationships, building stronger ties with the community and serving a town where urgent care is not as accessible are the main reasons I am doing this," Gupta said.
Gupta's new venture was warmly welcomed by local dignitaries during a ribbon-cutting ceremony, which attracted the attention of the Hudson Valley Gateway Chamber of Commerce and Yorktown Chamber of Commerce, Westchester County officials, the Yorktown Town Board and state Senator Terrence Murphy (R/Yorktown).
"This is absolutely awesome," said Murphy, who is a chiropractor. "This is really great stuff for the Town of Yorktown and the community and making it a better place."
"This is the best of the best with all the advanced medical care," said Yorktown Councilman Vishnu Patel, a friend of the Gupta family. "It's 30 in a hurry. You don't have to wait."
AFC Urgent Care accepts most insurance, including Medicaid and Medicare, while also offering affordable cash and credit card rates for self-pay patients. It will be open seven days a week (Monday-Friday, 8 a.m. to 8 p.m., Saturday and Sunday, 8 a.m. to 5 p.m.
"Urgent care is the way to go right now," said Deb Milone, executive director of the Hudson Valley Gateway Chamber of Commerce. "It's nice to have these medical facilities in our community."
AFC Urgent Care has seven examination rooms and its own on-site lab and digital x-ray equipment, which will enable physicians to diagnose and treat illnesses and broken bones. Additional services will include pre-employment exams, drug testing, sports and school physicals, and pre-surgical physicals and vaccinations.
Gupta also stressed his passion for serving veterans and providing them with the best healthcare available. AFC Urgent Care in Yorktown will be accepting Tricare, the health insurance plan for veterans, and Gupta plans to spread the word about health awareness to veterans organizations in the region.
For further information, call (914) 930-5550 or visit www.AFCUrgentCareYorktown.com.