News Based on facts, either observed and verified directly by the reporter, or reported and verified from knowledgeable sources.
Budding Piano Prodigy Impresses at Carnegie Hall Competition
We are part of The Trust Project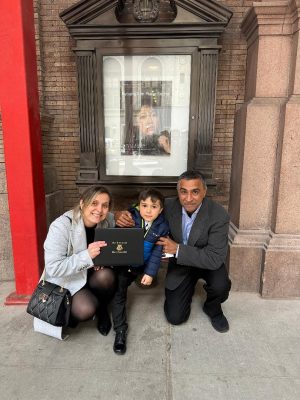 Adrian Kudva began taking piano lessons last spring, but he has already accomplished a feat that most others who play an instrument have never experienced.
The four-and-a-half-year-old Armonk boy, who won't begin kindergarten until next fall, won the Elite International Music Competition at Carnegie Hall in December, the youngest entrant in a field of accomplished student musicians from around the globe.
With his feet dangling far above the floor while sitting on the piano bench, Adi, as he likes to be called, flawlessly performed Heinrich Lichner's Sonatina Op. 4 No.1 to capture first place in the competition.
"I knew it by heart," Adi proudly proclaimed.
His piano teacher, Felicia Feng Zhang, said Adi possesses qualities that very few students of his age and even many older children don't have or at least not until much later on – an eagerness to learn, being able to listen intently, follow instructions and have a sense of the changes in pace of a piece.
He also stays unusually calm for a child his age, never getting flustered when he hits a wrong note.
"I think the one thing (is) he follows, he really listens, he listens to what you taught him to do," said Zhang who provides instruction out of her Greenwich home. "Also, (he has) a magic touch, a magic touch. For this age, there's not many kids (that) can command the pace that can be slower, quicker."
His parents, Laura Serban and Prabhakar Kudva, hoped to spur an interest in music from early on to appreciate music, which can help bring joy in life. Once they found Zhang – many teachers don't take students at four years old, Kudva said – he hasn't needed to be pushed.
"I really was just pleasantly surprised," Serban said of Adi's aptitude for the piano. "We started him on piano more as an educational tool because we think, first of all, it's something that will develop his brain, but also something that we'd like him to have music in his life in a way that we couldn't afford to when we were growing up."
Zhang said Adi quickly learned to read music and can already sight-read. She said that in less than a year of weekly lessons, he has rocketed up to the fourth of seven levels in her music curriculum.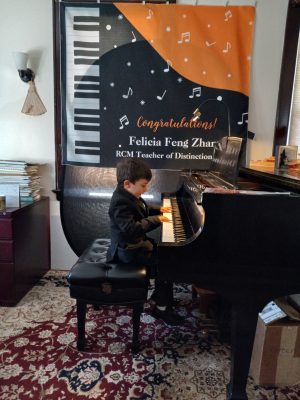 "We wanted to give it a try, and (the) first two lessons we didn't really notice anything, but by the third lesson he was able to memorize a song very quickly," Serban said.
Once Adi's ability was clearly noticeable, his parents bought a piano and he voluntarily practices twice a day – when he comes home from his preschool class in the afternoon for 30 minutes to an hour, and usually when Serban comes home from work later on. Adi almost never goes to bed for the evening unless he has practiced a second time, she said.
Neither Serban nor Kudva play a musical instrument but that doesn't mean their home was devoid of music before Adi started on piano. Since they like to dance, they play tango music as well as jazz and some classical.
"The thing is, he has a love for the music and that is the most important thing for us," Kudva said. "I mean, the competitions are more about helping get to the other goals."
"It's special because he enjoys something special in life that we want him to have," he added.
That is also apparent to Zhang.
"He likes to do it," she said. "When it comes to a lesson, he's joyful. He wants to come."
His parents realize they may have a budding prodigy. But Adi is also a well-rounded child and they don't want to take away from that. He seems to enjoy and excel in activities that have structure, Serban said. He's good in math, he plays chess and enjoys playing with Legos. And he also likes to get outside and be active in sports.
"We'll see when he grows up if he loves something more," Kudva said. "Music is clearly one of the things he loves."
A clip of his winning performance at the Elite International Music Competition can be found at https://www.youtube.com/watch?app=desktop&v=g2gENyNmems.