Buchanan Deputy Mayor Relives the Tragic Day of 9/11
We are part of The Trust Project
When Buchanan Deputy Mayor Richard Funchion recalled working at the World Trade Center on September 11, 2001, he conjured stark memories he will never forget.
Saturday was the 20th anniversary of 9/11 when 2,996 people lost their lives and another 25,000 were injured when four U.S. commercial airplanes were hijacked and carried out suicide attacks by crashing into the WTC, the Pentagon and in a field in Shanksville, Pennsylvania. The attacks were orchestrated by al Qaeda leader Osama bin Laden.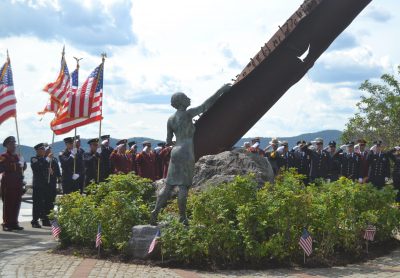 Funchion, a 9/11 survivor, shared some of his most stark and unforgettable images of that day with a large crowd gathered at the Tri-Municipal 9/11 Memorial Ceremony at Croton Landing.
"There was an explosion and the whole area shook, the world turned white and the top of the tower went up in flames," Funchion recalled.
As a U.S. Customs supervisor in a building near tower one, Funchion's job was to get all his staffers safely out. When everyone had been evacuated, he looked up and saw tons of falling debris and heard a deafening explosion as the second plane hit the second tower.
"Of the many images that have stayed with me all these years was the thousands of women's high heel shoes strewn all over," Funchion said. "Women had no time to change into flat shoes and they couldn't run in heels as they were making their way towards the river, one of the escape routes."
Funchion told a stunned audience the horrific sight of people jumping off the second tower. "And the fire engines never stopped coming. The people who got out were panicked and were fleeing towards the river where water taxis became overloaded. Those at the river witnessed the second tower being struck by a plane."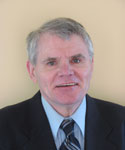 Suffering a painful and agonizing aftermath, Funchion was diagnosed with cancer from exposure to toxins in the air at Ground Zero. He was treated and has been cancer-free for four years. But he suffered from PTSD for years before he began treatment. "I waited too long to get help. But I thank my wife and family who got me through this," he said.
The ceremony honoring the victims of 9/11 was held at the "Reaching Through the Shadow" Memorial at Croton Landing Park in Croton-on-Hudson and started with a procession led by Bagpiper Joe Brady, followed by the Color Guard lead by members of the Buchanan Engine Company, Continental Fire Department, Croton-on-Hudson Fire Department, Lake Mohegan Fire Department, Montrose Fire Department and Verplanck Fire Department.
The three municipalities that organized the afternoon ceremony were the Town of Cortlandt and the villages of Buchanan and Croton-on-Hudson. Ringing the remembrance bell was Angela Outhouse of the Buchanan Engine Company.
In a special appearance by Westchester County Executive George Latimer, he acknowledged "That tragic day 20 years ago changed our lives forever." He pulled out his cell phone and re-imagined passengers on the deadly planes calling their loved ones for the last time. "You'd be saying you were sorry you couldn't see your kids grow up or you wouldn't be at your daughter's wedding or watching football next Thanksgiving. They had only two minutes to live and they were conscious of it. We can't let this fade," Latimer said.
Supervisor Linda Puglisi introduced officials and dignitaries including Buchanan Mayor Theresa Knickerbocker and Croton-on-Hudson Mayor Brian Pugh. Others attending were Assemblywoman Sandra Galef (D -95), New York State Senator Pete Harckham (D-40) and Westchester County Legislator Colin Smith (D-1). Most praised first responders who, without hesitation, gave their lives to save others. All thanked current first responders who dealt with the COVID-19 at the height of the outbreak last year.
Puglisi also recognized those in the audience who lost loved ones on 9/11 and thanked all first responders. "We wouldn't be here if it wasn't for your passion and compassion," she said.
In his final comment on his harrowing experience on 9/11, Funchion said, "When I watch the events of 9/11 I cry like a baby. Talking about it is a catharsis. I went through a lot but I'm here. To me, it means you have a sliver of hope that comes through in a time of tragedy."