Brothers Launch Business Placing Ads on Toilet Paper
We are part of The Trust Project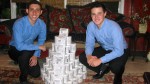 For many people, going to the bathroom is a chance to catch up on some reading. Bryan and Jordan Silverman, who grew up in Rye Brook, are now capitalizing on that favorite pastime.
In 2009, while a sophomore at the University of Michigan, Jordan Silverman came up with the idea of selling advertisements on toilet paper. He discussed it with his younger brother, Bryan, who was a high school junior at the time. The siblings began doing the market research and legwork to see if they could come up with a viable business plan — or whether they should flush the proposal down the toilet.
After securing a patent by the fall of 2010, the brothers launched Star Toilet Paper — before Jordan, now 22, had a college degree and Bryan, who turns 19 this week, a high school diploma. Getting advertisers was a bit of a challenge at first, given their lack of business experience and the startling realization from some business owners that their ads would be soiled and disappear. But once the Silvermans started to convince company representatives their product or business would get longer looks than in the typical print ads, advertisers began to buy in.
"Think about it: You're going to need toilet paper, and people are such a captive audience in the bathroom that their ads will be seen," Bryan Silverman said. "What we like to say is most ads are seen for between two and five seconds. Our advertisers are seen between one and 10 minutes —depending on what you ate."
The plan was first to find public venues where the brothers would supply free toilet paper that they bought wholesale from Georgia-Pacific, then they would find the advertisers. They would also contract with a printer.
Since both were full-time students — Bryan now is entering his sophomore year at Duke University, while Jordan graduated from Michigan in May with a philosophy degree — they started slowly, focusing first on the Ann Arbor, Mich., market. Today, they have more than 30 advertisers there while supplying free toilet paper to several venues, including a bowling alley and a dance studio.
This summer they worked on their venture full time, signing up their first public site in Westchester, the Rye–Port Chester Public Library, which will begin carrying their bathroom tissue in October. They have signed up more than 20 Westchester advertisers.
"Ninety-five percent of purchases are done within five miles of home," said Jordan Silverman. "So we targeted businesses that are in the direct locale."
Each roll has eight different squares that repeat 125 times. There are four different rolls that are supplied to each venue, allowing for up to 28 advertisers to be seen in each public restroom. (The eighth square on each sequence is reserved to let consumers know how to recoup coupons for special deals that are sometimes included in the ads.) For $99, advertisers are on 160 rolls, allowing their business to be seen potentially 20,000 times.
"That's the whole point of advertising, getting people to see your products," Jordan said.
Between the first two markets, they have retained a wide variety of businesses to advertise, some of them well-known companies, including Ben & Jerry's and Allstate Insurance. Since advertisers can target a gender, they also signed up a woman's boutique, and, of course, a plumber. It also doesn't hurt if the business owner or company rep they're dealing with has a healthy sense of humor.
"When we tell them about the numerous benefits it offers, they love it," Bryan said. "To be honest, they really do. They can see how efficient it is and how it's going to reach people in a way that wouldn't happen before."
The brothers can also track how many people look to redeem coupons, through their website or on their Facebook page or through Twitter.
This fall, Bryan Silverman, who is considering becoming a neuroscience major, plans to make inroads in the Durham, N.C,. market when he gets back to school. He said the area has three major universities and is a thriving research and development hub, and should be an excellent place to launch into their third market.
Meanwhile, Jordan, who is now managing the company on a full-time basis, plans to tap into the Manhattan market during the next year.
Although there have been plenty of 12-hour days this summer, the brothers have enjoyed waking up each day and being in business for themselves — and having fun at the same time.
"It's a funny idea; it's a cute idea. It's something that we really like," Bryan said.
Along with the burgeoning success of the company, Bryan has been named one of five finalists in Entrepreneur Magazine's College Entrepreneur of the Year. The award will be handed out after online voting concludes on the publication's website Sept. 17. To vote, the public can log on to www.entrepreneur.com or send a text message by dialing 172381 to 22333.
For more information about Star Toilet Paper, visit www.startoiletpaper.com. To contact Jordan Silverman, call 914-844-5775 or email jordan@startoiletpaper.com. Reach Bryan Silverman at 914-500-7833 or at bryan@startoiletpaper.com.