Briarcliff Overcomes a Slow Start to Beat the Wildcats
We are part of The Trust Project
His Briarcliff boys' basketball team concluded the 2012 portion of its schedule undefeated, so coach Brendan Coxen was quite aware future opponents have surely taken notice and would be getting fired up to face the Bears.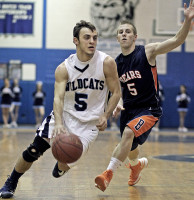 He even spent a good amount of the two-week holiday break warning his players.
"We've had a long time off to tell these guys, 'Everybody's gonna be gunnin' for you now,' Coxen was saying late Friday afternoon, not long after discovering the Bears hadn't really seemed to get the message yet when they took the court for the first time in 2013 at Westlake High School.
Fortunately for Coxen, the Bears managed to snap out of their early doldrums in time to stage a second-half comeback against the upset-minded Wildcats. They overcame a nine-point, first-half deficit and went on to defeat Westlake 57-52, led by the duo of Brian Daniels and Ryan Huegel, who combined to score 26 points after halftime.
"We've had some good wins," said Coxen. "We started out strong and I think we took that for granted and we thought we would just walk in anywhere and beat people like we did Pleasantville."
Instead, the Bears found themselves trailing Westlake 13-6 at the end of the first quarter. The Wildcats' 6-6 center, Tommy Hopkins, had four buckets in the opening period en route to finishing with game-highs of 20 points and 19 rebounds.
"Yeah, he hurt us a little bit on the offensive glass," conceded Coxen about the damage done by Hopkins around the basket. "We didn't box out."
The Wildcats maintained their advantage throughout the first half and built a nine-point lead before the Bears closed the second quarter with five successive points to get within 25-21 at halftime.  Jared Jones, who led Briarcliff with 18 points, scored on a fast-break layup  to open the third quarter, but the Wildcats responded with two free throws by Conor Glendon and a traditional 3-point play by Dan Grieco to extend their lead to 30-23.
From there, though, Daniels and Huegel stepped up to ignite a Bears' second-half surge. A fast-break bucket by Spencer Seabrook finally tied the game with 2:42 left in the third quarter and the Bears soon ended the quarter on an 8-0 run, getting six of the points from Huegel, to seize a 41-36 edge.
Daniels, limited to a mere two points in the first half, began the fourth quarter with a layup. Following a 3-pointer from the left corner by the Wildcats' James Grieco, Daniels answered with two consecutive buckets that enabled Briarcliff to open up a 49-40 advantage.
"I think that he just woke up and we woke up and got the ball to him a little bit more," said Coxen of the sudden eruption from his senior center. "We focused on getting it inside and it paid off. "
Westlake point guard Richie Maio made a pair of free throws with 5:02 left on the clock, but Huegel came right back 10 seconds later to drill a 3-pointer out of the corner that gave the Bears their largest lead of the afternoon at 52-42. On their next possession, though, the Wildcats got another 3-pointer from  Grieco, who had been whistled for four fouls in the first half. Grieco's trey started a 7-0 Westlake run that kept the outcome in doubt until the final moments.
The teams traded turnovers until Hopkins received a pass inside and dropped in a layup with 3:25 to go. Nearly two minutes passed before the scoreboard changed again, this time on a Hopkins putback of Maio's misfired jumper that narrowed the Briarcliff lead to just three points.
A pair of free throws by Jones, the versatile senior swingman who had scored 12 of the Bears' 21 first-half points, increased the Briarcliff margin to 54-49 with 1:17 left. Maio made one of two foul shots and then Huegel came back to hit the front end of a 1-and-1. But he missed the second and the Wildcats secured the rebound, leading to a quick-strike floater in the lane by Maio that carved the Bears' lead to 55-52 with 42 seconds remaining.
With a seven-second disparity between the game clock and the shot clock, the Wildcats opted not to intentionally foul, but when Daniels dribbled across the lane as the shot clock was about to expire, a whistle blew. He stepped to the line with nine seconds left and calmly made two free throws to clinch the Bears' sixth successive victory.
Coxen had spoken to his players about the need to step up their intensity in the days ahead to remain unbeaten, telling them,  "'You've set the precedent for yourself here and you've got to come and play.' And we didn't come and play early on. Thank God, we made some key shots down the stretch and we battled back."
He was quick to credit Wildcats coach Steve Gage for the way he had his own team prepared to battle the Bears. "Steve, their coach, did a great job," he said. "Great game plan. We were confused. We didn't know what we were doing. He outcoached us."
But the Bears were still able to eke out a road victory and now Coxen is hoping his players noticed something about their success in the second half.
"We've lived by the 3-pointer, and we died by the 3-pointer a little bit today," he said. "I think that's a good learning experience for us moving forward. We've gotta get the ball inside a little bit more."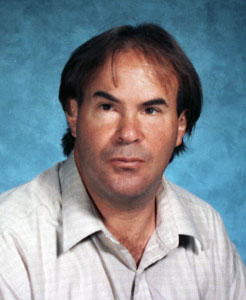 Andy is a sports editor at Examiner Media, covering seven high schools in the mid-Westchester region with a notebook and camera. He began there in the fall of 2007 following 15 years as a candid photographer for the largest school picture company in the tri-state area.
Read more of Andy's full bio here.
Read Andy's archived work here.